Models of funeral plaques with doves or various birds.
Page : 1

Our online burial plaque creation software allows you to add various bird prints to your project.

The collection of birds includes colombes, owls, robins, lark and other titmice.
Ci also finds swans, sparrows, parrots as well as eagles, waders, swallows.
Ducks, gulls and gulls are also present.
This list is not exhaustive, as the Funeral plaque collection contains over 60 drawings.

If you are looking for a kind of bird that is not in our collection, do not hesitate to ask us, we will add it to the collection.
memorial plaques with birds can be found below:

Customize memorial plaques below :
Change plaque or material, change patterns , sizes , texts , add your photos ...
The customisables models below are only a small part of the creative possibilities.

Rating :

9.9 / 10 - Reviews collected & certified by Google.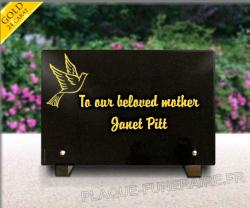 Material : Engraved granite

H. 20 x W. 30 x Th. 2 cm, 4.5 kg

238 Euros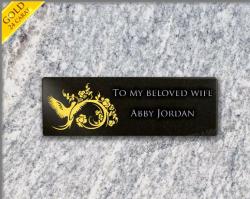 Material : Engraved granite

H. 10 x W. 30 x Th. 1 cm, 1.5 kg

191 Euros
We offer a large number of doves designs to enhance
customizable memorial plaques from our site.
To consult all the drawings of doves you must go on the
configurator (Create plaque button at the top of the site)
then choose'High definition drawings'.
A window opens and gives access to all the collections of drawings sorted by theme.
You can scroll down the list to the'Birds' button and then choose the drawings of the different doves.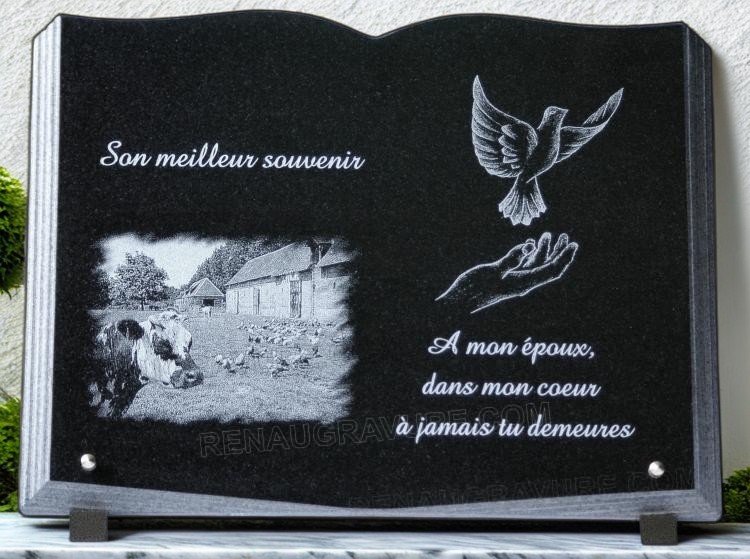 We also offer 24 carat gold leaf drawings representing doves.
These golden designs of doves are accessible in the configurator on "Golden Drawings" then "Birds".

We are at your disposal to advise you
and help you in the elaboration of your dove funeral plaque.

| | | | | | | |
| --- | --- | --- | --- | --- | --- | --- |
| | | | | | | |
| | Payment methods | | Delivery methods | | Renaud Gravure international | |
| | | | International delivery | | International delivery | |
| | | | | | | |
| | Customer reviews by Google | | | | Useful links | |
| | | | | | | |