Engravings of boats on various mortuary plaques for sailors:
Page : 1

A large collection of boat designs is available in our
configurator.
sailboats for sailors, catamarans; barges for boatmen.
You will also find there cruise or pleasure boats and warships or fishing boats for fishermen.

To access the complete collection you have to go to the configurator (button "Create a plaque here") then click on "High definition drawings" then choose the category "Boats".

If you think a ship is missing from our collection, we'll add it!
Make a memorial plaque with boat for sailor:

Customize memorial plaques below :
Change plaque or material, change patterns , sizes , texts , add your photos ...
The customisables models below are only a small part of the creative possibilities.

Rating :

9.9 / 10 - Reviews collected & certified by Google.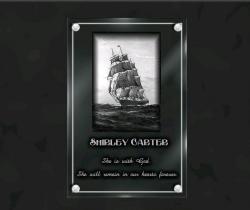 Material : Engraved glass

H. 30 x W. 20 x Th. 1 cm, 1.5 kg

292 Euros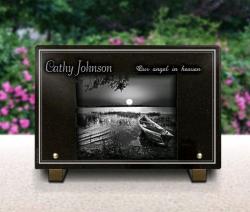 Material : Engraved granite

H. 20 x W. 30 x Th. 2 cm, 4.5 kg

247 Euros
The boat, whether it is intended for fishing,
for the transport of goods or persons,
is a means of transport that fascinates many people.

He is often represented on our personalized funeral plaquesW.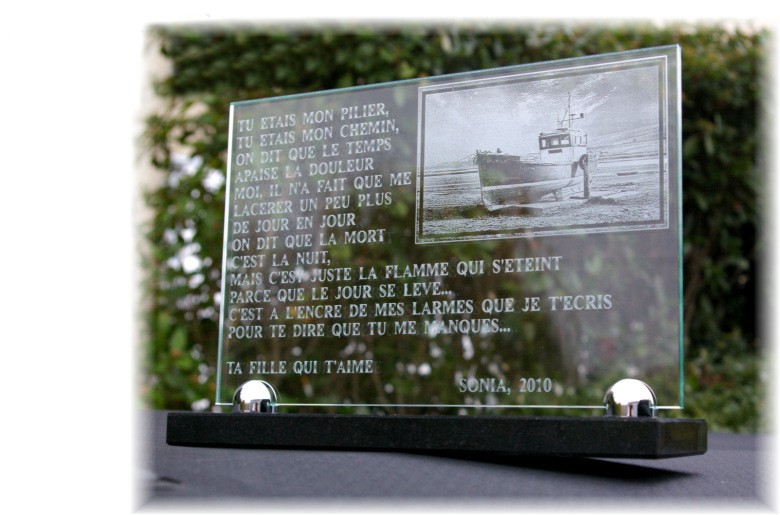 Above, this mourning plaque is in engraved glass.
It measures 30cm wide and 20cm high.
It is rigidly fixed on its solid granite base of the same width and 10cm deep.
The fact that the glass plaques are fixed homogeneously and rigidly allows us to
to guarantee you perfect stability.

The engraving is made by digging the glass, this engraving is therefore unalterable.
As a professional engraver we do not offer laser marking or printing.

Various boats are available.
Large fishing or cruising boats are particularly impressive,
because it is hard to imagine that such a monument could float on the seas and oceans.
Small boats allow you to be alone in the middle of the water
with just the waves singing as background noise.

For the amateurs of navigation, the passionate ones of the sea,
it is a unique and irreplaceable feeling, a well-being that comes from the communion between man and nature.
It is for this reason that so many poets have written on this subject.
But unfortunately many sailors or fishermen lose their lives at sea,
because when the elements are unleashed, man is very little.
It is quite possible to have a photo of a
boat reproduced. on the funeral plaque of a sailing enthusiast or on that of a fisherman.
| | | | | | | |
| --- | --- | --- | --- | --- | --- | --- |
| | | | | | | |
| | Payment methods | | Delivery methods | | Renaud Gravure international | |
| | | | International delivery | | International delivery | |
| | | | | | | |
| | Customer reviews by Google | | | | Useful links | |
| | | | | | | |