Open book cut granite grave plaques to customize online
Page : 1

These memorial plaques require a real work of granite cutting in order to be realized.
The top of each plaque is cut and cut in the shape of a well rounded double curve while the sides are sawn into the mass to simulate the pages of the book.


As for all our other models, the engraving is done by digging the material.
Our engraving is therefore totally unalterable and of much better quality than what can be found on the traditional funeral market.
Here are some models of a book-shaped funeral plaque:



No results match your search criteria.

For more information , you can use our > contact form <.




Our plaques are in black premium quality W granite, they are cut and cut in the shape of open bookW.
The top is curved and polished, the sides are cut into pages.

The front face is polished and shiny just like the curved part of the top.
This polishing is obtained by the traditional method using different grinding wheels finer and finer.
This polishing in the mass is extremely resistant for well over 50 years!
Our Granite Memorial plaques are therefore of better qualityW than
. low-end plaques that are painted or siliconized.

Our open granite burial plaques are available in 2 different sizes:

Height 30cm X Width 40cm X thickness 20mm and weight about 7.4 Kg
Height 25cm X Width 35cm X thickness 20mm and weight about 6.1 Kg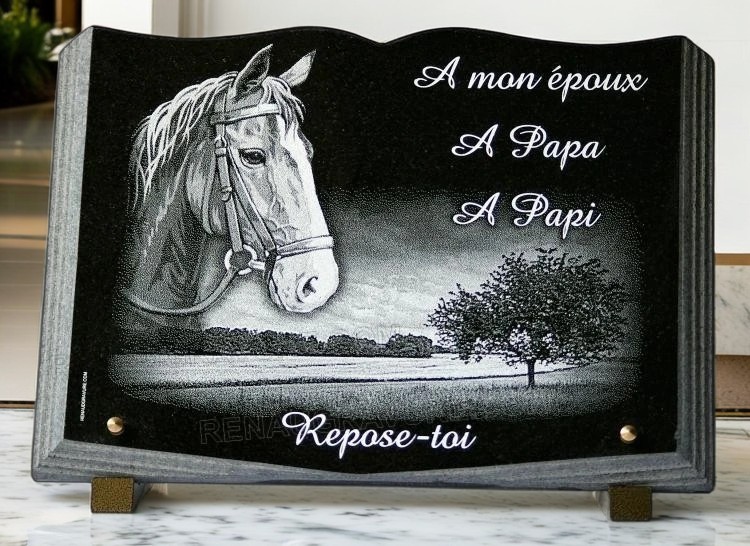 Our engraving is always made by digging the granit, so it is inaltérableW.
We are engraver of trade , we do not make printing, stickers or laser marking.
Our technique is both ultra resistant, engraved for eternity and
artistic because Jocelyn RENAUD personally works each portrait.
This professional ornamental engraver is the only one in France
to be officially listed by Drouot Cotation on the international art market.

To choose this type of open book plaque in the configurator click on "plaques" then
"Black granite plaques" then "Metal floor plaques" and finally "Blank plaques".
The software displays 7 plaque shapes to choose, just scroll the plaques and
click on the model that suits you.

By changing the plaque the price of your composition is recalculated in real time and displayed.
You can change the plaque as many times as you want and make different tries.
The use of the configurator is free and anonymous,
it is not subject to any obligation and no prior registration.

If you wish to be helped to compose your personalized funeral plaque,
please contact us by phone and our staff will help you to develop
the most beautiful artistic funeral plaque.
| | | | | | | |
| --- | --- | --- | --- | --- | --- | --- |
| | | | | | | |
| | Payment methods | | Delivery methods | | Renaud Gravure international | |
| | | | International delivery | | International delivery | |
| | | | | | | |
| | Customer reviews by Google | | | | Useful links | |
| | | | | | | |