Compose a cat memorial plaque.
Page : 1

Here are a large number of fully customizable cat funeral plaques.

Our customization software has a large number of cat and kitten designs.
To consult them in the configurator, click on -High definition drawings- then -Cats-.
category. You will find cats of different breeds as well as kittens in different positions.

You can also import a photo of your cat for us to engrave on your funeral plaque.
Here are our cat memorial plaques:

Customize memorial plaques below :
Change plaque or material, change patterns , sizes , texts , add your photos ...
The customisables models below are only a small part of the creative possibilities.

Rating :

9.9 / 10 - Reviews collected & certified by Google.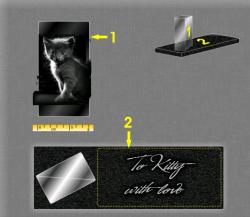 Material : Engraved granite

H. 17 x W. 30 x Th. 10 cm, 6 kg

191 Euros
Whether for your cat or someone who loved cats,
we create the personalized funeral plaques with the drawings of cats that you wish.
Here are some examples of plaques to customize with these cats
but these examples represent only a small part of the possibilities offered by our online configurator.
You can choose any model and customize it at will.

In the plaque configuration software, click on the "High Definition Drawings "
button. then Category " Cats " then, more than 13 drawings of cats are proposed
and just click on the one you want to add it to the plaque.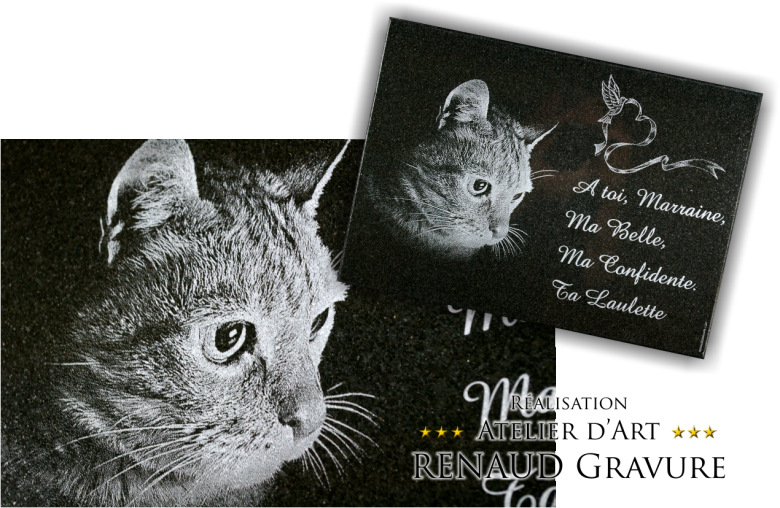 The cat funeral plaque above is engraved in granite of 30x20cm.
is drilled and supplied with two bronze aluminium legs.
The feet are not present on the photograph.

The engraving is truly dug and unalterable.
This is not laser or printing.

There are chats of all breeds,
chatons, a cat on a piano, a cat on a guitar and many other cat drawings.

You can then move, rotate and resize this drawing as you like.
The displayed price is continuously recalculated in real time,
it is thus definitive and without any surprise.

The cat is one of the main domestic animals, there are many breeds,
but the most represented are, without doubt, the cats of gouttière.

Cats are particularly appreciated for their soft coat.
Whether they have short hairs or rather Angora, cats are often pleasant to pet.
But we must not forget that they are cats and that they can sometimes be aggressive.
They are, like their great cousins the lions, tigers and panthers, excellent hunters,
able to catch mice, birds and even sometimes small rabbits.
Naturally quite independent, the cat likes to be taken care of and
likes to spend long hours lounging on a sofa or bed.

Unfortunately, when you live in town or near a road,
some cats may be hit by a car, or in the field, killed by clumsy hunters.
In this case it is possible to bury it in a and
animal cemetery. to have engrave a cat funeral plaque in his memory.
| | | | | | | |
| --- | --- | --- | --- | --- | --- | --- |
| | | | | | | |
| | Payment methods | | Delivery methods | | Renaud Gravure international | |
| | | | International delivery | | International delivery | |
| | | | | | | |
| | Customer reviews by Google | | | | Useful links | |
| | | | | | | |