Professional stone engraver specialized in memorial plaques.
Page : 5

Jocelyn RENAUD is an art engraver who graduated in 1988. He has been passionate about this profession for over 30 years.
It is with attention to detail and perfection that he creates the most beautiful funeral plaques on the French market.

This exceptional ornamental sculptor is quoted and approved on the international art market by Drouot Cotation.


memorial plaque with name and date of the deceased

Customize memorial plaques below :
Change plaque or material, change patterns , sizes , texts , add your photos ...
The customisables models below are only a small part of the creative possibilities.

Rating :

9.9 / 10 - Reviews collected & certified by Google.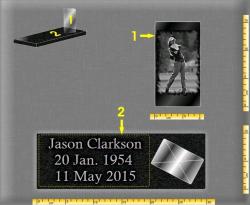 Material : Engraved granite

H. 17 x W. 30 x Th. 10 cm, 6 kg

200 Euros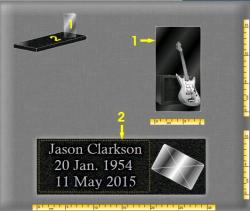 Material : Engraved granite

H. 17 x W. 30 x Th. 10 cm, 6 kg

200 Euros
The term'Marble' is often used out of ignorance instead of the term'Granite'.

Indeed it is necessary to know that our customizable funeral plaques are out of granit.
Marble is not very recommended for outdoor use as it deteriorates quite quickly.
Marble is a metamorphic rock that has not undergone the pressures that granite has.
As a result marble is softer, more brittle and less dense than granite.
A polished marble is therefore more likely to tarnish and degrade over time.
That is why we do not offer marble funeral plaques.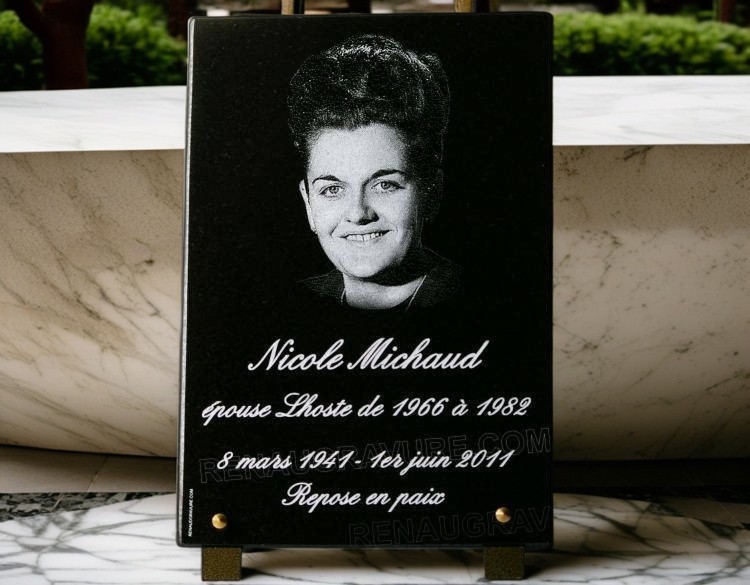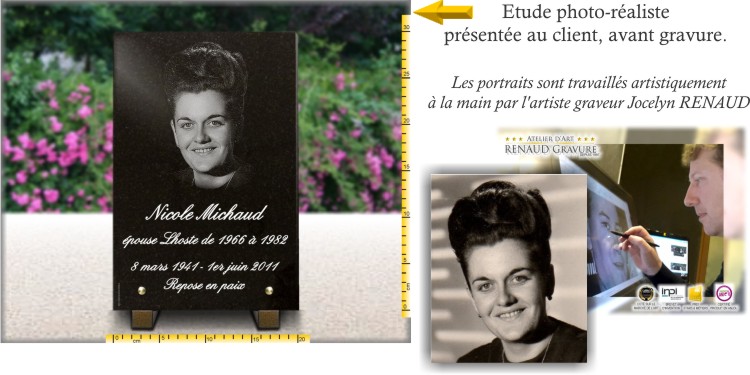 This granite plaque with photo is engraved in the mass.
Polished granite is extremely resistant
and the engraving we do is dug deep.
The result is a memorial plaque with an unalterable engraving.

| | | | | | | |
| --- | --- | --- | --- | --- | --- | --- |
| | | | | | | |
| | Payment methods | | Delivery methods | | Renaud Gravure international | |
| | | | International delivery | | International delivery | |
| | | | | | | |
| | Customer reviews by Google | | | | Useful links | |
| | | | | | | |