Young angel engraved on a black granite memorial plaque.
Engraved message.
Customed memorial plaque to be placed on a tomb. Granite and metal bases.
This is an Indian black granite memorial plaque, measuring 30 cm wide, 20 cm high and 2 cm thick.
The front surface and the sides of the plaque are polished and shiny.
This finish gives the memorial plaque a high quality impression.

This style can be chosen for a child or for a woman as shown here.
The plaque is put on two aluminium feet, therefore it will not roll. Those feet are provided.
It is possible to attach the plaque on the funerary monument as there is space inside the feet to screw them on.

The text and the angel are engraved into the granite, which means they will not change or fade over time.

We do not practice laser etching or digital printing on the granite.
It is the work of a real engraver, therefore it is truly long-lasting.
Due to this, a period of 10 working days is necessary for us to create the plaque.

By choosing a memorial plaque from RENAUD Gravure, you are sure to benefit from the highest French quality.

Presentation of the selected elements :

At the top of the memorial plaque, there is a centered white engraving in English letters of the name and surname.

Below in the centre of the plaque, there is a young angel lying on his body, with his feet crossed and his head resting on his right hand.
His face is turned towards the right.

Finally, a second engraved text, also in white, is located at the bottom of the plaque, centred between the plaque's feet.

The chosen writting here is in italics.

How to find the elements in the software :

- First, click on Create your plaque here on our homepage.
You will then be able to access to our program where you should select "Plates", "Black granite plaques", "Plaques on metal feet", and "Blank plaques".
Then you should select the second model on the right.

- For the name and surname, click on "Text", "Create Text 1", enter the text into the black space, click on the second thumbnail and then choose style 2 and size 34 on the third thumbnail.

- For the angel, you should choose "High definition drawings", "Create drawing 1", then select the category "Angels and fairies". The angel is on the third row, the first design on the left.
You can then make it bigger with the cursor (in this example it is size 50) and then you can position it in the centre of the plaque.

- For the second part of text, click on "Texts" again, "Create Text 2", enter the text, again choose style 2 and size 18 in the third thumbnail, then select a line spacing of 30. Finally, all you need to do is centre the text.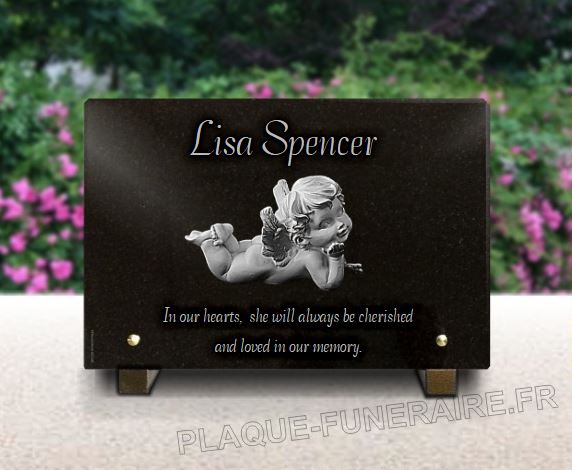 Material : granite Height : 20 cm Width : 30 cm Thickness : 2 cm Weight (around) : 4.5 Kg

Personalise this memorial plaque
Price calculated in real time




215 Euros
The unalterable engravings presented
are included in the price





---