Parchment drawings engraved on customizable memorial plaques.
Page : 1

Here are dozens of models of memorial plaques with parchment drawing to customize.
The plaques with parchment are available in different sizes.
They are also available in different materials such as granite or glass.

You can customize a Parchment Funeral plaques by adding text and other overlapping patterns to this
parchment drawing.
All these papyrus-based models are available in the online configurator by clicking on -plaques- then on -Granite or glass plaques- and then choosing the category -Parchment -

See also our heart-shaped funeral plaques.
Fully customize a cemetery plaque with parchment :

Customize memorial plaques below :
Change plaque or material, change patterns , sizes , texts , add your photos ...
The customisables models below are only a small part of the creative possibilities.

Rating :

9.9 / 10 - Reviews collected & certified by Google.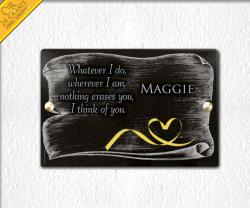 Material : Engraved granite

H. 20 x W. 30 x Th. 2 cm, 4.5 kg

287 Euros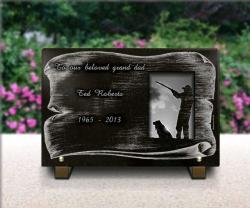 Material : Engraved granite

H. 20 x W. 30 x Th. 2 cm, 4.5 kg

249 Euros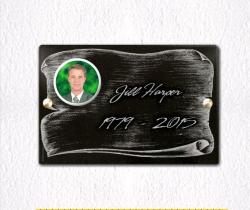 Material : Engraved granite

H. 20 x W. 30 x Th. 2 cm, 4.5 kg

185 Euros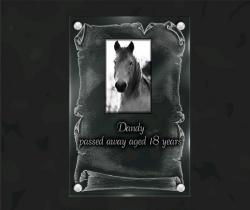 Material : Engraved glass

H. 30 x W. 20 x Th. 1 cm, 1.5 kg

275 Euros
At RENAUD Gravure we offer granite or glass burial plaques
with drawings of scrolls engraved in the material.
This engraving is unalterable, it is not laser, printing and a sticker.
We are professional engraver graduate, we make real engraving inalterableW.

To make an engraved memorial plaque with parchment :
You can choose one of the models above and modify it but you can also
customize any model to put a scroll.

For a GRANIT memorial plaque :
In the plaque Configurator, click on the button "plaques" then "Black Granite plaques "
then "Metal plaques on feet" or "Drilled plaques to screw" then click on the category "Parchment plaques".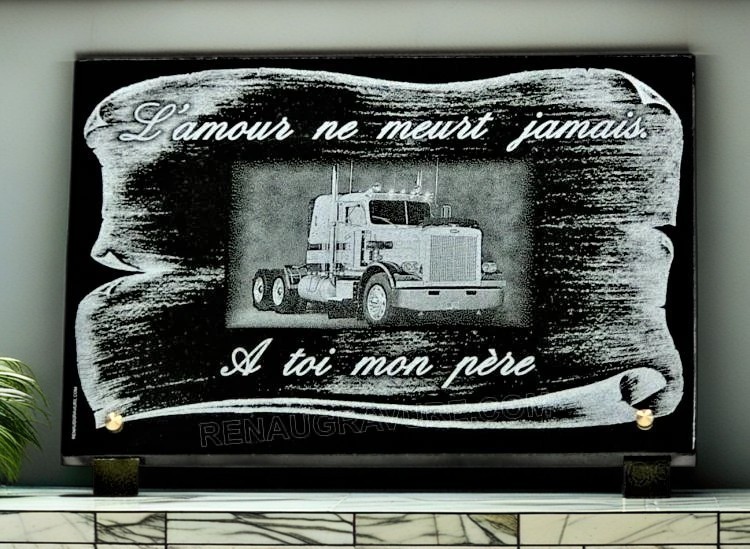 For a VERRE memorial plaques with parchment:
In the plaque configurator, click on the button " plaques " then " Anti-burglary glass plaques "
then "Glass plaques on granite base" or "Glass plaques, drilled to screw "
then click on the "Scrolls" category.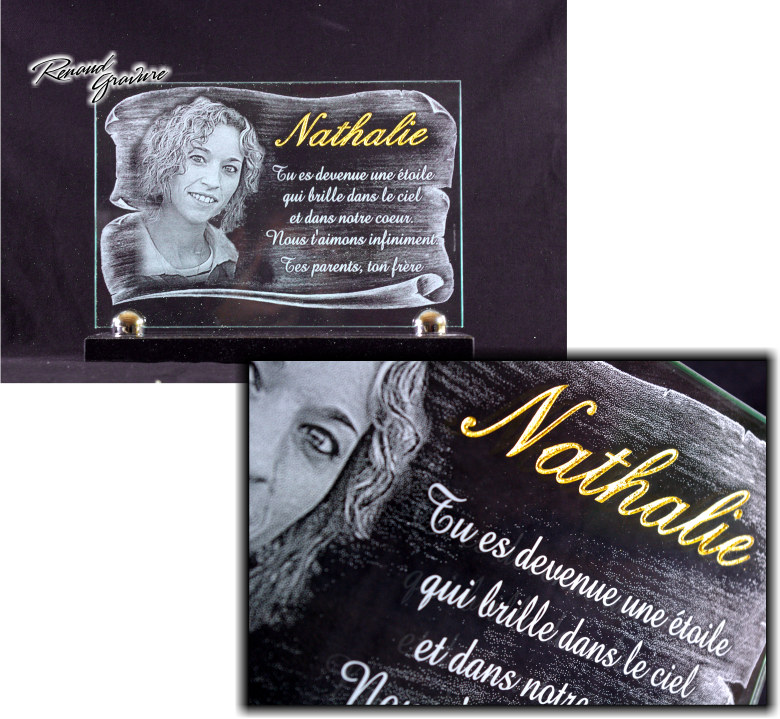 Then drag the drawings and click on the image that suits you,
the plaque is downloaded, displayed and the price is updated immediately.
Changing plaque keeps your text and drawings.
It is therefore very easy to try different models and sizes.

The models of funeral plaques pre-composed above represent only one infime part of the possibilities of personalization.
Try it, the use of the software is free, anonymous and without any commitment!
| | | | | | | |
| --- | --- | --- | --- | --- | --- | --- |
| | | | | | | |
| | Payment methods | | Delivery methods | | Renaud Gravure international | |
| | | | International delivery | | International delivery | |
| | | | | | | |
| | Customer reviews by Google | | | | Useful links | |
| | | | | | | |