Memorial plaques for aviator pilot with plane, Ulm and helicopter.
Page : 1

In order to approach a rather vast field of avionics, we propose an important collection of drawings of various planes and materials of aeronautics.
You will find school planes for learning piloting, fighter planes of the air force (Rafale and Mirage), helicopters but also airships and hot-air balloons, U.l.m.
We have also added wide-body aircraft, the Concorde and many others.

In case you can't find the model you are looking for, please let us know so we can add it to the collection.

The complete collection of drawings can be found in the configuration software by clicking on -High definition drawings- then category -Aircraft-.
Some models memorial plaques with plane to personalize :

Customize memorial plaques below :
Change plaque or material, change patterns , sizes , texts , add your photos ...
The customisables models below are only a small part of the creative possibilities.

Rating :

9.9 / 10 - Reviews collected & certified by Google.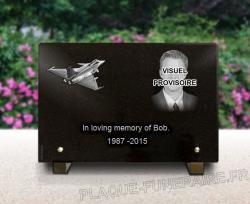 Material : Engraved granite

H. 20 x W. 30 x Th. 2 cm, 4.5 kg

287 Euros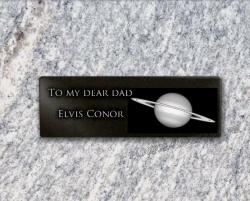 Material : Engraved granite

H. 10 x W. 30 x Th. 1 cm, 1.5 kg

167 Euros
Since the end of the 19th century,
men try to build machines capable of flying.
It was only at the beginning of the 20th century that some "aeroplanes" managed to take off.
The name "plane" only became common during the 1st World War.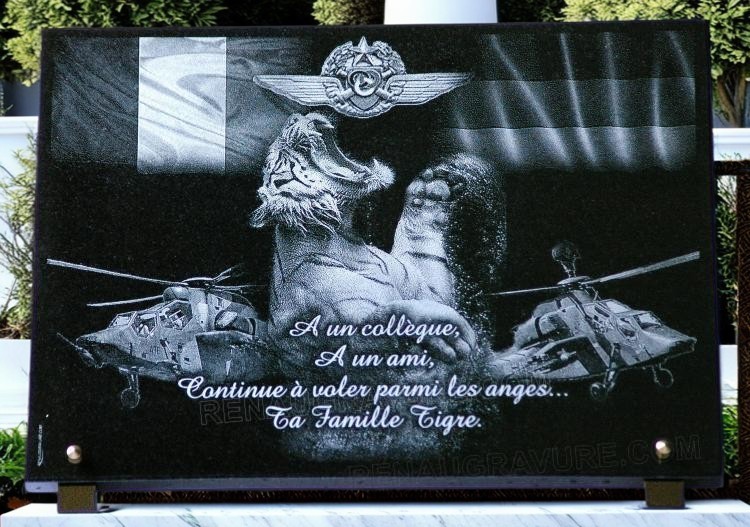 Above: This helicopter burial plaque is solid black granite, etched into the mass.
It measures 40x30cm
The drawings are engraved in the mass by digging the granir. So it's not laser or .
printing.
RENAUD Engraving only offers inground and inalterable engravings

We offer a collection of aircraft drawings, they are all
available in our online configurator.

First used mainly in the army,
it is then used to transport mail and parcels, with the creation of the Aéropostale,
then begins to carry passengers.
One of its most famous pilots is Antoine de Saint-Exupéry.
Airplanes quickly became a popular mode of transport.
It allows, indeed, to travel quickly but especially to cross the oceans,
which was only possible by boat.
Since then, air traffic has never stopped increasing and today it is
thousands of passengers who use this mode of transport daily,
whether on vacation or for professional reasons.
Although the aircraft is by far the safest means of transport,
an accident is always dramatic by the number of its victims.
| | | | | | | |
| --- | --- | --- | --- | --- | --- | --- |
| | | | | | | |
| | Payment methods | | Delivery methods | | Renaud Gravure international | |
| | | | International delivery | | International delivery | |
| | | | | | | |
| | Customer reviews by Google | | | | Useful links | |
| | | | | | | |