Create a funeral plaque with engraved, christ or virgin cross.
Page : 1

Our collection of funeral plaques on the theme of religion includes very diverse drawings addressing a wide variety of religions.
You will find here a very large number of croix drawings, virgins and christs.
We also offer Buddha drawings, Jewish crosses, Orthodox crosses, Hanukkia, menorah, Protestant cross, shiva and many more...

More than 85 engravings theme Religions are available in the configurator, nouton "High definition drawings" then category "Religions, crosses".


Here are our models of religious memorial plaques to customize:

Customize memorial plaques below :
Change plaque or material, change patterns , sizes , texts , add your photos ...
The customisables models below are only a small part of the creative possibilities.

Rating :

9.9 / 10 - Reviews collected & certified by Google.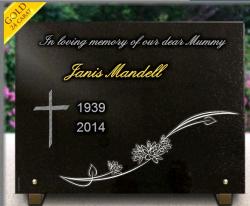 Material : Engraved granite

H. 30 x W. 40 x Th. 2 cm, 7.8 kg

349 Euros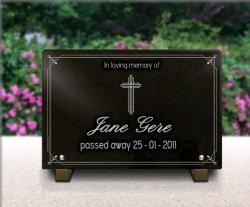 Material : Engraved granite

H. 20 x W. 30 x Th. 2 cm, 4.5 kg

253 Euros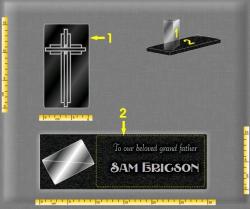 Material : Engraved granite

H. 17 x W. 30 x Th. 10 cm, 6 kg

196 Euros
The customizable plaque models below feature religious symbols for all kinds of beliefs.
These models are totally customizableW, the drawings are movable, resizable
and can also be turned.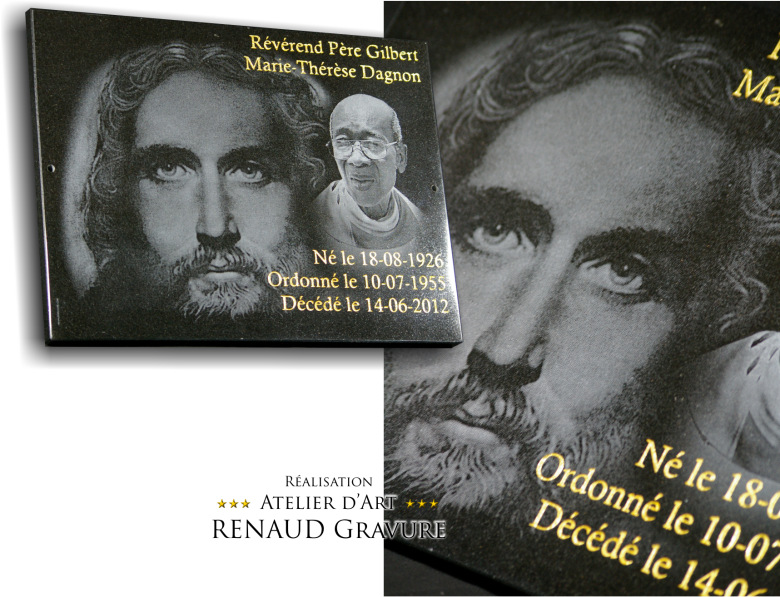 Above: The plaque is engraved with the portrait of the deceased,
The representation of Jesus-Christ and
The texts engraved and gilded with pure gold 24 carats.

You will find all our religious and belief drawings in our configurator en
Click on the button "High definition drawings" then category "Religions, crosses "
We offer you drawings of:
- virgin with child,
- angelus, Christian cross,
- Jewish star, Menorah with 9 branches,
- Muslim crescent and star,
- hands in prayer, dove, Jesus,
- triskel Celtic symbols,
- Buddhist drawings with Ganesh or Krishna statue, eternal knot,
- orthodox cross, protestant cross,
- Ma'ohi, Ma'ori, Tahua symbols and dream catchers.

So the above models are just a small example of what can be done
with all these religious motifs and emblems of various beliefs.

If you do not find the reason you are looking for,
please ask us by phone or with the contact page and
we will make the necessary to add it quickly to the collection of our drawings religions and beliefs.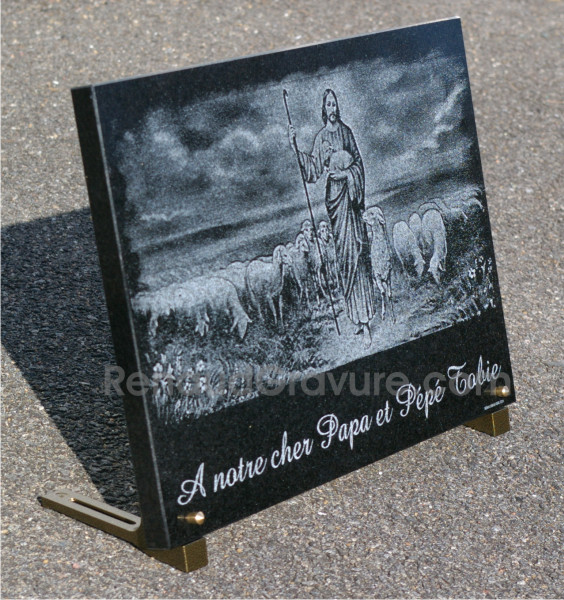 | | | | | | | |
| --- | --- | --- | --- | --- | --- | --- |
| | | | | | | |
| | Payment methods | | Delivery methods | | Renaud Gravure international | |
| | | | International delivery | | International delivery | |
| | | | | | | |
| | Customer reviews by Google | | | | Useful links | |
| | | | | | | |