Memorial plaques with drawings of locomotives and trains.
Page : 1

This category offers you plate models with train engravings. The online creation tool gives you access to more than 12 drawings of trains and old locomotives.
The model(s) below do not present all the possibilities since many train patterns are not displayed below.

We therefore advise you to create a grave marker using our creation tool. You will find different models of locomotives but also pictures of railway workers and train drivers. There are also much more recent trains and also the picture of a railway track.

You can use a granite plate or a glass plate. These plates can be fixed on legs to be placed on the funeral monument. You can also choose the drilled version ready to be screwed in.
The customization tool allows you to do a lot of things.
The plates are available in different formats, orientations and with a wide variety of decorations. You can then add drawings to be engraved. The image collection includes more than 1500 drawings. So you should find what you're looking for.
To continue, you can also add a porcelain photo because there is a very large choice. We also offer engraved and gilded patterns with 24-carat gold leaf.

You can do as many projects as you want because the use of the software is free and without obligation.
Use these models to create your memorial plaque with train drawing:

Customize memorial plaques below :
Change plaque or material, change patterns , sizes , texts , add your photos ...
The customisables models below are only a small part of the creative possibilities.

Rating :

9.9 / 10 - Reviews collected & certified by Google.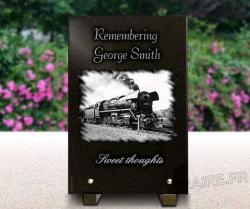 Material : Engraved granite

H. 30 x W. 20 x Th. 2 cm, 4.5 kg

207 Euros
The train is a means of locomotion that makes it possible to travel long distances in a minimum of time, it can transport both goods and passengers.
Trains have never stopped evolving since the first locomotive steam engine in the 1800s. There are different types of trains, among passenger trains, there are night trains, high-speed trains, as well as suburban trains allowing to circulate around the big agglomerations.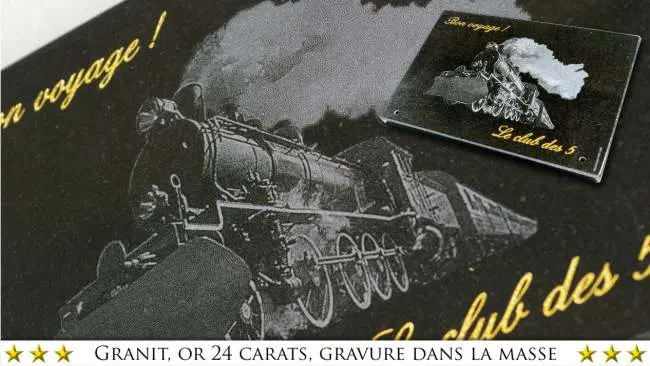 Above: the Train funeral plaque measures 30x20cm. It is made of polished granite. This plate can be in a stand or screwed version. The engraving is gilded with 24-carat gold leaf of very high quality (1000/1000th)

Some trains are specific according to the route they travel: the Eurotunnel, which crosses the Channel, or the Thalys, which links Paris to Amsterdam.
In some countries such as China, the high-speed network is the largest in the world and covers more than 16,000 km, the most famous being Beijing-Shanghai.
There are also freight trains that can carry all kinds of goods, and these trains generally run at a moderate speed of about 100km/h. For more information, we recommend that you read this page dedicated to the train and its history.
| | | | | | | |
| --- | --- | --- | --- | --- | --- | --- |
| | | | | | | |
| | Payment methods | | Delivery methods | | Renaud Gravure international | |
| | | | International delivery | | International delivery | |
| | | | | | | |
| | Customer reviews by Google | | | | Useful links | |
| | | | | | | |