Your funeral plaque with engraved photo
Page : 1
Jocelyn RENAUD is an engraver and ornamentalist specialized in portraits for 20 years. He is the only funeral engraver-portraitist in France to be listed on the international art market by Drouot Cotation Paris. (see Larousse quotation dictionary)
This recognition was awarded to him for the exceptional quality of his engravings.




Each portrait or image commissioned from RENAUD Gravure is personally worked by the artist engraver.
Jocelyn RENAUD carries out a realistic graphic simulation of the engraving in order to submit it to the customer for confirmation.

Our art engraving is certainly not laser marking, diamond scratching or digital printing.
We make a real art engraving made in hollow in the mass.
This high quality engraving is exceptional on the market and totally unalterable!

Our online personalization tool makes it very easy to create a funeral plaque with a photo.
It displays a realistic visual and calculates the project price in real time as you make changes.
All models are fully customizable.
You can change the sizes and shapes of the plates, add drawings (1500 available), add your images, texts, porcelain medallions, gold patterns... everything is possible and easy to do.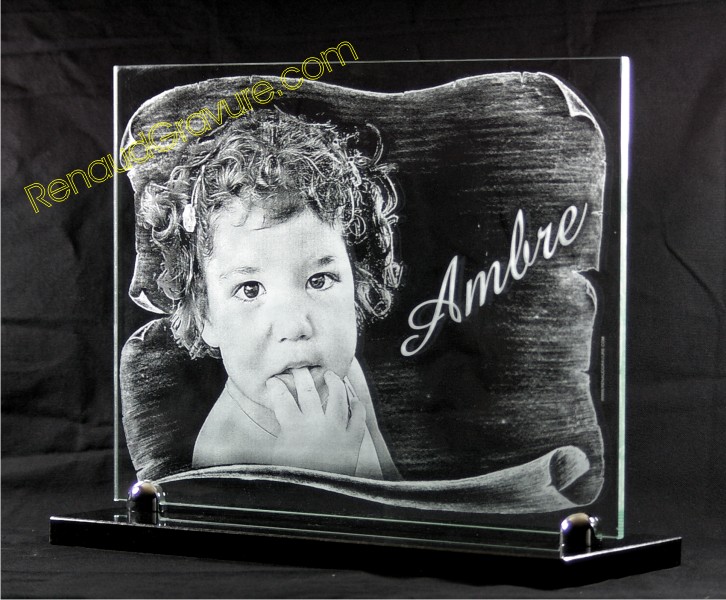 How to obtain an artistic studio before engraving:
When ordering the funeral plaque with photo engraving, the customer imports the image to be engraved or sends it by post if it is not digital.
We then produce a realistic graphic proof during which we work on the portrait by hand.
We send you this study by email, for approval, before making the engraving.
You will also receive an SMS to inform you that the study is ready.
If you have ordered a plate with an image to engrave or portrait, you will receive your study before engraving, this is systematic.

The study consists in working artistically on the portrait.
The improvement of the portrait is not done by clicking on buttons or using computer filters but by manually drawing the details.
The artist"s "paw" is very important and makes all the aesthetic difference between our funeral plaques and the basic, soulless reproductions of the trade.
(See the laser-marked funeral plaques on the internet)

If the person"s framing is too tight, the engraving artist may eventually and depending on the case; recreate elements such as an ear, a part of hair...
The faces of the elderly are slightly retouched to reduce some unsightly wrinkles and to make the faces more radiant.
For people with medical devices on their faces, the artist recreates the hidden parts of the face to make probes, bandages etc. disappear.

Each graphic, image, illustration or funeral portrait is therefore systematically manually retouched.
Even a photograph that appears very beautiful to the neophite will be retouched by the engraver to remove the slightest defect that appears to his expert eye.
After your agreement, the engraving begins....
Jocelyn RENAUD (the artist engraver) is the only one to work artistically on the portraits, your study can be sent to you between 3 and 6 working days depending on the workload.
So don"t be worried during this time, everything is normal...
Upon receipt of the study you send us your agreement or any changes to be made.
Then the engraving starts immediately upon receipt of your "agreement for engraving".
Engraving is generally carried out within 2 to 4 working days.

Customize memorial plaques below :
Change plaque or material, change patterns , sizes , texts , add your photos ...
The customisables models below are only a small part of the creative possibilities.

Rating :

9.9 / 10 - Reviews collected & certified by Google.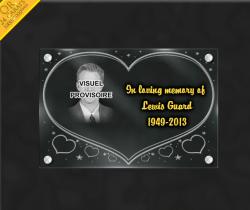 Material : Engraved glass

H. 20 x W. 30 x Th. 1 cm, 1.5 kg

361 Euros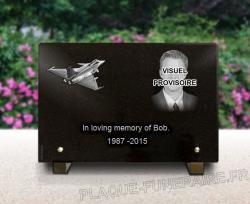 Material : Engraved granite

H. 20 x W. 30 x Th. 2 cm, 4.5 kg

287 Euros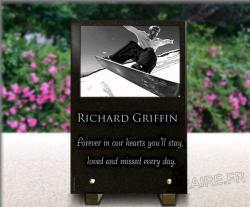 Material : Engraved granite

H. 30 x W. 20 x Th. 2 cm, 4.5 kg

218 Euros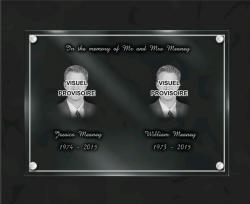 Material : Engraved glass

H. 25 x W. 35 x Th. 1 cm, 2.2 kg

458 Euros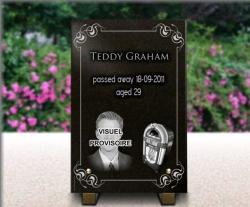 Material : Engraved granite

H. 30 x W. 20 x Th. 2 cm, 4.5 kg

351 Euros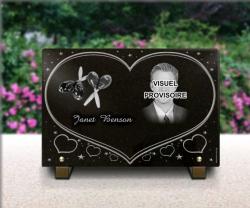 Material : Engraved granite

H. 20 x W. 30 x Th. 2 cm, 4.5 kg

325 Euros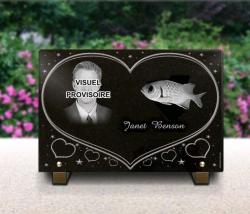 Material : Engraved granite

H. 20 x W. 30 x Th. 2 cm, 4.5 kg

330 Euros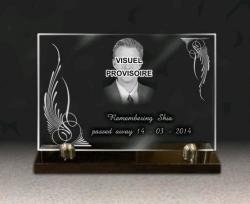 Material : Engraved glass

H. 20 x W. 30 x Th. 1 cm, 3.7 kg

324 Euros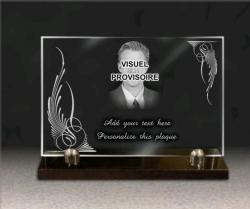 Material : Engraved glass

H. 20 x W. 30 x Th. 1 cm, 3.7 kg

325 Euros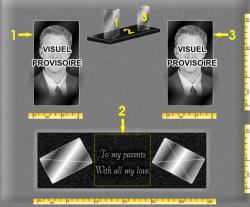 Material : Engraved granite

H. 17 x W. 30 x Th. 10 cm, 7.5 kg

372 Euros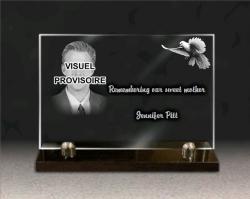 Material : Engraved glass

H. 20 x W. 30 x Th. 1 cm, 3.7 kg

381 Euros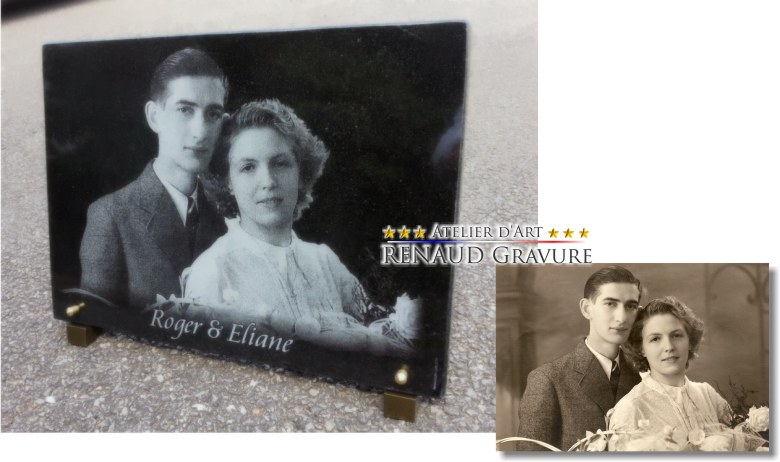 Artistically worked portraits + true unalterable engraving:
The granite plate shown above is engraved in the material.
The two portraits of this couple were previously worked by hand by the engraver. This work is based on the original photographs provided by the client.
It is strongly discouraged to provide a modified image by the client, as the artist only works on unmodified originals. It is absolutely not inconvenient that other people appear in the photograph, because everything is meticulously and artistically worked by hand.
This top-of-the-range service is paid for by the customer and is an integral part of the service.
The portraits of the deceased above were subjected to a test which was presented to the client. This proof perfectly represents the visual aspect of the mourning plaque once it is engraved.
The customer is completely free, and even encouraged to give his comments if he thinks that changes can be made.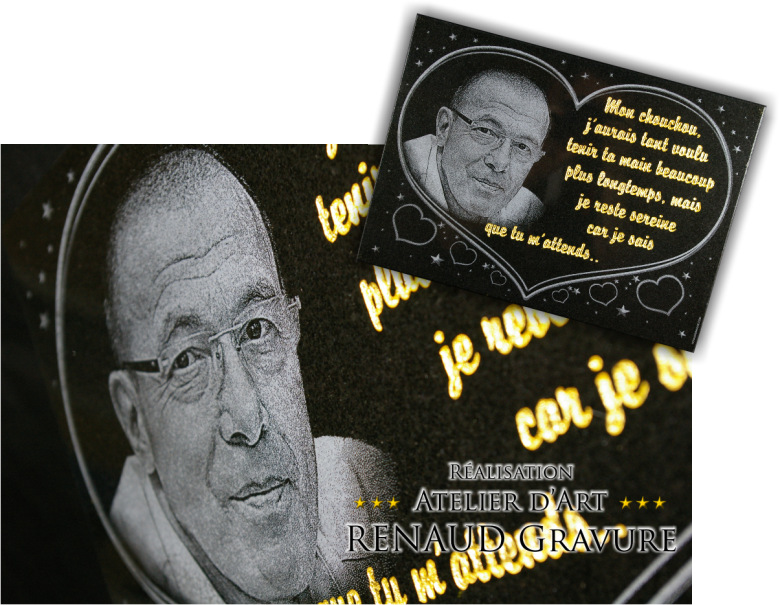 A true professional engraver,
We only offer you resistant and aesthetic materials!

Below : Model with portrait of the deceased engraved on the glass. The glass is engraved in the hollow, so the work is naturally unalterable. It"s definitely not screen printing or laser marking!
The gilded fillet and letters are engraved and then gilded with 24-carat stainless steel gold leaf. Only 24-carat pure gold 1000/1000ths does not oxidize.
Gold gilding with 22 carat gold or less contains metals other than gold. These metals are therefore oxidizable and change the colour of the gilding over time. If the gold is mixed with copper, the gilding turns green. If the gold is mixed with brass, the gilding turns brown.

The quality of gold leaf is important in places with more or less acidic air. Seaside and large cities are good places for oxidation. From experience we have observed that cemeteries placed near sewage treatment plants are also conducive to the oxidation of gilding, which is not done in 24 carats.
Quality comparative, understand, compare :
Here acomparative by image in order to well understand the differences between the qualities of engravings :

We show you lots of photos of memorial plaques,
they are voluntary very big to let you
judge the unique and higher quality of our work .


Renaud Gravure is currently the only firm able 
to reach such a level of quality in this 3 simultaneous criteria :
 Thickness of the detail of the engraving                     
 Artistic quality of the portraits                           
 Stable strength of the engraving in the mass.

Authentic engraving guaranteed more than 50 years.


Here the real appearance of the photoengraving by the machine.

The photos of other pages ( when they are real) are too small 
to be able to watch the inelegant screen. 
Very generally, 
it is a matter of graphic computer photomontages
which don't represent at all the ugliness of the screen.

For the plaques by laser, the stracing is strictly superficial
thus it is covered by a microscopic coat of paint.
This paint can soften in hardly few months !
Then without paint, the microscopic tracing becomes invisible.
It is the major detail of the laser because it is not an hollowed engraving.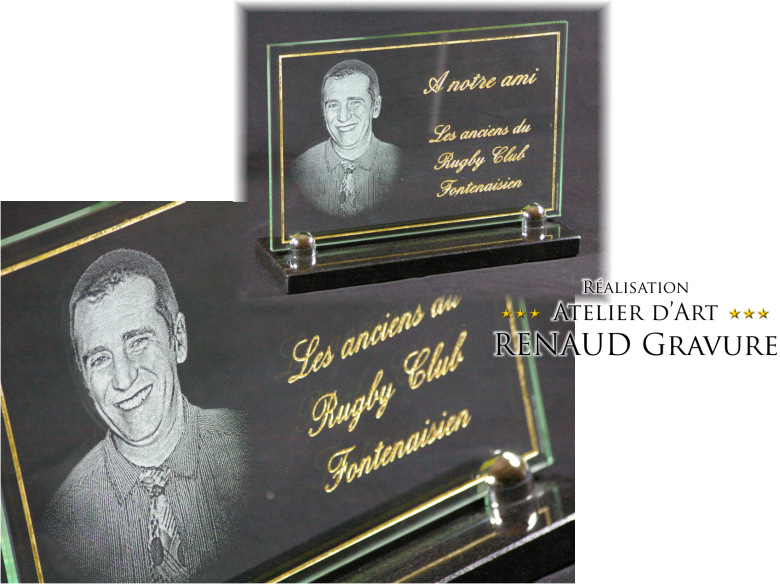 To make funeral plaques with beautiful engravings we use the finest materials:
Black granite 1st choice of very high quality from Indian quarries, deep black color and extremely strong.
Real anti-burglary glass: Strong, secure and does not deteriorate even over several decades when exposed to the outdoors. Unlike PVC, plastics, PMMA, synthetic glass and other exotic names, which yellow, discolour, deform, our real glass plates remain intact!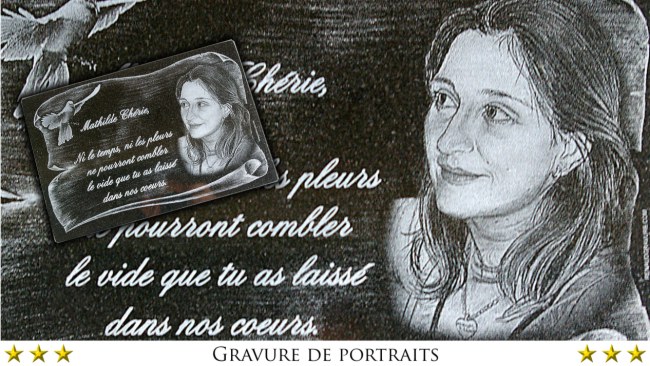 How to create a plaque with engraved portrait:
This site has an online composition software that calculates the price of your composition in real time. To access it, click on the "Create a plaque" links. We recommend that you use a computer, as it is necessary to have a large screen to visually simulate the plate. You can contact us to ask us for our opinion on your composition, payment is made online and the manufacturing time is about 10 working days.

To order this plate, the customer used our online configurator. In this one he imported the image of the deceased by clicking on the "Engraved Portraits" button. This section of the personalization program allows you to select a digital file on the computer, but it also allows you to display a replacement image if you want to send a silver photograph by mail.
Everything is provided in the creation tool so that you can build the plate project and immediately have the price of the plate displayed on the screen.
The tool also allows to place patterns on the theme of motorcycles as it was done on this realization.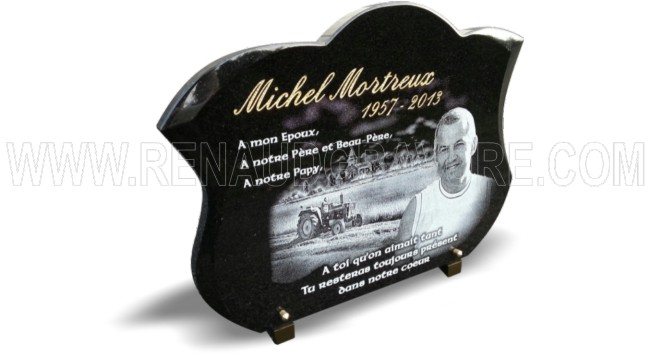 Your plaque with photo:
We also make engraved portraits on our modern models. These models consist of one or two 1.5 kg (15 x 8 x 5 cm) glass cubes glued to a 30 x 10 cm black granite base.
These modern plates are perfectly designed for outdoor display, as they are made of real glass and granite. The cemetery life is excellent over several decades, because these materials do not deteriorate over time and the engraving is deepened in this material.
These models, like all the others, can be customized via our online software. The exact and final price is calculated and displayed in real time in this application.
| | | | | | | |
| --- | --- | --- | --- | --- | --- | --- |
| | | | | | | |
| | Payment methods | | Delivery methods | | Renaud Gravure international | |
| | | | International delivery | | International delivery | |
| | | | | | | |
| | Customer reviews by Google | | | | Useful links | |
| | | | | | | |