ANGELS
Models of funeral plaques with angels.
Page : 1
More than 50 angel engravings are available in our burial plate creation tool to help you create a project that suits your taste. Access to the collection of angel and fairy drawings is very simple: in the plaque configurator, click on the "High Definition Drawings" button and then on the "Angel" category button).



You have the possibility to change the designs, sizes and locations. You can place several engraved patterns and arrange them as you wish. The angel funeral plaques below use some of these designs but not all of them because otherwise you would have to display hundreds of models, you will find angels with spread wings but also weeping women, baby angels in prayer or on their knees. There's even an Angel Cat. Each engraving can be repositioned as you wish. All these funeral plaques are only examples because you can really change everything. We can also advise you by email to help you design your angel memorial plaque if you encounter any difficulties in using the creation tool.
Personalize your funeral plaque with angel.

Customize memorial plaques below :
Change plaque or material, change patterns , sizes , texts , add your photos ...
The customisables models below are only a small part of the creative possibilities.

Rating :

9.9 / 10 - Reviews collected & certified by Google.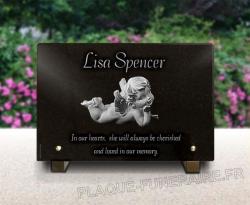 Material : Engraved granite

H. 20 x W. 30 x Th. 2 cm, 4.5 kg

215 Euros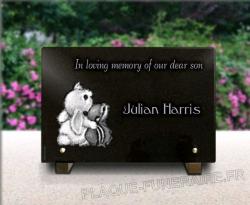 Material : Engraved granite

H. 20 x W. 30 x Th. 2 cm, 4.5 kg

202 Euros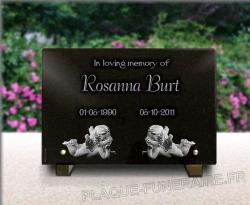 Material : Engraved granite

H. 20 x W. 30 x Th. 2 cm, 4.5 kg

267 Euros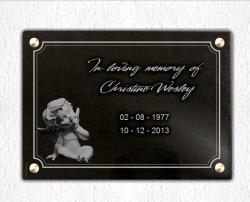 Material : Engraved granite

H. 25 x W. 35 x Th. 2 cm, 6.3 kg

299 Euros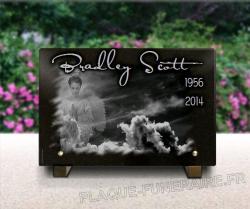 Material : Engraved granite

H. 20 x W. 30 x Th. 2 cm, 4.5 kg

210 Euros
The different representations of the angels on a child's funeral plaque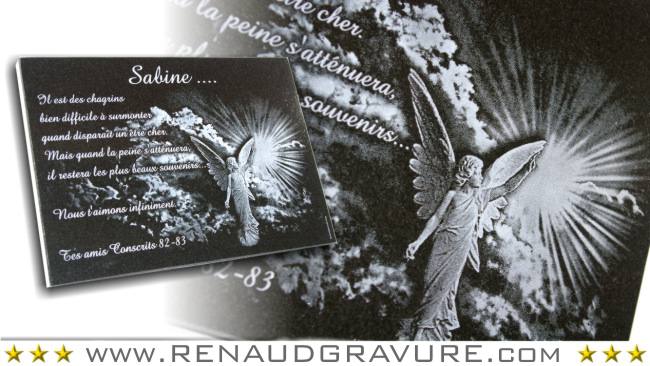 The funeral plaque above represents an angel raising his hand to the sky and the rays of the sun. The symbolism of the angel funeral plaque. In funerals it is very often used as a symbol of divine protection, in which case they are often depicted as wings spread so that these wings protect the deceased. The representation of a crying angel is a way to express the grief associated with the loss of a friend or relative. An angel with his hands joined invites us to meditate and pray. It generally represents a child who died at an early age and allows the transfiguration of the deceased. Finally, it can also, according to beliefs, be the symbol of resurrection.
A glass funeral plaque with an angel sitting on a heart.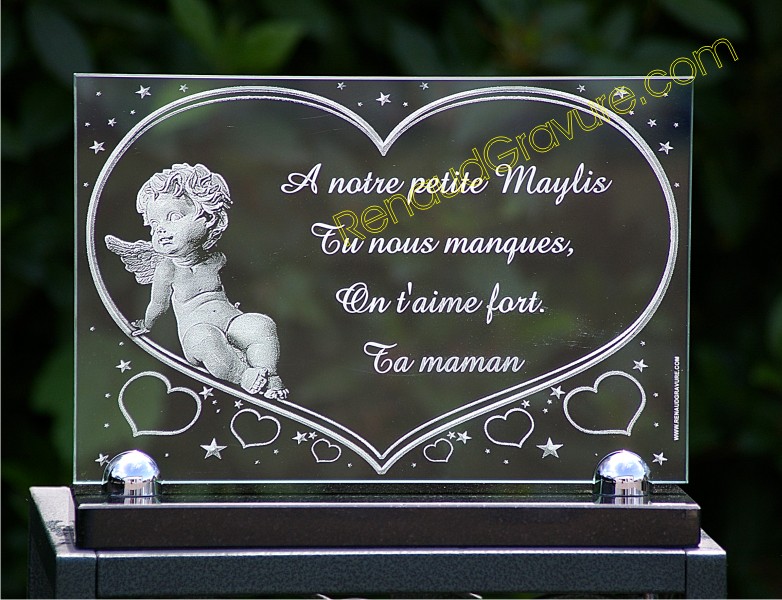 Above: The photograph of a 30 x 20 cm engraved glass realization with an angel on the left side. This memorial plaque for grave has been customized using our online configuration tool. It is very simple to place angel motifs on plaques. In the configurator you just have to click on "High definition drawings" then on the category "Angels and Fairies" which is in the drop-down list of themes. Then, a large number of drawings are available.
| | | | | | | |
| --- | --- | --- | --- | --- | --- | --- |
| | | | | | | |
| | Payment methods | | Delivery methods | | Renaud Gravure international | |
| | | | International delivery | | International delivery | |
| | | | | | | |
| | Customer reviews by Google | | | | Useful links | |
| | | | | | | |