Dogs
Our Memorial Plaques with dog engraving
Page : 1
We prepared a large number of drawings of dogs to engrave on the funeral plaques.
The few models below therefore do not present all the available drawings.
To consult all the drawings of dogs, it is necessary to configure a plaque and to choose the category -Dogs- in the -Drawings high definition-.

You will therefore find there: dachshund, spaniel, bichon, shepherd, bulldog and many other breeds that it would be tedious to list here. To have the photo of your dog engraved on your funeral plaque, you can also import your photo into the configurator so that it can be worked by the artist engraver jocelyn RENAUD.
In this case, a graphic, artistic study carried out by hand is presented to the customer to obtain his agreement before engraving.
Do not hesitate to consult our numerous photographs of achievements, because certain funeral plaques with dog are presented there.
You can customize a funeral plaque with dog below:
Customize memorial plaques below :
Change plaque or material, change patterns , sizes , texts , add your photos ...
The customisables models below are only a small part of the creative possibilities.

Rating :

9.9 / 10 - Reviews collected & certified by Google.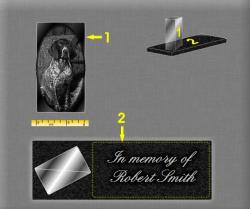 Material : Engraved glass

H. 17 x W. 30 x Th. 10 cm, 6 kg

191 Euros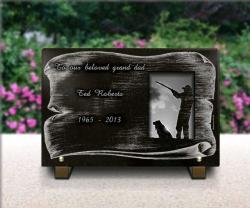 Material : Engraved granite

H. 20 x W. 30 x Th. 2 cm, 4.5 kg

249 Euros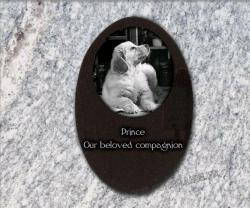 Material : Engraved granite

H. 30 x W. 20 x Th. 1 cm, 2.2 kg

240 Euros
You're not an isolated case, a lot of persons contact us to ask whether it is possible to create a Dog memorial plaque for cemetery. Of course it is and it has to be known it is very frequent.
Our funeral etcheds plaques for dogs are made with the same care than for our plaques for deceaseds.
The polished black granite is of first quality, plain black and stable. The engraving is hollowed so it can't undergo a change in the time. The photo of a dog is manually worked, like for deceased's photos.
A photorealistic study of the plaque is suggested to the client for agreement before engraving.
A Dog memorial plaque for outdoor, cemetery and headstones.
Left: Funeral plaque with photo of the dog Véra 30x20cm, text engraved in gold 24 carats. Right: Model 30x20cm with photoengraving of Rocky's art and text engraved in the mass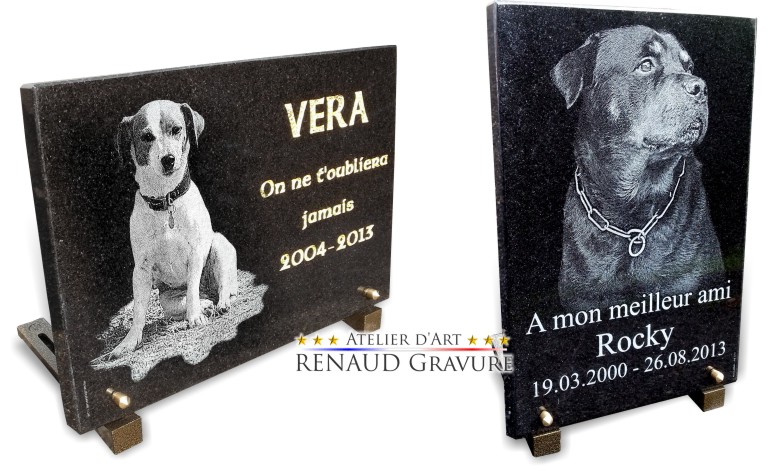 Photoengraving very resistant
This customisable funeral plaque can be placed outside in an animal cemetery or in a private location.
The resistance of the plate is perfect, it does not fear intense freezing or very high temperatures.
The engraving of your dog is made in hollow in the mass of the granite or glass, so the engraving is totally unalterable.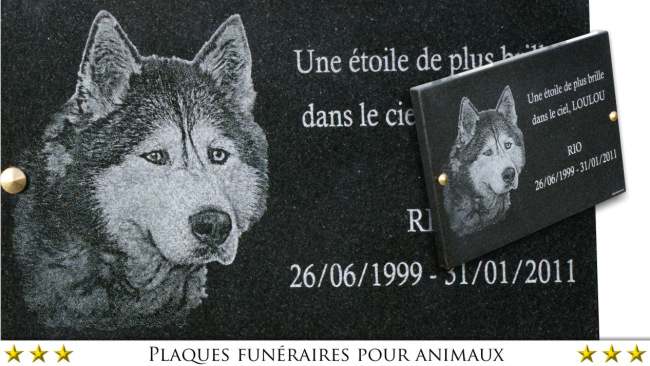 Like for all our memorial plaques for dog, you have to use our online making software to design your plaque for dog.
In this configurator, you have the possibility to import the photo of your pet in order to us to engrave it. We artistically touch up each photo that has been order so your photo of a dog will be worked to make it stand out and highlight your animal.
Do not hesitate in contacting us to get others informations.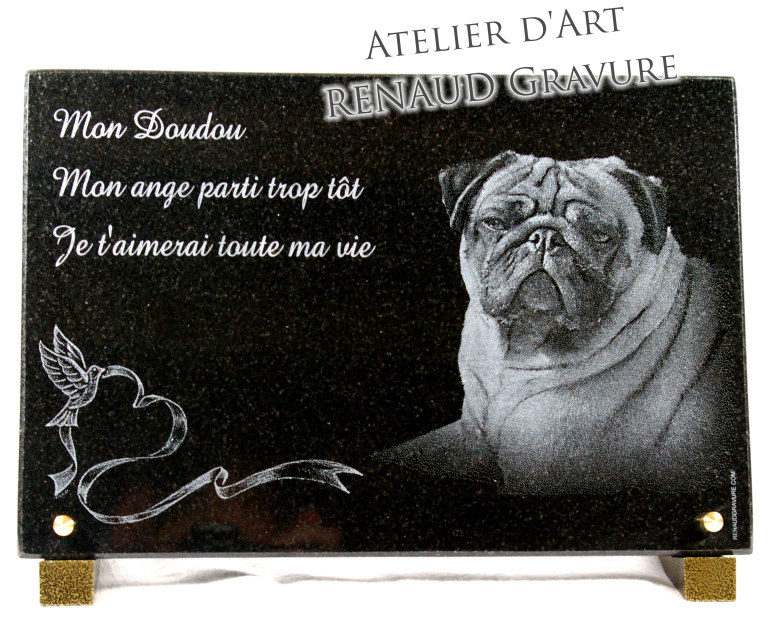 This few examples of memorial plaque for dog are not representatives of the whole possibilities offered by RENAUD Gravure.
You can make up your plaque for pet online, with our software.
We can also provide you a photoporcelain high resistance with the photo of your dog, this is available through the online software too.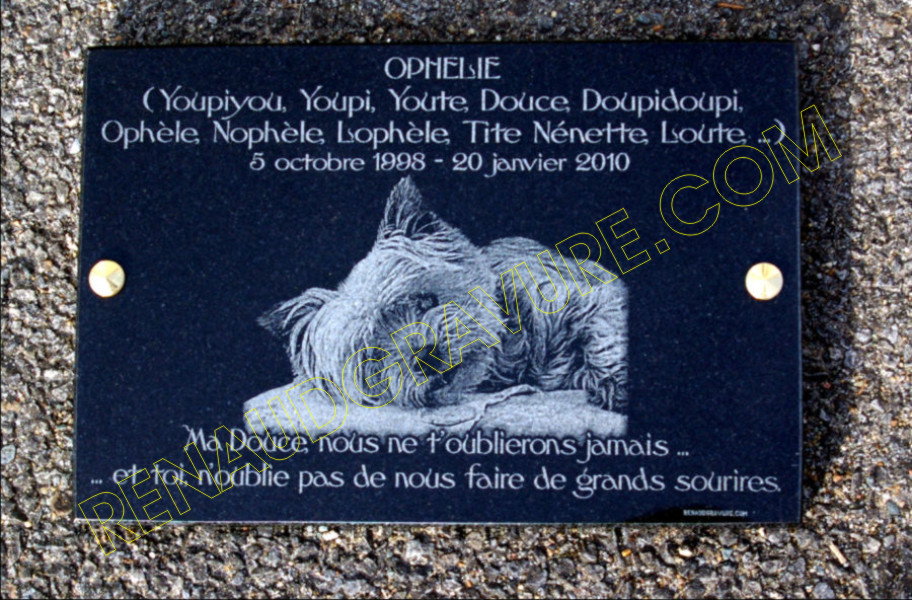 Even for animals Renaud Gravure designs magnificent customized plaques.
Renaud Gravure is now known through the whole France and even abroad for its personalized memorial plaques of high quality.
The company has developped very soon a new branch of activity very original that is not proposed in all the manufacturer of memorial.
It is a matter of conception of grave's plaques for pets.
The demand was bigger and bigger in this field because more and more owners of pets wish to personalize a plaque in order to pay last respects to their deceased companion.
Jocelyn Renaud thus has decided to dedicate a bit of his talent for animals. If like a 46% of the british you have a pet, you surely know how much we are attached and how it is distressing to lose them.
It is so natural to want to pay last homage when he leaves. Renaud Gravure suggests you the same performance for animals than for human being, it means the same noble materials like black granite or genuine glass accepted for their strength and their brightness.
Thanks to the software of making up of memorial plaques you can design your own plaque in order to be able to put down the photo of your dead animal just as a personal message you want to dedicate to him.
You can consult some models of grave for animals, memorial plaque for dog online dedicated to dogs, cats and more.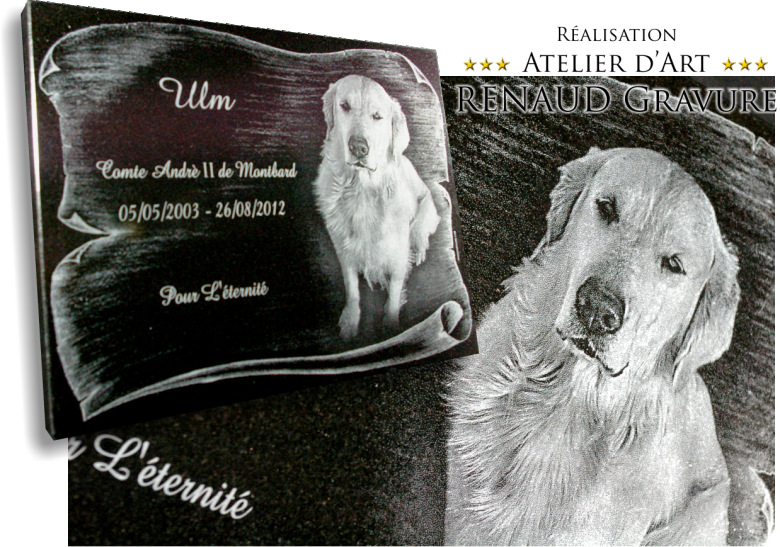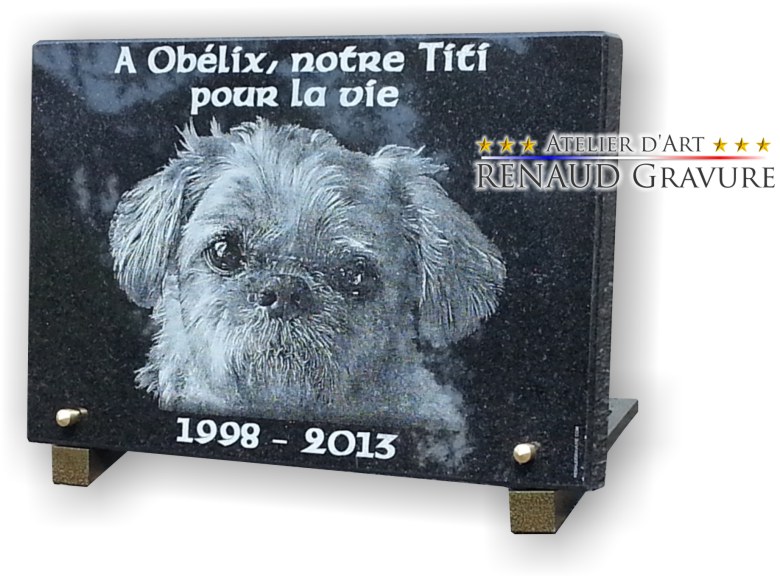 The dog, the man's best friend
The dog is doubtless one of the most familiar animals most appreciated, especially for its loyalty and the gratitude towards their master they know how to show.
The man has made from the dog his bestfriend since the prehistory, indeed it is about the first animal specie that has been domesticated by the man, principaly for hunting.
Nowadays, the dog is used for work, in certain jobs or just simply as a pet.
There exists a lot of different breeds, pedigree dog, crossing between different pedigree dogs or even "mongrels" from several crossings. Every person choose his dog according to his needs but especially for its way of life, a little dog such as Chihuahua will perfectly adapt to a life in a flat, whereas a doberman will be perfect to secure the entrance of your residence. Pointers or spaniels are, as for them, excellent gun dog.
| | | | | | | |
| --- | --- | --- | --- | --- | --- | --- |
| | | | | | | |
| | Payment methods | | Delivery methods | | Renaud Gravure international | |
| | | | International delivery | | International delivery | |
| | | | | | | |
| | Customer reviews by Google | | | | Useful links | |
| | | | | | | |