Fishermen
Funeral plaques for fishermen to personalize online.
Page : 1
This is our collection dedicated to the peach theme plate. These models have been created so that you can customize a plaque for the burial of a passionate person.
We have integrated drawings of fishermen in boats on a lake, in rivers and at sea. There are also engraved motifs depicting fly fishing scenes, but also boats at sea or in rivers. For the enthusiasts, the equipment is important and the attachment to this equipment can be sentimental, that's why you will also find rods, traps and nets. To show nature, we have also added riversides or seasides with people seen from behind or against the light.
Not all drawings are shown here, as there are many available.
To consult them in their entirety, you must customise a funeral plaque and click on "High Definition Drawings" in the creation tool and then in the "Fishing Category" section.
We are always at your disposal to advise you or help you in the realization of your mourning plaque project. Please note that it is also possible to have your own photo or illustration engraved.
All these funeral plaques are customizable:

Customize memorial plaques below :
Change plaque or material, change patterns , sizes , texts , add your photos ...
The customisables models below are only a small part of the creative possibilities.

Rating :

9.9 / 10 - Reviews collected & certified by Google.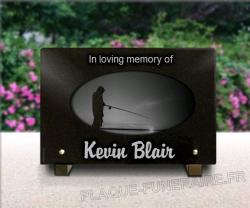 Material : Engraved granite

H. 20 x W. 30 x Th. 2 cm, 4.5 kg

206 Euros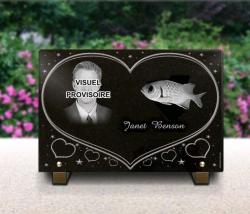 Material : Engraved granite

H. 20 x W. 30 x Th. 2 cm, 4.5 kg

330 Euros
Commemorate his passion:
The category of body plaques on this theme is very well provided, moreover, we offer you more than 15 models.
Here you will find drawings and engravings evoking leisure time, which can be in rivers or lakes, as well as other motifs on boat and sea navigation.

Some patterns represent tools and utensils.

So you can create a grave marker for an amateur or professional enthusiast. You will also find representations of anglers by the river or others by boat in lake or river.

For professionals, you will also find trawler and boat designs for returning to port. It is also important not to forget the collection at the seaside for more seaside activities. So we added representations of shells with small baskets filled with different seafood and shells.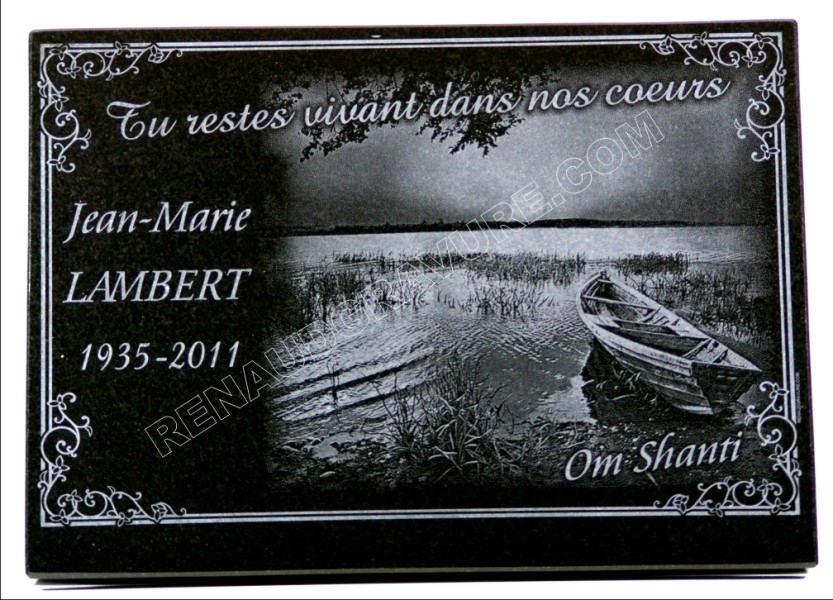 Whether it is practiced in a river, stream or sloping stream, this practice presents different dangers.
The major risks are of course drowning, but also hydrocution, there are also some accidents of practitioners struck by lightning in the event of a storm.

Whether it is a hobby or a profession, it is sometimes risky and results in the death of dozens of people each year.
Renaud Gravure therefore proposes to pay tribute to them by proposing your personalised grave plaque.
| | | | | | | |
| --- | --- | --- | --- | --- | --- | --- |
| | | | | | | |
| | Payment methods | | Delivery methods | | Renaud Gravure international | |
| | | | International delivery | | International delivery | |
| | | | | | | |
| | Customer reviews by Google | | | | Useful links | |
| | | | | | | |