Flowers
Customisable grave plaques with flowers
Page : 1
In all these models of memorial plaque with flower, you will find death plaques with arum drawing, mourning plaques with bouquets of roses, funeral plaques with carnations, as well as drawings of irises engraved on death plaques and many other floral drawings on granite or glass plaques.
We offer you a very large choice of flower designs that you can add to the plaque of your choice.




You can find them in our online configurator. Section -High definition drawings- then section -Flowers-.
You will find roses, bouquets, arums, carnations, irises, thoughts and many other flowers and floral decorations.
Rose bouquets, irises, arums and floral bouquets.

Customize memorial plaques below :
Change plaque or material, change patterns , sizes , texts , add your photos ...
The customisables models below are only a small part of the creative possibilities.

Rating :

9.9 / 10 - Reviews collected & certified by Google.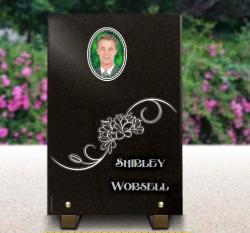 Material : Engraved granite

H. 30 x W. 20 x Th. 2 cm, 4.5 kg

161 Euros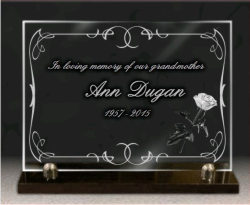 Material : Engraved glass

H. 25 x W. 35 x Th. 1 cm, 5.4 kg

316 Euros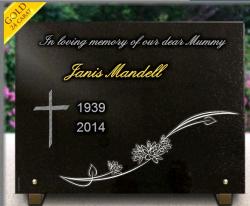 Material : Engraved granite

H. 30 x W. 40 x Th. 2 cm, 7.8 kg

349 Euros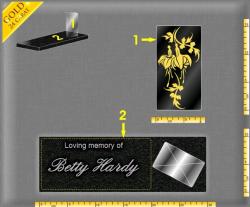 Material : Engraved granite

H. 17 x W. 30 x Th. 10 cm, 6 kg

206 Euros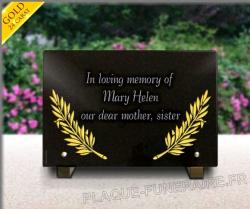 Material : Engraved granite

H. 20 x W. 30 x Th. 2 cm, 4.5 kg

310 Euros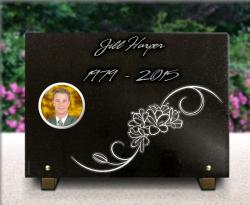 Material : Engraved granite

H. 25 x W. 35 x Th. 2 cm, 6.3 kg

209 Euros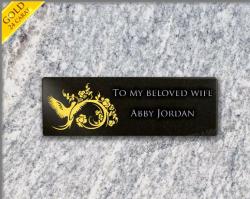 Material : Engraved granite

H. 10 x W. 30 x Th. 1 cm, 1.5 kg

191 Euros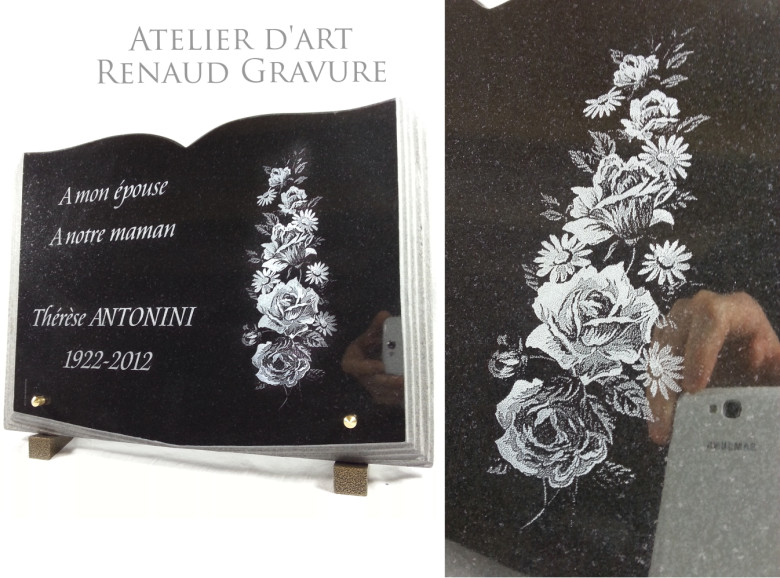 Offer flowers on a personalised memorial plaque.
Giving flowers is a tradition that has lasted for hundreds of years, it is a gift that symbolizes beauty through a simple and natural object.
Multiple flowers can be reproduced as a symbol of love or friendship. We will of course think of the most famous one: the rose which can be engraved in different ways in bud or flower that has reached maturity depending on the symbol we want to give it.
It is also possible to engrave a bouquet of field flowers or tulips for a more rural effect.



Above: The realization of a personalized engraving by Jocelyn RENAUD: artist engraver and portrait painter; quoted on the art market.
A bouquet of flowers for a tribute
Offering a model decorated with a bouquet of eternal flowers is a very good idea.
The bouquets can be infinitely personalized according to the value of the feelings you want to show and the person you want to offer.
The flowers at Renaud Gravure are engraved with extreme finesse, the engravings are made in 2D but with different shades obtained thanks to the width and depth of the engraving which gives them an extraordinary relief.
The bouquet thus obtained will remain beautiful for a very long time because Renaud Gravure engravings are guaranteed for 50 years.

The rose symbol of love
Offering engraved flowers allows pay an eternal homage to a dear human being. It's customary to offer roses as a symbol of the purity of the love we feel to a woman, whether if it is our mother or our wife.
Since the antiquity the rose is the symbol of regeneration, this is for this reason it is often linked to memorial monuments.
Offering an article embellished by a rosebud or a roses bunch therefore is an excellent mean to show one's eternal love to a deceased mother or partner.
| | | | | | | |
| --- | --- | --- | --- | --- | --- | --- |
| | | | | | | |
| | Payment methods | | Delivery methods | | Renaud Gravure international | |
| | | | International delivery | | International delivery | |
| | | | | | | |
| | Customer reviews by Google | | | | Useful links | |
| | | | | | | |