Heart
Collection of memorial plaques with heart.
Page : 1
The models presented below are all customisable at will thanks to our online creation tool. A sign of love, more than 50 models are at your disposal.
These models have been created to give you inspiration, but you can also create a complete plaque.
You can use the drawings in our customization software.
Many of them are not presented here because there are many of them.


In our collection you will find this type of pattern in gold, interlaced or ribbon.
You also have the possibility to integrate a porcelain photo in the shape of a heart.
When you create your project, the software constantly displays the price of your project in real time. The use of the configurator is completely free, anonymous and without obligation, without registration, without creating an account.
We do our best to be as transparent as possible and to allow you to easily compare our professional service to what you might find on the market.
Do not hesitate to consult our "The company" page to learn more about the company RENAUD Gravure, which is a reference in the funeral art market.
Personalize a heart-shaped funeral plaque, engraved in granite or glass

Customize memorial plaques below :
Change plaque or material, change patterns , sizes , texts , add your photos ...
The customisables models below are only a small part of the creative possibilities.

Rating :

9.9 / 10 - Reviews collected & certified by Google.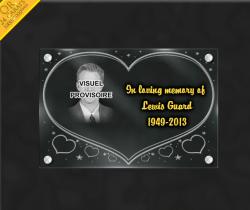 Material : Engraved glass

H. 20 x W. 30 x Th. 1 cm, 1.5 kg

361 Euros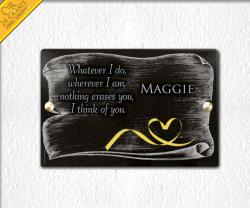 Material : Engraved granite

H. 20 x W. 30 x Th. 2 cm, 4.5 kg

287 Euros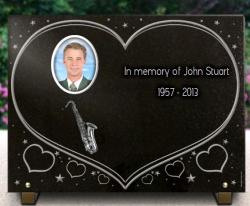 Material : Engraved granite

H. 30 x W. 40 x Th. 2 cm, 7.8 kg

284 Euros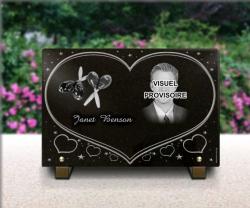 Material : Engraved granite

H. 20 x W. 30 x Th. 2 cm, 4.5 kg

325 Euros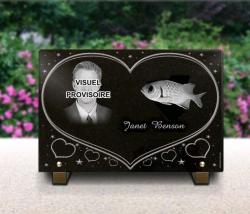 Material : Engraved granite

H. 20 x W. 30 x Th. 2 cm, 4.5 kg

330 Euros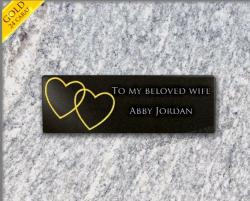 Material : Engraved granite

H. 10 x W. 30 x Th. 1 cm, 1.5 kg

191 Euros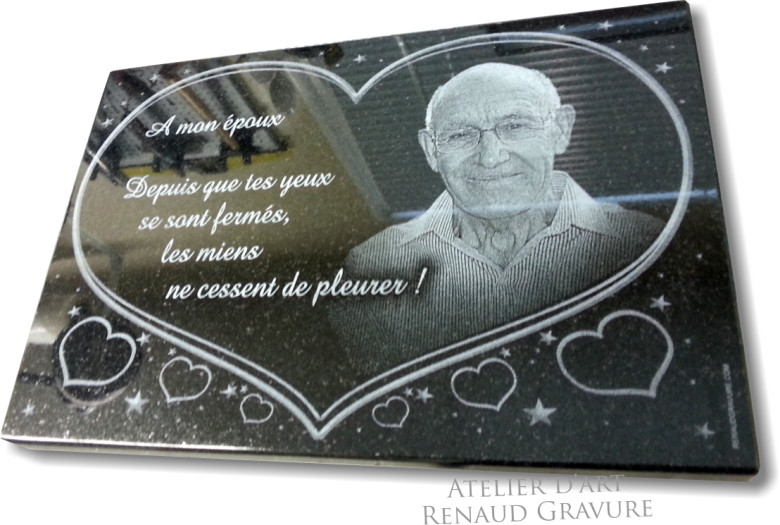 Above: Hearts funerary plaque with stars and a portrait of the deceased

This granite heart plate measures 30x20cm. All drawings and the photo are engraved in the mass. This engraving is of professional quality because it is really dug into the material.
Unlike laser or printing processes, RENAUD-Gravure is deepened in order to guarantee a perfect hold over time.
This engraving is dug, so it is totally unalterable because it is also dug in a particularly hard and resistant material. The granite we use is specially selected for our artistic activity of engraving portraits of the deceased.
Indeed, portrait engraving is extremely precise, so the granite must not have any roughness that could distort the drawing.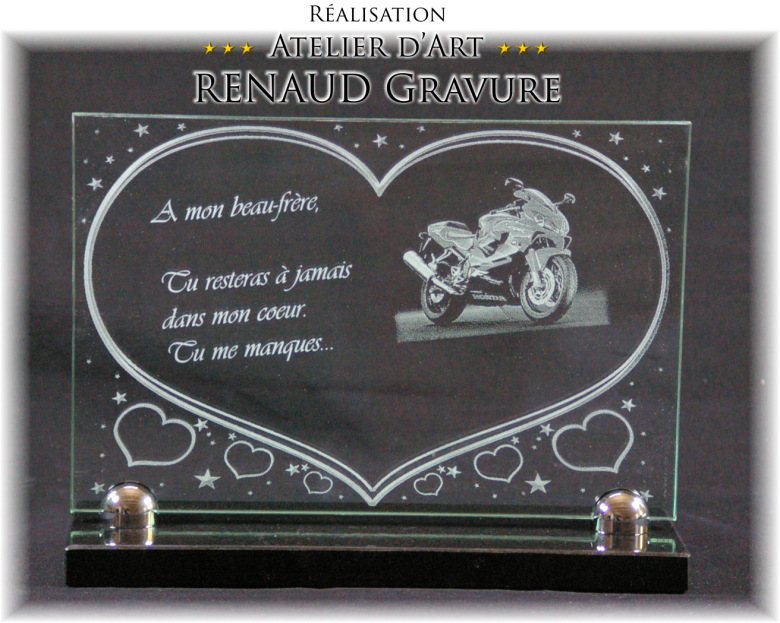 Hearts engraved on a glass plate.
Above: The patterns are engraved in the glass, the engraving is dug into the surface of the glass.

This glass mourning plate measures 30x20cm. It is rigidly fixed on a 30x10cm and 20mm thick granite base.
This base is therefore heavy and allows the whole thing to be perfectly stable, even in strong winds.

The glass plate has been customized by the customer using our online configurator.
This configurator has been specially developed for RENAUD Engraving, it has many options including access to more than 1500 drawings, the possibility of importing your own photographs or drawings,
16 calligraphic styles to customize texts,
more than 100 examples of funeral texts,
19600 variants of porcelain photos
a collection of drawings engraved and gilded with 24-carat gold leaf, and of course a wide choice of granite or glass plates in different shapes and sizes.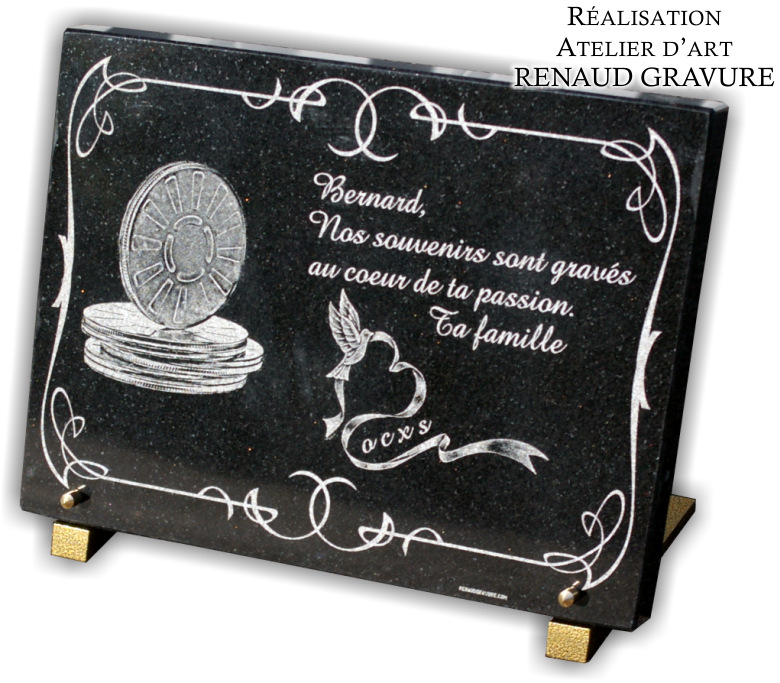 Porcelain photos in the shape of a heart
Below : Here is a porcelain photo with 2 portraits of the deceased.

This medallion can be ordered on our website, with no engraved plaque for graves and cemeteries.
The menu on the left gives you access to the special page of porcelain photos
The model presented below measures 10 x 10 cm.
It has different options including:
- heart shape - yellow moiré background decoration,
- luxury border with double black net,
- text box, color finish.

You can perform simulations with our configurator, this is without any commitment and without prior registration.
Feel free to do different simulations because the software allows you to do more than 19,600 variants.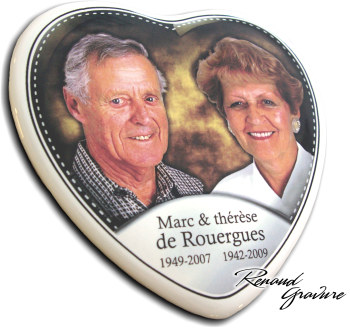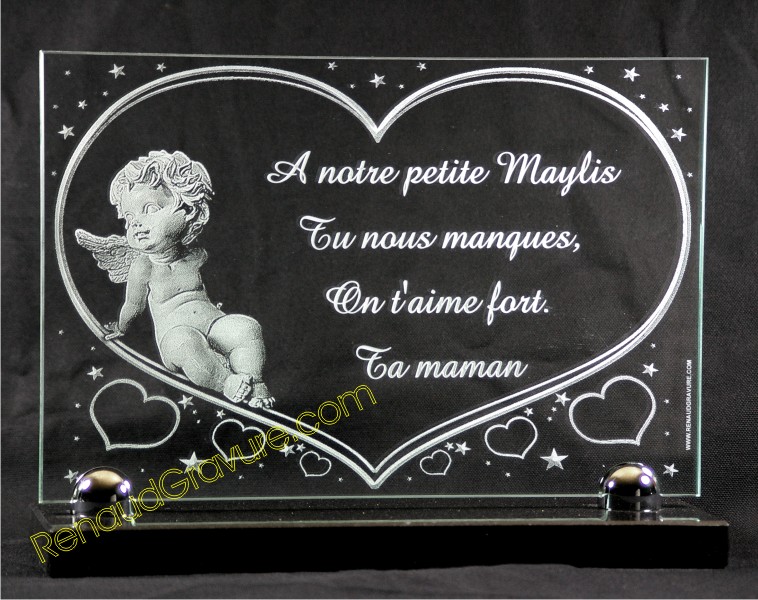 | | | | | | | |
| --- | --- | --- | --- | --- | --- | --- |
| | | | | | | |
| | Payment methods | | Delivery methods | | Renaud Gravure international | |
| | | | International delivery | | International delivery | |
| | | | | | | |
| | Customer reviews by Google | | | | Useful links | |
| | | | | | | |