Memorial plaque with horse, equestrian
Page : 1
With our plaque models you can customize and create a grave plaque with a horse.
Whether the deceased person is a horse enthusiast or a professional in the equestrian world, you will certainly find in our collection the motif you are looking for.
In order to meet all requests, we have graphically represented various equestrian sports. You will therefore find drawings of horse races but also of show jumping and representations of riders.
Horseback riding is a fairly developed sport in Europe. Many horse shows are organised regularly and give equestrian sports enthusiasts the opportunity to see and admire horses, fillies, mares and foals.
Of course, it is possible to have a personal photo engraved with the deceased. It is not uncommon to engrave a rider on his mount, his faithful steed.
In this case the photograph is worked by the engraving artist. This ensures that the person and the animal are valued. The engravings are extremely precise and allow you to see the smallest details.
It is also possible to engrave the stable with the horse and several horses. So you can take a picture of the installations and have it engraved.
As always, the engraving we do is of a very high quality and laser or printing because we are professionals and graduates in art engraving. We guarantee the highest quality !
Create your memorial plaque with horse engraved.

Customize memorial plaques below :
Change plaque or material, change patterns , sizes , texts , add your photos ...
The customisables models below are only a small part of the creative possibilities.

Rating :

9.9 / 10 - Reviews collected & certified by Google.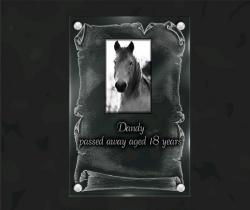 Material : Engraved glass

H. 30 x W. 20 x Th. 1 cm, 1.5 kg

275 Euros
The granite or glass plates can be personalized with decorations evoking the passions of the deceased. On the theme of horses, we offer you drawings of horse races and equestrian sports, some pictures of horses in different positions and of different breeds.
The horse, an animal very close to man.
The horse is considered to be one of the closest animals to man, people who love horses usually spend a lot of time with them, between the walks and the care they provide.
If your missing friend or relative was one of these enthusiasts of the horse offer him a horse funeral plaque specially designed for him on this magnificent animal. Renaud Gravure offers memorial plaques on this equestrian theme but can also make custom-made plates based on the photo you provide him.
If you have any questions, do not hesitate to contact us, we will guide you in the elaboration of a plaque and we will give you advice on how to arrange the decorative elements of the grave plaque.
We can also help you with the writing of your funeral text.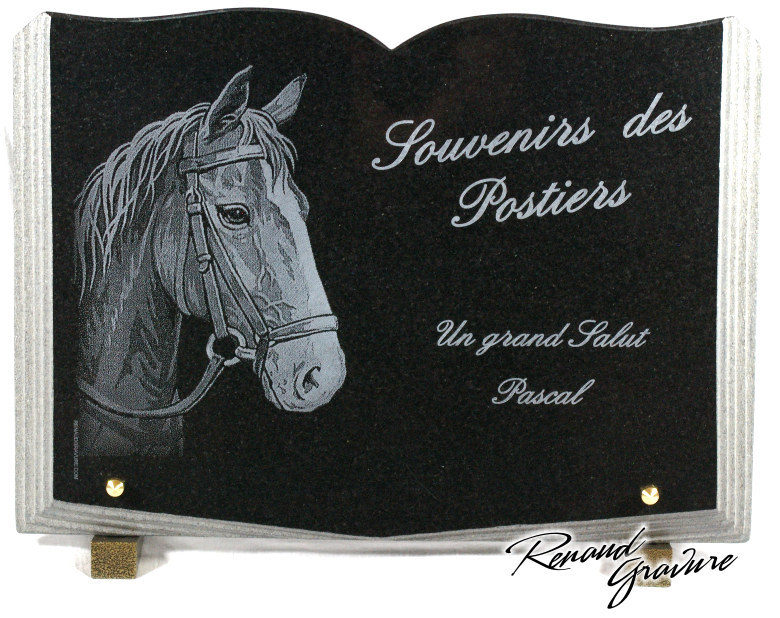 Tombstone plaque to personalize 35x25cm with horse drawing
Granite cut, cut and polished in the shape of an open book. Horse bust motif with countryside landscape and epitaph. For more details and to customize this model, click below: Memory plaque book with horse
Transcribe the passion for horses in a cemetery plaque.
Horseback riding is a sport but it is above all a passion.
If the deceased practiced this sport or if he owned horses himself and spent all his free time brushing them, train them, ride them, you can have a funeral plaque created representing horses.
A horse galloping or resting, a horse alone or in a herd with or without its rider, there are many possible representations on the theme of the horse.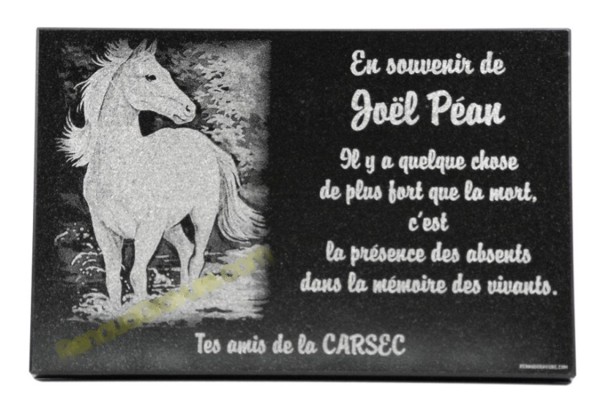 The horse as a pet.
Losing your pet is often difficult, he has often spent many years with us and we are very attached to him.
His disappearance is often an ordeal.
Renaud Gravure designs special grave plaques for pets. He creates beautiful ones specifically for horses for all owners of a missing horse or for horse lovers.
With the help of a photo of your horse at rest or galloping, Renaud Gravure will be able to create a personalized funeral plaque to pay tribute to him.
| | | | | | | |
| --- | --- | --- | --- | --- | --- | --- |
| | | | | | | |
| | Payment methods | | Delivery methods | | Renaud Gravure international | |
| | | | International delivery | | International delivery | |
| | | | | | | |
| | Customer reviews by Google | | | | Useful links | |
| | | | | | | |