Hunters
Tombstone plaques for hunter to be personalized online
Page : 1
This page offers you some models of grave plaques with hunter. Scene engravings are numerous and we have added drawings of pointing dogs and rifles.
The different types of hunting are also discussed. You will therefore find hunting in the yard, with ducks, but also some representations of game such as deer, hare, partridge, pheasant or wild boar.
All our drawings are available in the online tool, on the "High Definition Drawings" button and then in the "Hunting" category.
You can therefore create a complete plaque or take a template below to customize it with a decor.
Modifying a model is a very easy thing to do, because our customization tool is really designed for our products.
Indeed, we developed this application ourselves so that it meets all your personalization needs while being compatible with our unalterable engraving techniques.
Indeed, the engraving we do at RENAUD Gravure is truly exceptional for its quality and finesse.
No other art engraving on the market can compete with this unalterable engraving. RENAUD etching is a traditional and family business with exceptional and extremely rare know-how. It is at the origin of a patent validated and issued by the INPI, but that is not all.
The art engraver Jocelyn RENAUD is also an internationally recognized artist, listed by Drouot Cotation, this artist also received the stars and crafts award.
Design your hunting theme plaque below:

Customize memorial plaques below :
Change plaque or material, change patterns , sizes , texts , add your photos ...
The customisables models below are only a small part of the creative possibilities.

Rating :

9.9 / 10 - Reviews collected & certified by Google.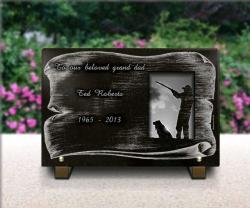 Material : Engraved granite

H. 20 x W. 30 x Th. 2 cm, 4.5 kg

249 Euros
A collection of drawings on the theme of hunting:
Thanks to our online configurator you can customize any model by adding one or more engraved drawings.

The drawings engraved for buccaneers, poachers or trappers are:
a very nice drawing of a Spaniel breed pointing dog with a pheasant in its mouth.
A drawing of a deer silhouette against the light at the edge of a forest.
There is also an engraving of a man with his rifle and animal sitting at his feet
More artisitic, an engraving of several ducks in flight with spaniel dogs and an environment of forest and undergrowth.
We also have the photo transcribed in engraving of a backlit sihouette with his rifle and then also a man by a lake.
Many other motifs represent nature scenes with ducks or with deer, deer, etc.

To choose a design, simply click (in the configurator) on the "High Definition Drawings" button and drag the category column to "hunting".
You can then click on a drawing to import it to your plate.
In the same window, you will find a button named "2: Size, position and rotation".
This part allows you to place the drawing as you wish.

Whatever the changes made, the price is constantly recalculated and displayed, it corresponds exactly to your creation.

The demand for customizable plates for hunters is therefore very high and regular.

We have worked long and hard to offer you very aesthetic designs on this theme.
You will find all these decorations in our online software.
There are reasons mixing hunting and nature and others mainly on the practice.

Customization possibilities:

If, despite all our efforts to offer you designs, you do not find what you are looking for, we can engrave your own drawings or photos. For that, it's very simple: Once in the software, click on "Photos, engraved portraits" and follow the instructions until your image is integrated.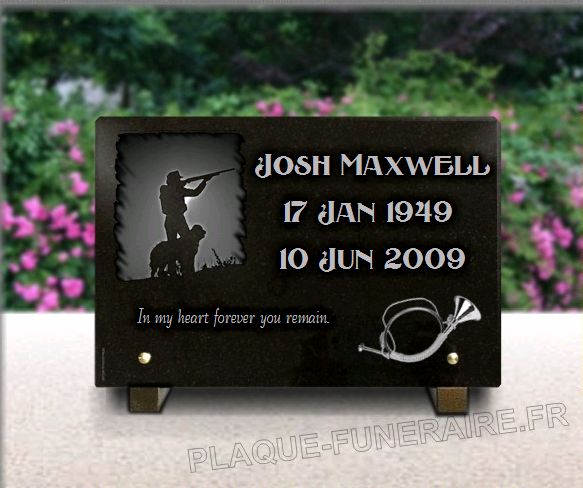 Since time immemorial, man has hunted, in prehistoric times man hunted for food, today this is no longer the case, this activity has become a sport but a dangerous sport because every year we deplore many accidents that mourn many families.

Also to create a hunting funerary plaque, Renaud Gravure offers you some models representing a hunter and his dog or with his rifle, these models are usable as is or customizable as you wish.
Every year in France there are about 150 accidents in this sport, including about thirty fatal accidents.
Most enthusiasts who live their passion to the end even if they are aware of the danger.

Also to pay tribute to them and pay tribute to their passion Renaud Gravure offers magnificent models. There are online templates but anyone can modify them as they see fit to create a fully customized template. It is then possible to reproduce the photo of the deceased in a landscape or with his loot.

We are often hunters from father to son, especially in the countryside, this practice is a family tradition, a passion passed on from generation to generation. But it is a dangerous passion, even if it is less deadly today than a century ago, this activity still causes many victims every year.

But what better posthumous gift than to pay tribute to his passion!
This is why Renaud Gravure proposes the creation of glass funeral plaques on this theme, so you can choose from classic decorations or upload your own photos of the deceased.
| | | | | | | |
| --- | --- | --- | --- | --- | --- | --- |
| | | | | | | |
| | Payment methods | | Delivery methods | | Renaud Gravure international | |
| | | | International delivery | | International delivery | |
| | | | | | | |
| | Customer reviews by Google | | | | Useful links | |
| | | | | | | |