Memorial plaque with engravings on the theme of music and musicians.
Page : 1
Over 70 engraved patterns are available to personalize a memorial and funeral plaque on the theme of music, musician or singer.
All the drawings to engrave are present in the configurator, button "High definition drawings" then they are divided into 4 categories:
Stringed musical instruments
with guitar, violin, piano, harp etc. in the category "Instrumental music. with strings"
Wind musical instruments
with saxophone, trumpet, harmonica and hunting core then trombone, flute, oboe and accordion etc. in the category "Instrumental music. with wind"
Percussion musical instruments
with drums, drums, xylophone, djembe etc. in the category "Instrumental music. percu."
The others: synthesizer, Djay turntable, concert stage, microphones, jukebox etc. in the category "Other music".
The models below may give you some ideas but they only show a small part of the patterns available in the configurator.
If you want an instrument that is not in our collection, do not hesitate to ask us.
Create a memorial plaque for a musician.

Customize memorial plaques below :
Change plaque or material, change patterns , sizes , texts , add your photos ...
The customisables models below are only a small part of the creative possibilities.

Rating :

9.9 / 10 - Reviews collected & certified by Google.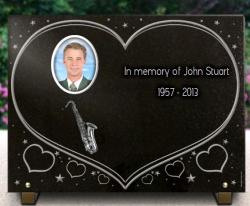 Material : Engraved granite

H. 30 x W. 40 x Th. 2 cm, 7.8 kg

284 Euros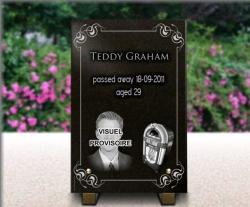 Material : Engraved granite

H. 30 x W. 20 x Th. 2 cm, 4.5 kg

351 Euros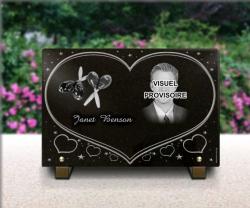 Material : Engraved granite

H. 20 x W. 30 x Th. 2 cm, 4.5 kg

325 Euros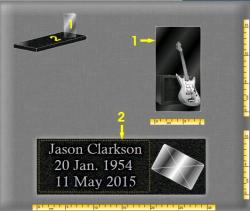 Material : Engraved granite

H. 17 x W. 30 x Th. 10 cm, 6 kg

200 Euros
The drawings available in the configurator are sorted into 4 categories:
Wind instruments:
In this category you will find an accordion and saxophone, a trombone and trumpet as well as a harmonica and a simple flute or pan flute.
Also present are: clarinet, hunting horn and a bagpipe.
Stringed instruments:
Here are grouped violins, electric or acoustic guitars, pianos and mandolins as well as harps.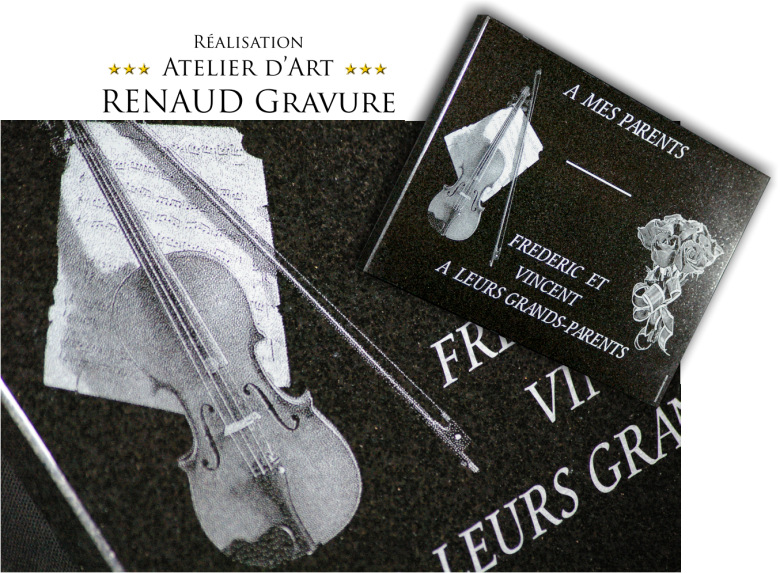 Percussion instruments:
This section presents you with maracas, electronic or acoustic drums, a djembe, tambourines and a xylophone.
And other instruments:
A category other miscellaneous instruments such as microphones, DJ instruments, vinyl or CD decks, synthesizers or numeric keypads.
There is also a jukebox and DJ headset, a phonograph and metronome.
Music for business or passion
Music is most often considered as a hobby or a passion but for some people it can also be a profession.
If you have lost a friend or relative whose occupation was a music teacher or professional musician, Renaud Gravure invites you to create a funeral plaque in the colours of this passion.
All musical instruments can be engraved on a granite or real glass plate, drums, guitar, accordion or violin.
A tribute to your musician friend
Some people work in addition to their professional activity, a parallel activity in the world of entertainment or music.
This is often the case with some groups of musicians who host parties and weddings.
For these people it is more than a second activity, it is also the pleasure of sharing their passion and bringing pleasure to the public.
To offer your missing friend a funeral plaque on the theme of music, you can design a fully customized plaque on Renaud Gravure's website.
| | | | | | | |
| --- | --- | --- | --- | --- | --- | --- |
| | | | | | | |
| | Payment methods | | Delivery methods | | Renaud Gravure international | |
| | | | International delivery | | International delivery | |
| | | | | | | |
| | Customer reviews by Google | | | | Useful links | |
| | | | | | | |