Engraved burial plaque with motorbike
Vertical burglarproof plaque for headstone with customisation.
This is a plaque in glass, vertically settled 20cm x30cm. It is drilled in the four corners in order to be screwed on a headstone.

Engraved motorbike. To personalise a plaque, there are in the software a large choice of drawings and pictures like this in order to fulfil your needs.
About the text, you are free to write whatever you want. Some people write the deceased's dates, some a short message or a poem, some prefer writting the death date with the age of the late relative. It's up to you. We, at Renaud Gravure, are just checking the presentation to be aethetic, and are never going to judge you. It is your plaque, to your satisfaction.

Presentation of the plaque:

As said, it is a transparent glass plate, vertically put.
Centered, at the top there is three-lines-text " Johnny Wallis, passed away 12-05-2014 aged 89 years".
The letters are in italics and in an English letter font.

Below there is a motorbike. It goes from the left to the right, so the seat is at the left quiet behind the front at the right. It is an entire motorbike, so the wheels and exhaust pipe are visible. It looks like a Harley Davidson, for its position of seat.

How can you create a similar memorial plaque:

- The plaque : "Plates" ; "Burglarproof glass plates" ; In the pop up please click on "Plaques glass, punched to fix" ; "plaques blank". It is the first model.

- The text : "Texts" ; "Create text #1". Please type down your text in the black frame as written. Then, click on "2: Letters' shape" and choose "Style 2". Finally to make it bigger click on "3: Size, position, rotation". The text is not definitive until you order.

- Motorbike : "High definition drawings" ; " Create drawing #1". A pop up opens, and on the right in the menu please search for "Motorbike". The model is the 12th pattern. You may have to change the rotation to have a horizontal result as ours.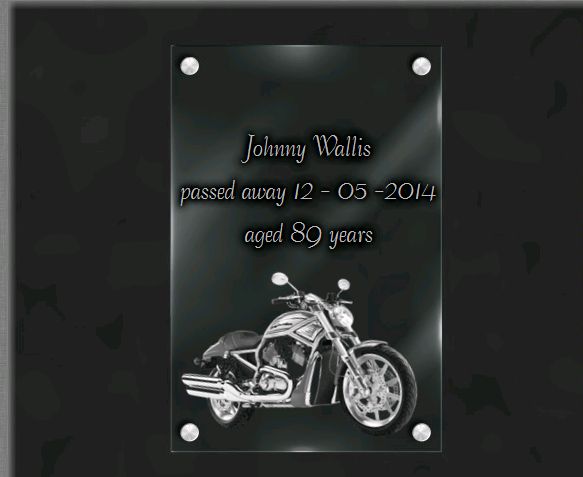 Material : glass Height : 30 cm Width : 20 cm Thickness : 1 cm Weight (around) : 1.5 Kg

Personalise this memorial plaque
Price calculated in real time




288 Euros
The unalterable engravings presented
are included in the price





---