Comparison, technical information, memorial plaque
The company has been working manually and artistically on portraits and drawings since 1997, its engraving is unalterable and traditional, detailed, really dug into the granite or glass.




The company is listed on the art market and its references are prestigious.
Renaud-Gravure is recognized as a reference and also produces expert opinions before the courts for disputes related to funeral engraving.

Quality comparison, understanding, comparison:
Here is a comparison in image to understand the differences between the qualities of engravings: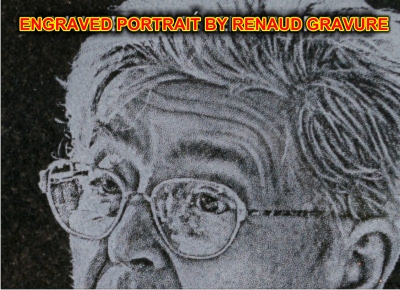 Our pointillism art engraving (Image above) is much deeper than laser marking or that a diamond tracing (by crossed stripes).
It is also much prettier than sandblasting through a weft. Our engraving is exclusive, unique on the market; it is the only one that is both unalterable and very aesthetic.
Renaud Gravure is currently the only company capable of to achieve such a high level of quality on these 3 simultaneous criteria:
- Fineness in the detail of the engraving
- Artistic work of portraits
- Unalterable resistance of the engraving in the mass

Genuine engraving guaranteed for more than 50 years.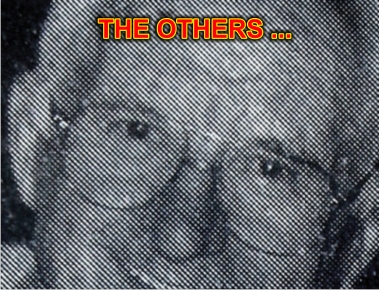 This is the true aspect of machine engraving. Photos from other sites (when they are real) are too small to allow us to see the enormous ungainly plot.
Very generally, these are computer graphics assemblies that do not represent the ugliness of the weft at all.
For laser plates, the marking is extremely superficial because the laser burns the material on the surface without digging deep into it.
The diamond tracing technique (cross stripes) is fine but it does not dig the material properly either.
There are also stickers, painting and digital printing. These techniques are totally unsuitable, derisory and without interest.



A real artistic work in hand:
Each photo is systematically worked manually before engraving by the engraving artist Jocelyn RENAUD.
A photo-realistic artistic study is presented to the client before engraving for validation.

The plate must last over time

Renaud Gravure considers everything as the consumer does, that a product such as a funeral plaque is a memorial made to last.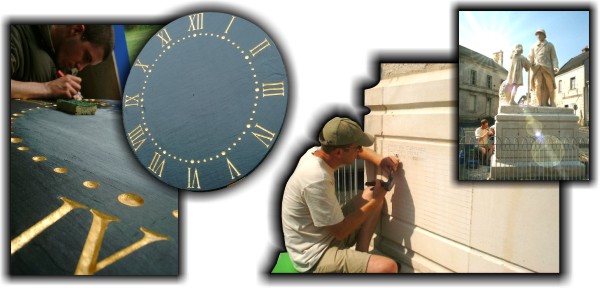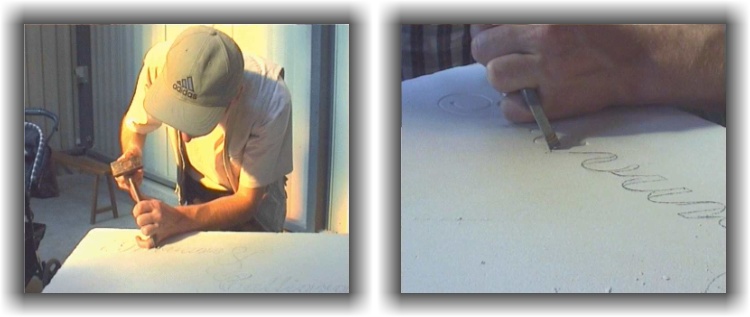 The plate must therefore resist for a minimum period of one generation and not for the legal minimum period of one year.
It appears from this observation that many techniques are unsuitable for the manufacture of a funeral plaque.
Beware of inappropriate techniques!
Via the Internet, there are more and more manufacturers, do-it-yourselfers, amateurs that can be improvised: manufacturers of personalized funeral plaques.
Here are some processes or products that we have identified that all seem more inappropriate than others:
Painting, adhesive, laser marking, sublimation, silkscreen printing,
Plastic sheets, resin, Altuglas, Plexiglas, PMMA, acrylic glass, polycarbonate, etc.

The result of these processes and materials after exposure to the elements is irrefutable and without surprise:
Removal of paints painted directly on polished granite. Discoloration, detachment of screen printing and sublimation on polished granite.
Yellowing, cracking and deformation of plastic sheets. Damage to the paint on the laser marking.
Products added to granite always deteriorate, the process is a little longer when the granite is frosted but inevitably, any glued product degrades.

The only unalterable solution is to dig enough granite or glass so that the engraving is clearly visible even without adding paint.
It sounds simple but it is technically very difficult to obtain an ultra-precise and deep engraving.

How do I know if a funeral plaque has been laser marked?
Laser marking is not engraving, so it is enough to judge the depth of the engraving to identify it.

It's simple, put your nail over the pattern, if you don't feel any hollows is that you are in the presence of a simple laser marking.
The tiny layer of paint will fade away and the pattern will disappear.

On the other hand, if you feel differences in depth it is because you are in the presence of a real engraving that is therefore dug into the material.
With or without paint, this real engraving will always be visible because the natural contrast is sufficient.

Renaud Gravure uses old processes and his patented inventions:
Our techniques are: traditional hand engraving with chisel, diamond point engraving, diamond or carbo wheels, air blasting and micro blasting, grinders and hammers, polishing, 24 carat gold leaf gilding, inlay and inlay as well as our proprietary techniques that we do not disclose.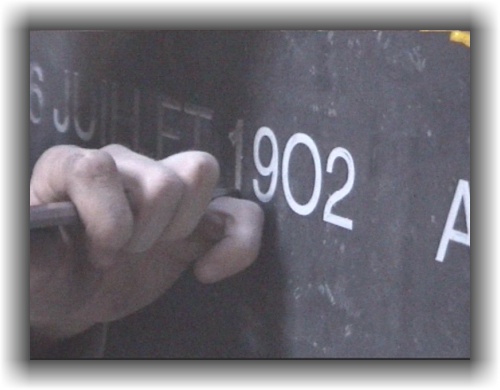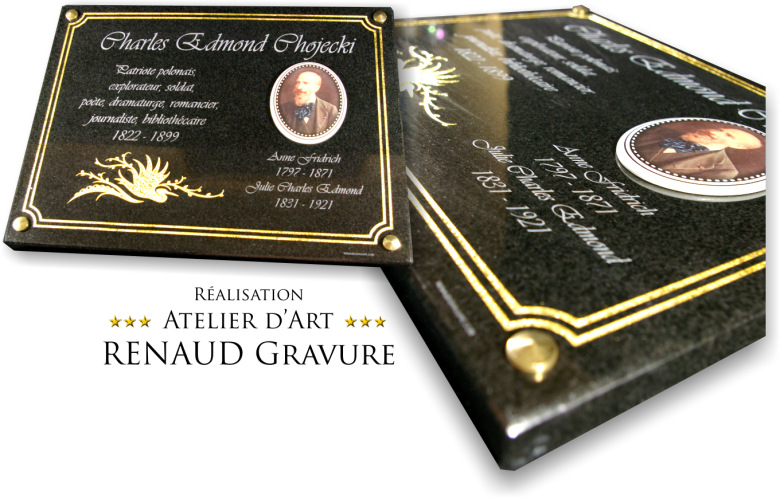 Pictures of realizations without faking!
In general, they are computer assemblies that do not reflect reality or blurry photos that mask the unsightly details of the result.
We display dozens of close-up photos to be able to appreciate the artistic quality of our work.
All our engravings on granite or glass are of the same quality as the photos on this site.
Your order will therefore be of the same quality level as the photos on our site.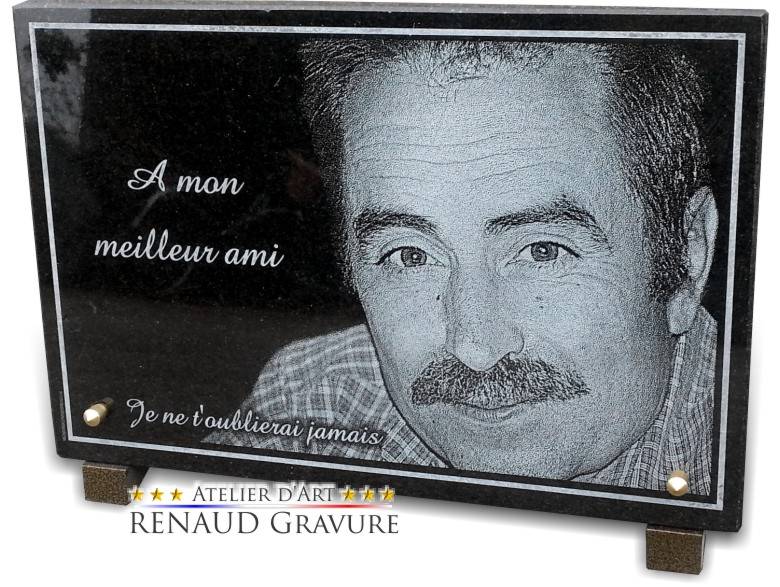 You can see here the magnificent quality of our engraving. As you can see, this one is very precise and its execution is artistic.
The combination of deep engraving technique and art allows us to offer you a unique service on the personalized funeral plaque market.

Real glass, especially not plastic!
- Beware of confusion! Real glass / acrylic glass -

Some sellers hide the plastic origin of a product behind highly questionable terms such as 'Acrylic Glass' or 'PMMA'.
Be aware that glass cannot be made of plastic and that there is no glass/plastic alloy.
The terms'PMMA','Resin' and'Polycarbonate' also refer to a plastic product !
Contrary to the arguments put forward by sellers of plastic funeral plaques, plastic is not resistant to external aggression.

If durability was proven, automotive windshields, the door and window glasses would all be made of plastic...
This would revolutionize the market and cost everyone much less!

The multiplication of these products and techniques leads to an increase in complaints related to their premature degradation and their nature incompatible with exposure for more than 10 years.

Our real glass memorial plaques with unalterable engraving: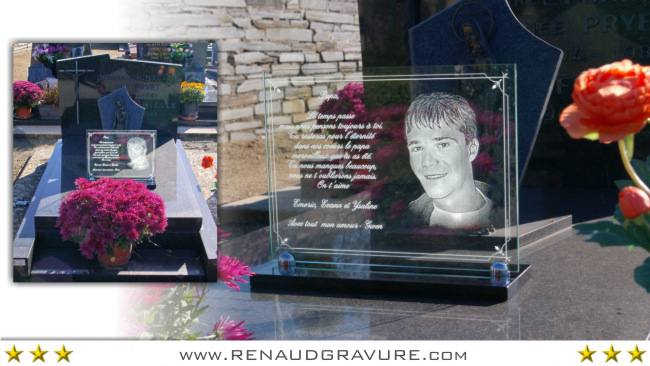 Artistic competence is not widespread in the market for personalised memorial plaques, only a few professional engravers have recognized expertise in artistic drawing and portrait engraving. They can be counted on the fingers of one hand.
If the service provider has no training in stone engraving and ornament or funeral monument engraving, it is not possible to hope that, perhaps, he will be able to artistically engrave a portrait...
This seems logical but nevertheless, be careful; many providers do not inform the client about their artistic incompetence.
To choose well, it is essential to require photos of achievements with the image of the photo provided and that of the work engraved on the funeral plaque
Also be careful not to be misled by a computer assembly that can give the illusion of a certain competence!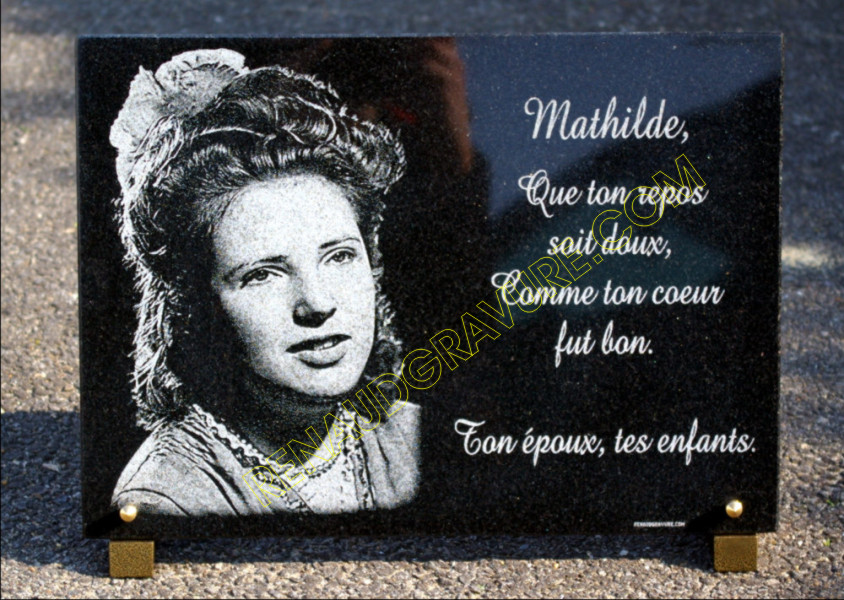 | | | | | | | |
| --- | --- | --- | --- | --- | --- | --- |
| | | | | | | |
| | Payment methods | | Delivery methods | | Renaud Gravure international | |
| | | | International delivery | | International delivery | |
| | | | | | | |
| | Customer reviews by Google | | | | Useful links | |
| | | | | | | |