Company Renaud-Gravure
Discover the art company RENAUD-Gravure, specialist in unalterable engraving.
The reference since 1997
RENAUD-Gravure is located in France and has been delivering its grave plaques all over the world for more than 20 years.
RENAUD-Gravure 2 rue de la chênaie - Z.A. de la Croix de Sarthe
49460 Cantenay-Epinard - FRANCE
Siret : 422 946 541 00030 - APE : 9003 A - TVA : FR 95 422 946 541

Approved and officially listed on the international art market by Drouot Cotation Paris
World innovation with patent granted by the National Institute of Industrial Property.
Stars & professions awards
Online creation software. Copyrights RENAUD Gravure 1997-2019.
Personalization with photo-realistic visual and real-time price calculation.
1(00 engraved patterns, sorted by themes.
Many customizable memorial plaques models.
Certified *Produced in France
Google-Reviews Partnership : more than 750 certified authentic customer reviews.
Different TV shows



The specialist in artistic engraving.
Each portrait to be engraved is the subject of preliminary work by hand.

This work consists of redrawing the missing parts of a photo, the parts of a face hidden by medical equipment or drawing a cut hair on the photo.
Each photo of the deceased is also highlighted through the artist's experience.

This work is not done by a program, only the experienced portrait artist can do it.
Information technology is a valuable tool but it does not replace the manual talent of the human being.

The study of the engraved photo is presented to the client for approval and the engraving is then carried out faithfully to this study.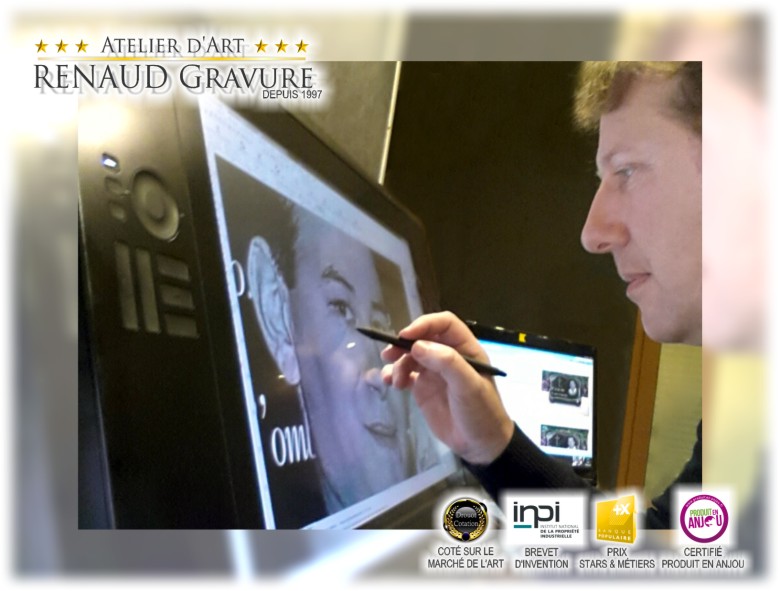 Jocelyn RENAUD was born in 1969 in Rouen. (France)
Son of a stonemason/sculptor, he is a stone-engraved artist; approved & quoted by Drouot Cotation Paris since 2002.

This artist is Multi-degree in: stone carving, marble, engraving and ornamentation.
He is also the inventor of new techniques certified by the I.N.P.I. with the issuance of a Patent in 2007.

The television media have produced reports on the artist.
He has also exhibited in art galleries in Dubai, Miami, Frankfurt, Seville etc. and has been awarded the Stars & Métiers prize.
He was named an honorary member of the -Association des Amis d'Alphonse Allais- (Académie Alphonse Allais) in 2017. The academy includes many personalities from the world of art, entertainment and culture.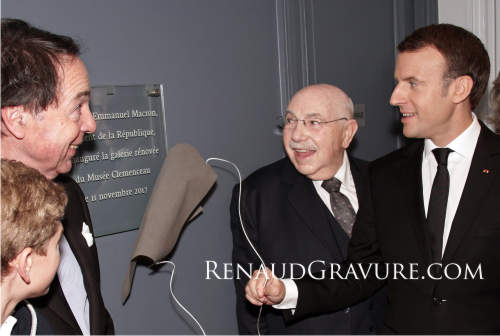 Creation of an engraved glass plate for the inauguration of the renovation of the Georges Clemenceau Museum

Acknowledgements to :

Mr. Emmanuel Macron, President of the French Republic;
Mr. Jean-Noël Jeanneney
as well as to :
Ms. Lise and Mr. Jean Lentignac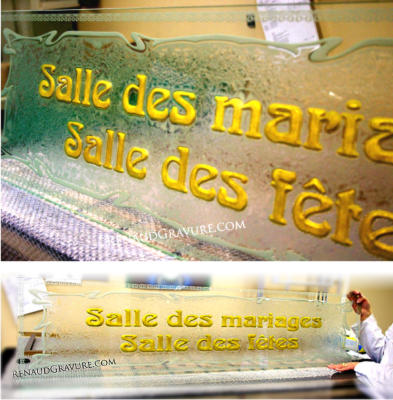 Paris, Town Hall of the 5th Arr. in front of the Pantheon:

A work of art visible on the 1st floor, access to the wedding hall.

The work was registered as a historic monument (art. L. 622-20 of the Heritage Code) as soon as it was installed.
Here, more information on: works of art listed as historic monuments
Realization RENAUD-Gravure.

Cold carved glass panel. 24-carat gold leaf gilding 1000/1000ths, engraving, icing.
A staff close to its customers: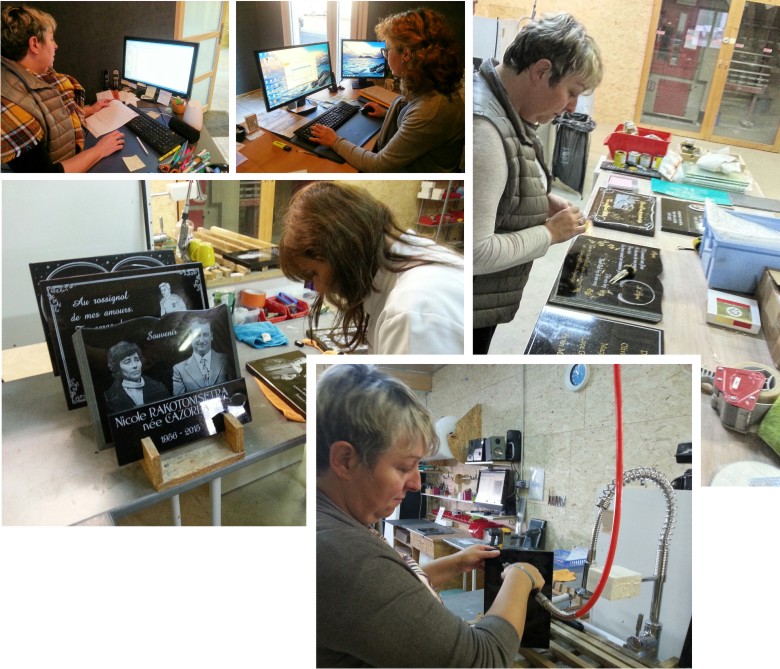 Personalized funeral plaques engraved in the mass. Our engraving is dug into the granite or glass.
This real engraving is certainly not a laser marking as found on low-end products.

Our engraving techniques are: chisel, diamond cutter, diamond tip, sandblasting, diamond disc and glue.
Some of our proprietary techniques are not disclosable and are the subject of a patent.

Each plaque is meticulously crafted in a family and dedicated environment.
Thanks to our unique know-how in France, we produce the most beautiful funeral plaques with unalterable engraving.

A staff close to its customers:
The pioneer of engraved plaques on the Internet.
After years of subcontracting work for funeral homes and marble works in France, Jocelyn RENAUD decided to offer his skills directly to individuals by creating his first website.
In 1997 the idea of offering funeral plaques on the Internet to private individuals was new and the site was a great success.
Requests for quotes and personalized graphic studies come in large numbers and very quickly it becomes difficult to meet the demand.

In 1999 Jocelyn RENAUD (passionate about computer programming) himself programmed an online software to allow Internet users to create their plaque by having a conforming visual of the funeral plaque as well as a firm and definitive price calculated in real time.
In 2014 this software was updated to be more intuitive and compatible with smartphones, tablets and computers of all brands.

Création du premier logiciel de composition en ligne pour plaques funéraires personnalisées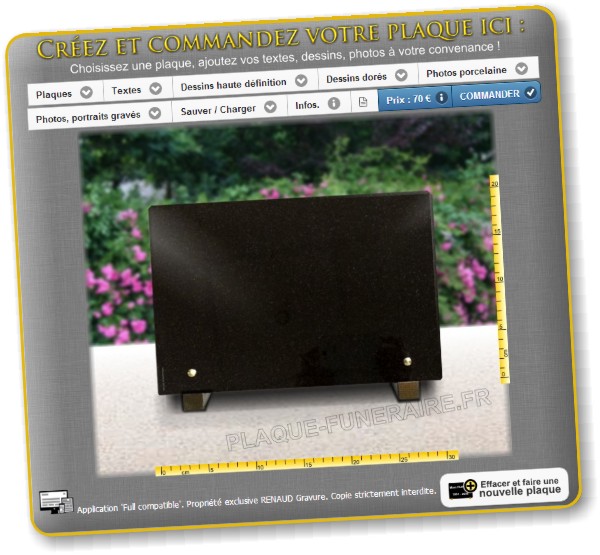 No surprise, your budget is respected.
More than 1300 engraved patterns are available, it is possible to add as many as you wish, or to remove one or more reasons to reduce the price.
It is also possible to reduce the size of a pattern to reduce the price.
It is also very simple to import a photo to have an art portrait engraved on the body plate.
(Each portrait is worked by the engraving artist Jocelyn RENAUD, quoted on the art market)

We also offer 19600 variants of porcelain photos to be glued on the tombstone or sold alone.
It's simple and everyone can make a personalized plaque to their taste while respecting their budget.
The payment is secure and encrypted, it is done by C.B., Paypal account, bank transfer, or check.
For metropolitan France, delivery is free of charge!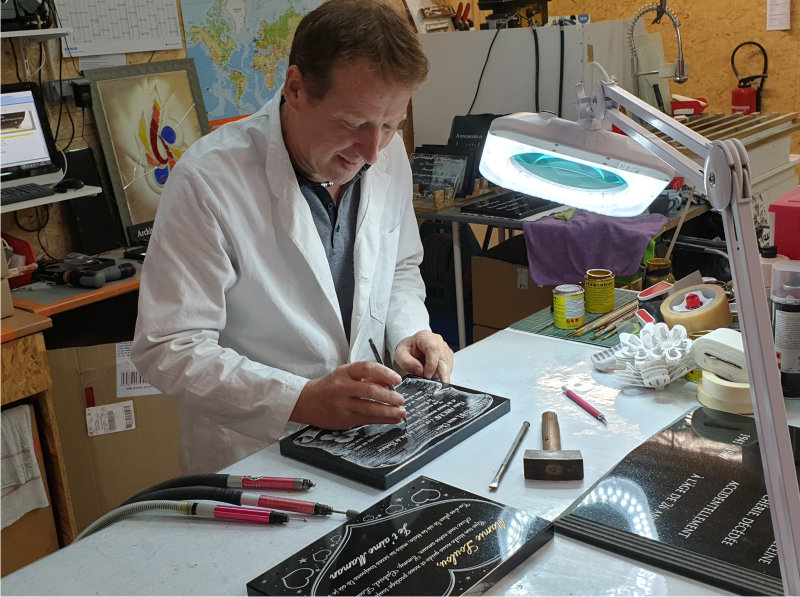 Very resistant and pretty porcelain photos:

We are tired of seeing the same porcelain photos in cemeteries over and over again. No evolution, no customization to have something different, Renaud Gravure has taken things in hand...
You now have a tool to personalize your porcelain photo with no less than 19,600 possible combinations!
Artistic creations that travel the world.
Dubai, Miami, Frankfurt, Seville...
Sculpture, glass engraving is a passion for Jocelyn RENAUD.

By creating sculpted glass paintings, masterpieces unique in their design and technical performance, exhibitions in art galleries were a natural choice.
The artistic works have been exhibited in Dubai, Miami, Seville, Frankfurt, etc.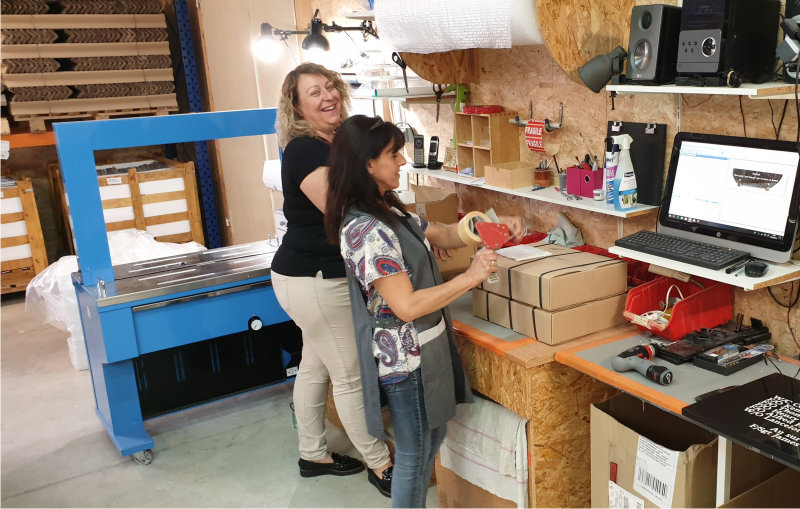 The engraving of art outside the funeral:
Renaud gravure also produces very beautiful inauguration plaques for large ceremonies.
design an inaugural plaque online on the Renaud Gravure.com website with a compliant visual and real-time price.
We also create your professional plaque in burglar-resistant glass, natural stone or slate and glass.

We also have a great success for our natural stone memorial plaques, burglar-resistant glass, natural slate or black granite.
For these different ceremonies, we provide the tricolour ribbons, golden scissors and pillow.
Engraved stone house plaques:
Our know-how would be under-exploited if we did not offer you a natural stone house plaque!
Our range of house plaques offers you slate plaques, glass house plaques, natural stone house plaques as well as white Carrara marble plaques.

Each house plaque is individually engraved, the engraving is made from the mass, it is unalterable!
Works of art of the artist:
Here are some pictures of other prestigious works made by Jocelyn RENAUD,
Exhibitions in art galleries in Dubai, Miami, Frankfurt, Seville etc. and distinction with the Stars & Métiers award.

Left: Cold glass sculpture with 24-carat gold gilding and diamond inlay.
Right: Cold glass sculpture with polishing and silvering.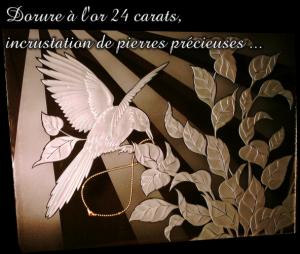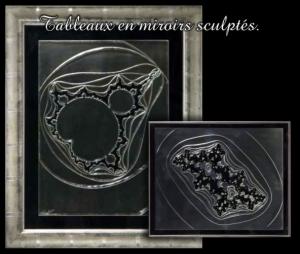 On the left: Sculpture bas-relief on glass, in cold.
Right: Entrance door with sandblasted work and integrated glass.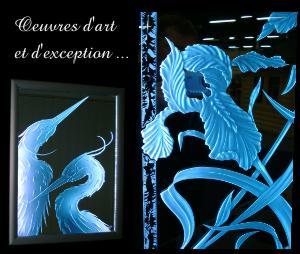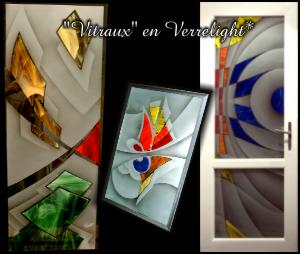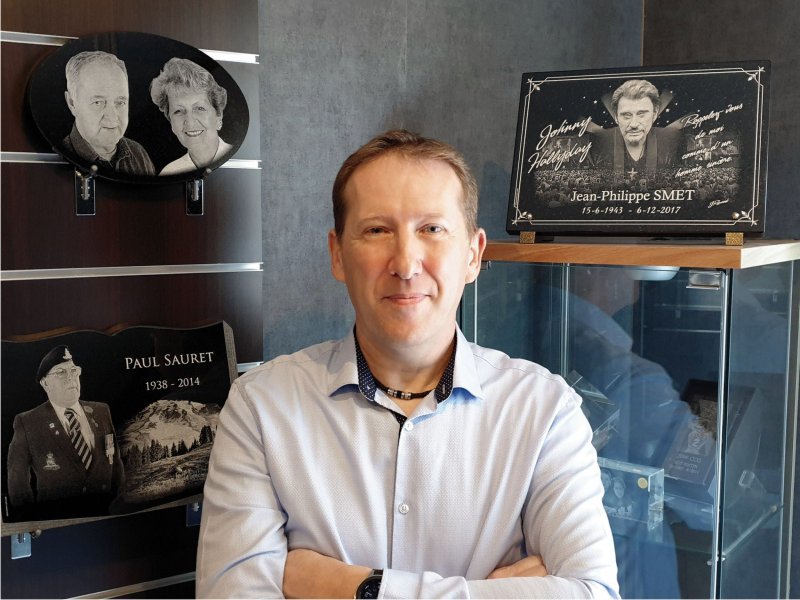 | | | | | | | |
| --- | --- | --- | --- | --- | --- | --- |
| | | | | | | |
| | Payment methods | | Delivery methods | | Renaud Gravure international | |
| | | | International delivery | | International delivery | |
| | | | | | | |
| | Customer reviews by Google | | | | Useful links | |
| | | | | | | |