Photographs of memiorial plaques
High artistic quality and high resistant engraving for eternity.
Custom memorial plaques. Full Customizable, Price in Realtime. UK & Worldwide Delivery.

A engraver artist for a beautiful memorial plaque ...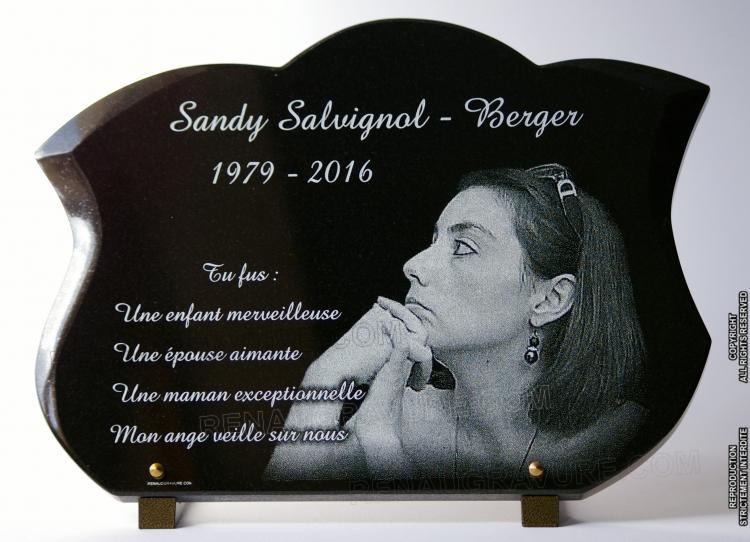 This funeral plaque is made of black granite. It measures 40 x 30 cm. The portrait of the deceased is deeply engraved in the granite. This engraving is therefore unalterable because we do not use laser marking or digital printing. Our engraving is artistic and really hollowed out to be totally unalterable.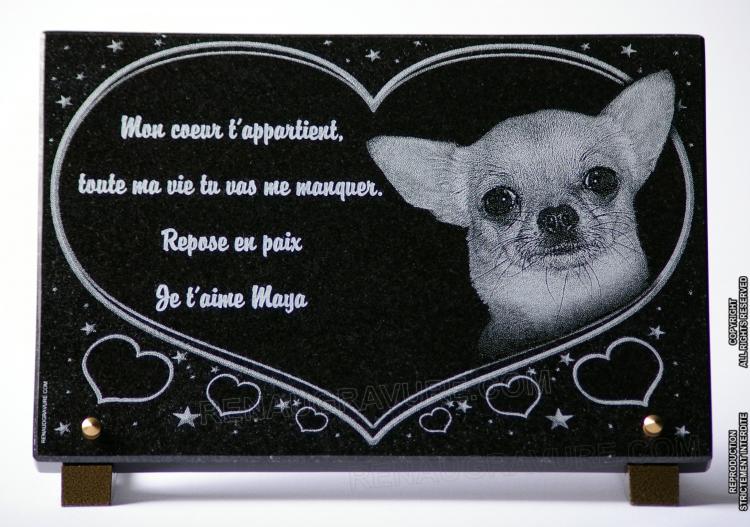 The memorialvplaque that was made here is 30 cm wide and 20 cm high. The photograph of the small dog was imported into our online software. Jocelyn RENAUD, the artist engraver worked this photo by hand to make a beautiful engraving. As you can see, the engraving is very precise and beautiful. This engraving is unalterable because it is perfectly dug into the granite.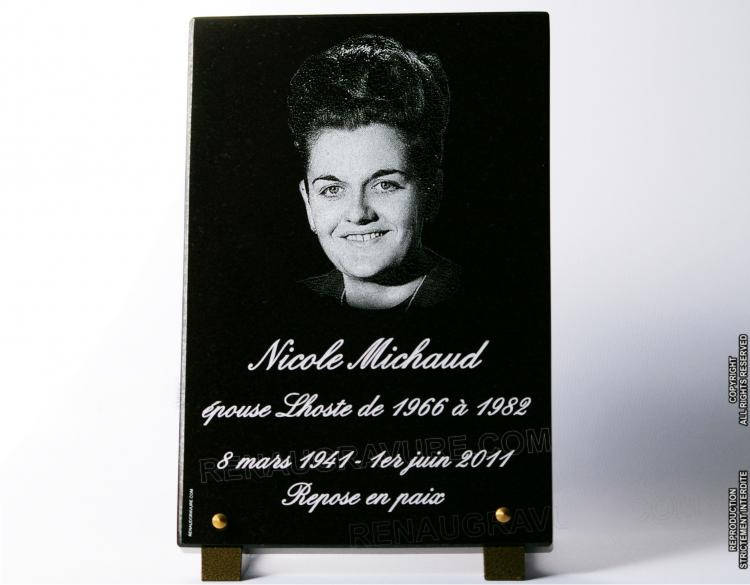 The photographs provided by clients are not always of very good quality. Jocelyn RENAUD works these photographs by hand because he is a portrait artist as well as a stone engraver. This double qualification allows us to offer you a complete service and very high quality burial plaques.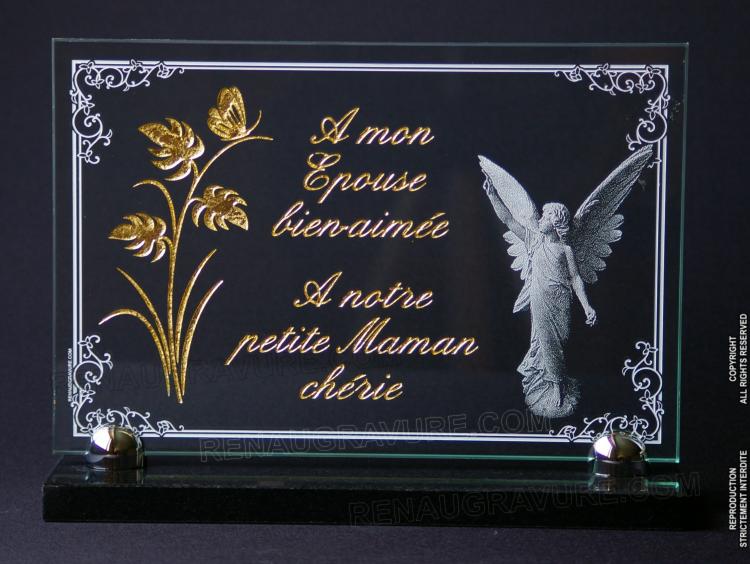 This magnificent personalized funeral plaque is made of glass 30x20cm fixed on a granite base 30x10cm.
The drawings and texts are engraved in the glass, so the engraving is unalterable. It's not laser, digital printing or a sticker.
The flowers and butterfly are engraved and then gilded with real 24-carat gold leaf 1000/1000ths.
This quality of execution is unique and is a reference in the high-end mid-range of art engraving.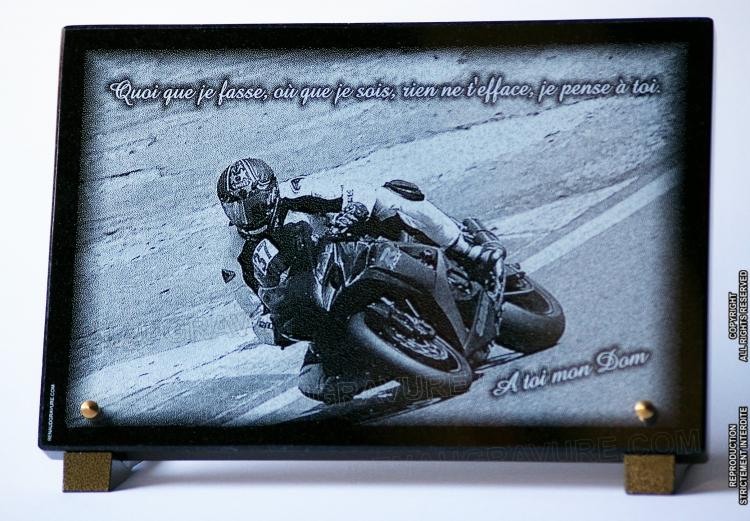 Every day we make photo reproductions on granite. The photographs provided by clients are always reworked by hand.
A photo on a funeral plaque is never reproduced without having been graphically worked to adapt it to the engraving.

The photograph of the biker is handmade and then a photo-realistic study is presented to the client so that he can give his "Agreement for engraving".
Here, the biker's tombstone plaque is engraved in the granite, it is not laser marking, digital printing or a sticker.
Indeed, our engraving consists in digging the drawing into the material so that it cannot be altered over time. The notion of engraving is very important because it is not a marking and that is why our engraving is of a much higher quality than laser technology.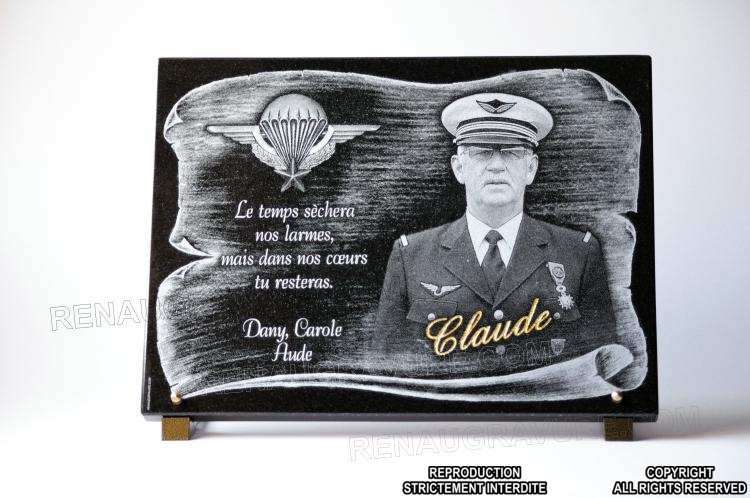 Here is a photograph of a large body plate with parchment of 40x30cm.
We engraved the portrait of the deceased, a large parchment, a military medal and a text engraved and gilded with 24-carat gold leaf (1000/1000ths)
We specify our exclusivity with gold leaf gilding using real 24-carat gold.
This exceptional quality makes it possible to obtain a gilding that does not oxidize over time.
The difference with classic 22-carat gilding is striking when the gilding remains more than 4 or 5 years outdoors.
Our engraving is dug into the mass in order to be totally unalterable.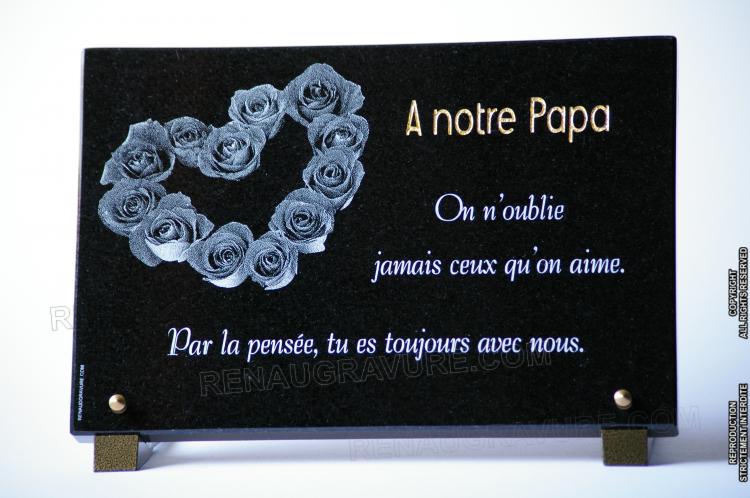 This personalized funeral plaque, made of granite measures 30x20cm. The granite plate is 20mm thick.
Two 6mm holes are drilled in it to screw in the two supplied feet. These two supports hold the plate firmly and very effectively. It is therefore not likely to tip over because of the wind.
The heart made of roses is engraved in the mass just like the texts. This heart is composed of 12 roses. We have placed it on the left side of the plate and slightly inclined but it is quite possible to move and resize it because the customization tool is made to allow you to modify everything.
This engraving is unalterable because unlike many low-end products, it is not printing, marking with a laser machine or stickers. Our engraving is really dug into the granite for an unalterable hold over time.

The text "A notre papa" is engraved and gilded with 24-carat gold. A great freedom of creation is also given to make the texts. The creation tool has a large number of examples of texts and poems. It also has different fonts to personalize the texts aesthetically. These characters are always really hollowed out in granite or glass. It is possible to choose between a white font or a 24-carat gold finish.
The rate is recalculated and displayed in real time on the screen according to the different options you choose and the elements you place on the personalized funeral plaque.
We have added a backup option to our body plate creation tool. So you can create backups and send them to yourself by email or share them by sending them to your contacts.
An online help is available in the configurator, it can be accessed by clicking on the "Info" button and then on "User Manual (Pdf)"
Granite is of first quality, with a traditional polishing that resists perfectly over time, so it is not varnish or silicone. Traditional polishing is also carried out on the sides of the plate to give it a high quality appearance.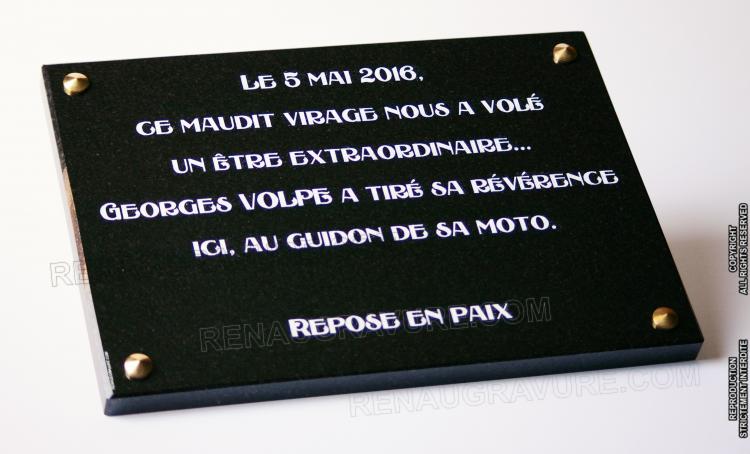 This realization is a commemorative plaque to be screwed to the side of a road. The granite plaque is perforated with 4 holes 6 mm in diameter and 4 brass screws with polished brass screw caps are supplied.
This memorial plaque is made of first choice black Indian granite. The surface and sides are polished shiny in the mass. This polish does not deteriorate because it is not varnish but a real traditional polishing in the mass.
The text is dug into the surface of the granite. This text cannot therefore be erased over time.
Indeed, this type of high-end engraving has no equivalence on the market because laser marking, digital printing or stickers do not have the same durability at all.
Some of our engraved granite memorial plaques are placed in places where the climate is extremely harsh. For example, we have plates fixed in high mountains, others have been placed as far as Antarctica but some are also immersed in the seabed. Our engraving therefore resists all natural aggressions for a very long time!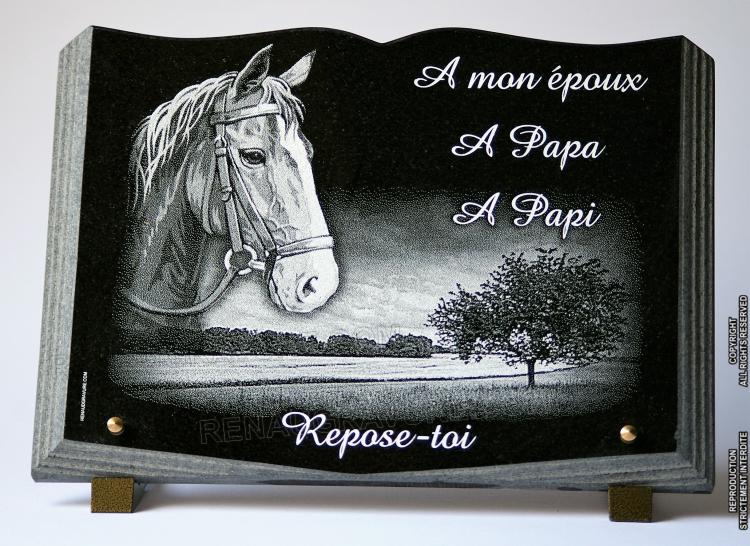 This is a photograph of a grave marker. This open book-shaped plate measures 35 x 25 cm. The granite (solid black) is cut and polished at the top; in a curved shape. On the sides and at the bottom of the book plate, the pages are cut from granite to different depths. The granite is rough, unpolished to contrast well with the polished and black surface of the book plate.
The art engraving is then carried out by digging the granite deep and very precisely. This true engraving is totally unalterable, because it is hollow, in a particularly resistant material.
This plaque is personalized, so it is unique and made individually. The client previously used our online tool to design this memorial item. Following the online payment, we checked the text to avoid engraving any spelling or grammar errors.
The plate project is then worked by hand before moving on to the final engraving stage. The manufacturing time for such a book-shaped headstone is a maximum of 10 working days and an average of 5 working days. The plaque is then very carefully packed in a reinforced crate for transport. The grave plaques are sent worldwide and perfectly protected in our transport cases.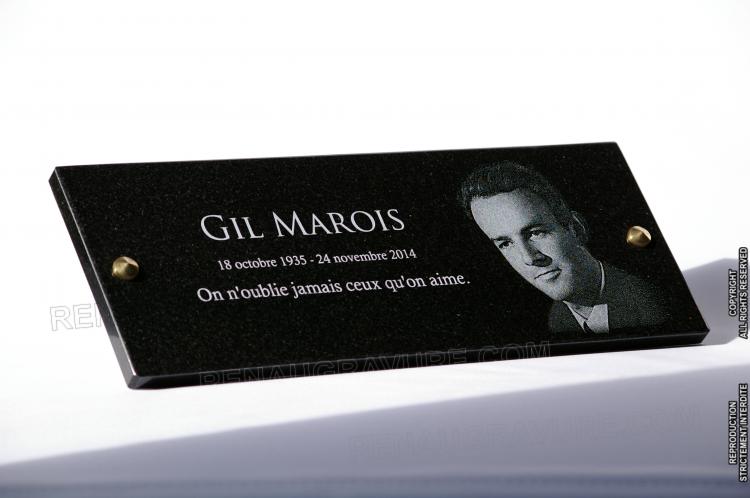 This grave plate is made of high quality black granite. This granite comes from the Indian quarries and this one is specially selected for RENAUD Engraving, because we need a very regular and black granite to make our exceptional engraving.
Indeed, we are specialized in high precision engraving and particularly hollowed out in the material. That's why our granite must be the best possible. This plate with engraved photo measures 40 cm wide x 15 cm high x 10 mm thick. We specially propose this thin thickness so that the plate is not too prominent once glued on the funeral monument.
Our self-adhesive sheets are pre-glued with an acrylic base. This glue works very well and is easy to use. However, the substrate must be polished and shiny granite, the bonding does not work on any other type of substrate.
The face of the plate is polished and shiny, this shine is obtained by a traditional polishing which therefore does not change over time. There is therefore no varnish or silicone, because these treatments are not part of a high-end manufacturing process. In order to achieve a perfect finish, the sides of the plate are also polished.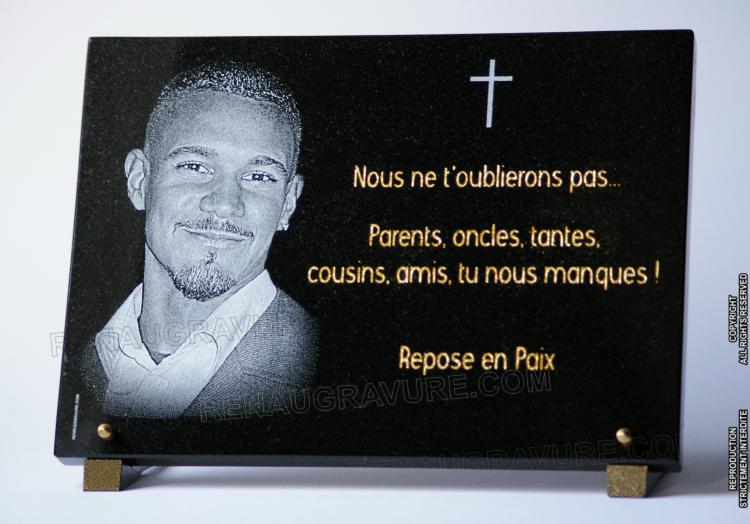 This is a very beautiful realization that proves how much the photographs are not simply reproduced but well worked artistically.
The portrait of the deceased has been redesigned to highlight each feature of the face while deliberately concealing some small natural defects of the skin. The final visual is rewarding and faithful to the person.
The portrait engraved in the granite is unalterable because it is really carved into the material. This art engraving, much deeper than a laser marking, is certainly unalterable.
The engraved and gilded text is also carved in the granite but it is also covered with gold leaf of exceptional quality: 24 carats 1000/1000ths. Such a quality of gold is a rarity on the French and international market.
The technique of leaf gilding on granite is specific to funeral engraving.
This technique is acquired through professional training, which is itself becoming very rare and endangered.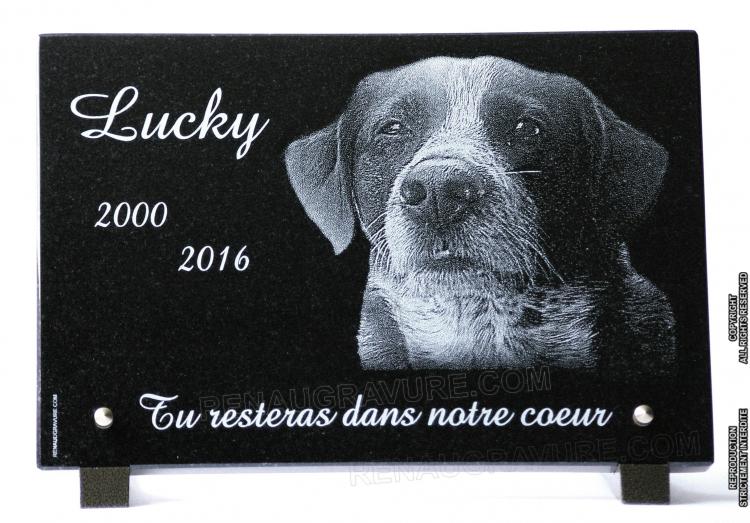 You will find on the site memorial-plaques.eu, a large number of funeral plaques to personalize with dogs or for dogs. The photographs of dogs are handmade and then a photo-realistic study of the plates is made and sent by email to the customer to obtain his agreement before proceeding with the engraving.
The engraving is then carried out by digging the granite or glass. The engraving is carefully dug to be very precise, fine and deep. It is extremely complicated to make an engraving that is both very precise and deep.
So our technique has evolved over time. It is the result of a long experience in traditional artistic engraving and new innovative techniques internally, of which Renaud Gravure holds the Patent issued by the I.N.P.I.
All our engravings are made using our process, so they are precise, fine and unalterable. Other photographs of dog grave plaques are available in the Photos page at the top of this page.

| | | | | | | |
| --- | --- | --- | --- | --- | --- | --- |
| | | | | | | |
| | Payment methods | | Delivery methods | | Renaud Gravure international | |
| | | | International delivery | | International delivery | |
| | | | | | | |
| | Customer reviews by Google | | | | Useful links | |
| | | | | | | |