Look for a funeral plaque or a drawing :
1: Search for a pre-composed model :
Use the theme lists or enter a word in the search tool below.
If you enter a word, try synonyms and words in the singular.
All models are fully customizable and the firm and final price is recalculated and displayed in real time.

2: Search for a drawing (1500 drawings):
Enter the configurator and click on the "High Definition Drawings" button to view all the patterns sorted by theme.
You can create a plate from A to Z or modify any model, the firm and final price is recalculated in real time.

3: You do not find the reason you are looking for:
You can import your own image into the configurator (Photos button, engraved portraits) and
you can also contact us so that we can add a new pattern in the configurator.



How to search for a drawing and create a funeral plaque:

More than 1500 patterns are available and sorted by theme in the configurator.
Use is free of charge, without obligation, without registration, without tracking and completely anonymous.
The firm and final price is displayed in real time, according to the changes you make on your funeral plaque.

To view the drawings you must click on the button:
"Create a funeral plaque", then click on the "High Definition Drawings" button and all categories are displayed. More than 1500 drawings are present.

You can change the plate, load patterns, enter texts, add engraved portraits and porcelain photos... anything is possible !

Please note that if you have a picture, you can import it into the configurator to have it engraved.
In this case, Jocelyn Renaud (the artist engraver) will work by hand on your photo and propose a photo-realistic study before making the final engraving of the funeral plaque.
The price of the engraved photos is also calculated and displayed in real time on the configurator.
The studies are exclusively carried out after order because the work of the photographs is manual, artistic and particularly careful.



For a more extensive search, you can use the field below:
A family business with a unique know-how :
The quality of our engravings is far above the competition.
Our service is very close to the customer, we have at heart to make each time a unique and very beautiful funeral plaque.

Feel free to consult our photos of achievements and customer reviews because we are totally transparent.
Customer reviews are managed by Google (unlike many sites) and we have no possibility to manipulate them.
They are therefore totally reliable and purely represent the customer experience.

The photos of the funeral plaques are real photos, they are not retouched. (Unlike many sites).
They show exactly the high quality of our service as professionals in the field of art engraving.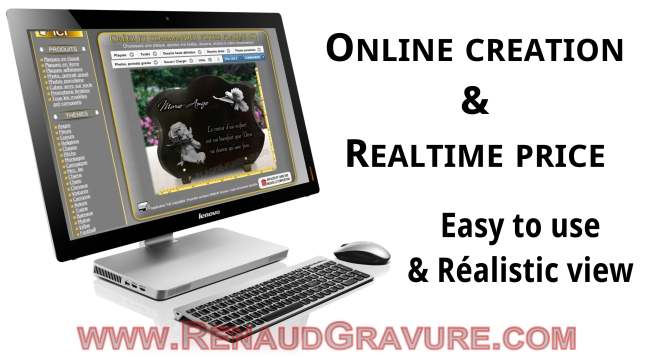 | | | | | | | |
| --- | --- | --- | --- | --- | --- | --- |
| | | | | | | |
| | Payment methods | | Delivery methods | | Renaud Gravure international | |
| | | | International delivery | | International delivery | |
| | | | | | | |
| | Customer reviews by Google | | | | Useful links | |
| | | | | | | |