Gilt of bird on an adhesive memorial plaque. To stickk on the headstone.
An adhesive memorial plaque with gilt of bird with flowers.
Small memorial plaque, to stick on a headstone. 10cm x 30cm.

It is a black granite, coming from India, known for its homogeneous colour. It is a dark black.
The plaque is polished, and naturally shiny. The face and the four slides are brillant. While polishing the plaque, they heat suddenly very hot the plaque and the sheen naturally appears.

It means that we do not put paint or varnish to make the plaque brillant. As a matter of fact, the sheen is definitive. Even put in a cemetery, outdoors, the plaque's sheen will not fade.

We sell high quality product. We know a memorial plaque is to last, an investment so we only suggest the better product. The adhesive is elastic, so it can resist to heat and frost for all seasons, the granite is a stainless material, and so on. The elements are engraved, with a bit of painting to make it more visible, but still something engraved is definitive. In years, the plaque will remain exactly the same.

Actually, we guarantee our product to last over 50 years !

Presentation of an adhesive memorial plaque :

It is a black granite plaque, 10cm x 30cm. It is to stick on a headstone, so it has adhesive in the back.

There is on the left a bird. It must be a dove. We see it from the back, with opened wings. Its right wing becomes a branch with flowers. Plus, the bird holds in its beak flowers. They are country flowers.

A two-line-text is on the right. We can read "To my beloved wife Abby Jordan". It is centered, in capital letters.

The text and the bird contrast because of their different colours, which is very pleasant to see.

How to design a similar funeral plaque :

You need to open the software to understand the following steps.

You first need to change the type of plaque. Click on the first thumbnail "Plates" ; "Black granite plates" ; "Plaques adhesives". You can now see the different plaque to stick. Pay attention to their size.

Then you must choose the drawing. Here it is a gilded drawing, so click on " Gilded drawings" ; "Create drawing #1". Even tough it is bird, this pattern is in the category of flowers. You can freely click on each category to take a look to all the gilded pattern.

Finally, end this plaque by adding your own text. For that, click on "Texts"; "Create text #1" and type the text. You need to change the font by clicking on "2:Letters' shape" in the window of your text.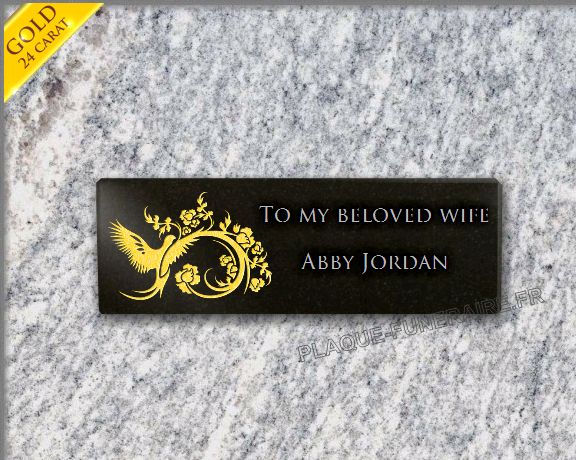 Material : granite Height : 10 cm Width : 30 cm Thickness : 1 cm Weight (around) : 1.5 Kg

Personalise this memorial plaque
Price calculated in real time




191 Euros
The unalterable engravings presented
are included in the price





---