Engraved portrait on a burglarproof glass funeral plaque.
To put on the grave.
A glass memorial plaque with engraving of a photo.
Glass memorial plaque to put in memorial park, on the grave thanks to a black granite base.

It is a burglarproof glass, which means it is a resistent glass and in the case the glass is broken, it will not hurt anyone. Plus it is a transparent glass. It is pure, there is no plastic, no plexi so it is more resistent, but above all, is not going to be deformed, to crack or turn in yellow.

This type of memorial monument is perfectly fit to go outdoors.

Decoration in 2 corners (collection Oppos) are engraved. They are engraved in the mass, and not painted. A painting can fade, a printing can disappear, but as we remove material, the engraving can not disappear.

For the photo, it is a visual, so it means you should bring your own photo.

Presentation of a personalised glass memorial plaque :

This is a transparent glass funeral plaque. It measures 20cm x 30cm. There is a black granite base, to hold this plaque. It is a plaque to put on a tomb.

There are two decorative elements. One in the bottom left corner, the other in the upper right corner. They are exactly the same, but the one on the left is bigger, almost all the height of the plaque. It looks like Belle époque arabesques.

In the center, there is a portrait. It is the portrait of the deceased, so you should upload your own photo so we can engrave yours.

Below this portrait, there is a two-lines epitaph "Remembering Shia passed away 14 - 03 - 2014". It is in italics and centered.
About the epitaph, you are free to draw and write it like you want. You can choose to write the age, or the dates of birth and death.

How to create a similar plaque :

- The plaque : The arabesque are part of the glass plaque. To understand please follow this step "Plates" ; "Burglarproof glass plates" ; " plaques glass on granite socle" ; "Collection Oppos". The collection Oppos is the category in which you will find two drawings in the exact opposite corners.

- The portrait : "Photos, engraved portraits". Here please click on your situation, whether you have a digital photo or paper photo, then choose if you want to maintain the background or not. Our artist will modify the photo according to your selection but you can't see it while ordering. He will send you a first version that you will have to agree or not.

- The text : "Texts" ; "Create text #1" ; Type down your text. The font does not have to be changed, but you can if you prefer another one. To create two lines, please click "enter" on your keyboard so it will appear a line. Finally, to modify the size please click on "3: Size, position, rotation". And the cursors can help you to insert the text where you decide.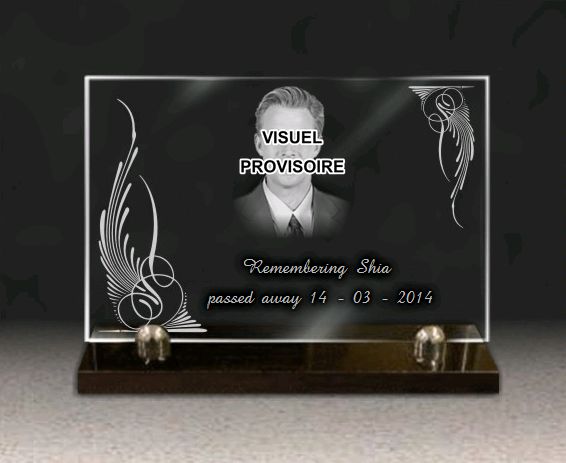 Material : glass Height : 20 cm Width : 30 cm Thickness : 1 cm Weight (around) : 3.7 Kg

Personalise this memorial plaque
Price calculated in real time




324 Euros
The unalterable engravings presented
are included in the price






---