Adhesive memorial plaque, bicycle
An original memorial plaque for a friend, a team member. Ready to be glued in the cemetery.
When a person enjoys a sport, practices a passion, a hobbie, it is common to notice it on burial plaque.
This is the model of a cyclist funeral plaque. It is a big adhesive plaque.
Renaud Gravure uses a special glue, elastic, outdoors resistent. It can be fixed on the headstone or on the tomb.
This is a big model of the adhesive plaque, but there exist smaller one.

The cementery plaque is in granite. It's a deep black granite plaque, from India, known for its darkness. It is naturally polished and shiny. It means it will last.

What are the elements on the plaque :

It is a rectangular black plaque of 15cm x 40cm.
On the left there is a photo of a cyclist on its bicycle, and a back bag. It is a contre-jour shot. The top of a tree is on the left. The character is turned to the right, and on the backwheel of its bicycle.

On the right, at the top there is an italics sentence "In loving memory of our team member". It is a handwritting style.
Below there is the name, in capital letter " Josh".

How to create it:

- The plaque : "Plates" ; "Black granite plates". A pop-up window appears and choose "Plaques adhesives" ; "Plaques blank".

- The pattern : " High definition drawings" ; "Create drawing #1". In the menu, at the end click on "Sports various".

- The texts : Text 1 : "Texts"; "Create text #1". All instructions are written. First you write, then you choose the "Letters' shape". Here please select "Style 1".
Text 2 : "Texts"; "Create text #2". This is the same process. The style is "style 5".

For both text, go on "3: Size, position, rotation" to change texts as you want.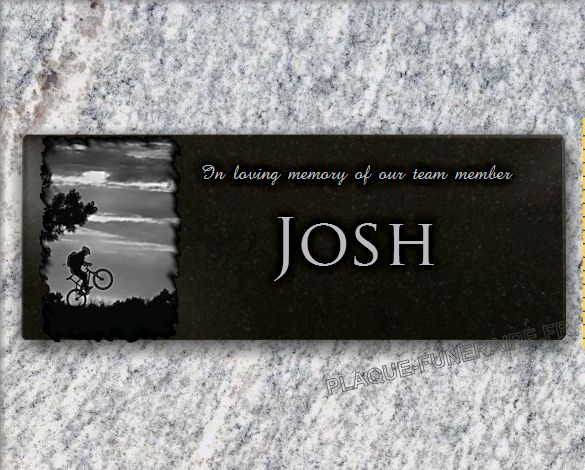 Material : granite Height : 15 cm Width : 40 cm Thickness : 1 cm Weight (around) : 2.3 Kg

Personalise this memorial plaque
Price calculated in real time




224 Euros
The unalterable engravings presented
are included in the price





---