Burial memorial plaque with a lake landscape and personnal thought.
English letters.
Neutral original granite marker for desceased person. To put on the tomb.
Here is a neutral plaque without dates. Some people do not want others to know things about them, our we prefer to pay homage with a personal message.
This is a personalisable plaque, as it is possible just to change the name.

If you want to create a very personalised and customised plaque for the late relative, please go on our configurator. You are able to do the model you want. The photo is available in our catalogue, you can make it smaller or bigger, at the right or the left. However, if you prefer another photo of a lake or a night photo, you can bring your photo.

The two borders are engraved. We engrave all the elements of a plaque, because our job is engraver. Even if you add your own photo, we will engrave it. The text, that is customizable is also engraved in the mass. The plaque thus is outdoors resistent, to be settled in a burial ground.

Presentation of the elements on the plaque:

There are two borders, straight rectangulars. There is large one and inside a thin one. They act like a frame.

Inside, at the top and on the left, there is in English writting the name "Cathy Johnson". At the same level on the right in handwritting "Our angel in heaven". Both text are in italics. The names are bigger written that the small thought.

In the center there is a photo of a landscape at the sunset. It is on a lake or a river environment. At the firstground there is at the right a wood small boat and at the left reeds and water herbs. The sun is at the background, about to set. This is a landscape photo, probably a lake.

How to do this plaque :

Please follow those instrucstions :

- The plaque : "plates" ; "Black granite plates". Then "plaques on metal base"; "Plaques straight borders". It is the sixth model.

- The texts :
Text 1 : "Texts" ; "Create text #1". Type it, then click on "Letters' shape" and choose "Style 2".
Text 2: "Texts" ; "Create text #2", Type it in the blank part. The font is already good.
For both of them, by clicking on "3: Size, position, rotation", you will have some cursors to modify the texts.

- The sunset landscape: "High definition drawings"; "Create drawing #1". A pop up opens and in the menu on the right, move the arrows till you find " Sea, lakes and rivers". This is the category where you will find the landscape.

The two feet are provided.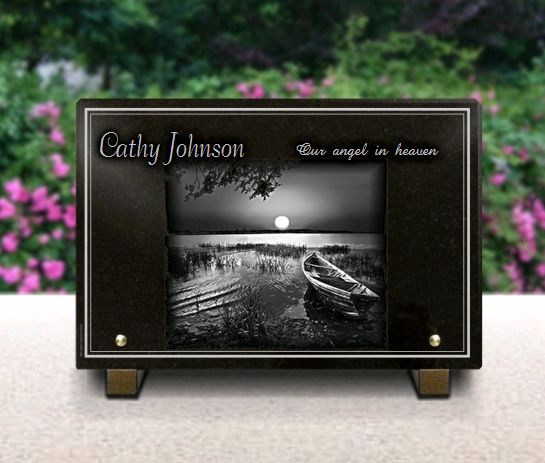 Material : granite Height : 20 cm Width : 30 cm Thickness : 2 cm Weight (around) : 4.5 Kg

Personalise this memorial plaque
Price calculated in real time




247 Euros
The unalterable engravings presented
are included in the price





---