Custom memorial plaque, gold
An original funeral monument with gilded block of glass with flowers.
Gilded flowers on a glass block in a grave monument. Feminine sepulchral.
The flowers are engraved in the mass of the glass, and then gilded with 24 carat gold leaves.
24 carat gold is the purest gold, in other words there is not other metal so the colour will stay forever.

Flower's symbol is various. Its interpretation is different from one to another. Plus, according to the kind of flower, the meaning changes.
Still, flowers on commemorative monument is a common pattern. There are several patterns of flowers in our catalogue. In this model it is a gilded one.

Because of the special technique the gilt is, not all pattern can be gilded, this is why they are in a special thumbnail, not to disappoint the customers.

Presentation of this original burial monument.

It is a block of glass stood on a granite base.
Here the block in on the right.
The granite base is engraved, in a first line it is written "Loving memory of", in straight letters.
On the second line, in italics and handwritting font " Betty Hardy".

The block on the right is engraved and gilded. There two flowers and some leaves around.

Where finding these elements :

- The monument : "Plates" ; "Glass blocks with or without base". Valid with a click on " block of glass on granite socle" and then " blocks + blank socle". Some blank models are available. The second one is the model.

Now as you can notice, there are two things to engrave, the block and the plaque.

- 1 The block : It is a gilded drawing, so " Gilded drawings"; "Create drawing #2". A menu opens and click on " Flowers in 24 carat gold". It is the 5th pattern.

- 2 Texts : As there are two different fonts, we will divide the texts.
Text 1 : "Texts" ; "Create text #1". Key in your text, then change the writting on "2: Letters' shape" and pick "style 12".
Text 2 : " Texts" ; "Create text #2". The process is the same. It is "style 7".
For the two texts, you can modify it with the cursors in the thumbnail "3: Size, position, rotation".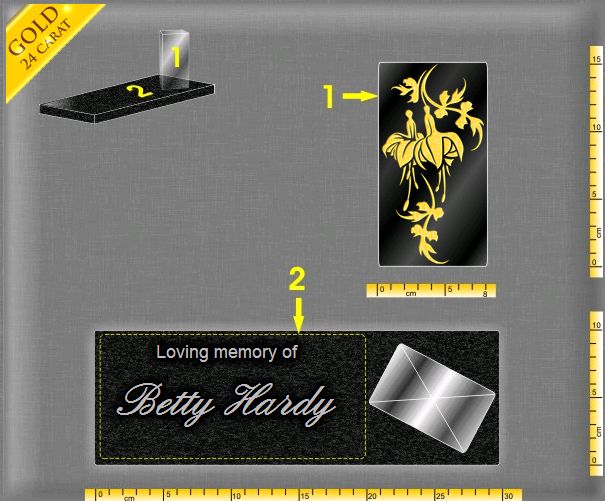 Material : granite Height : 17 cm Width : 30 cm Thickness : 10 cm Weight (around) : 6 Kg

Personalise this memorial plaque
Price calculated in real time




206 Euros
The unalterable engravings presented
are included in the price





---