Glass memorial plaque, on a granite base. Engraved portrait and dove.
A personalised glass plaque for cemetery.
Glass memorial plaque to put on a grave.
There is a black granite base to support the glass plaque.

It is a burglarproof glass plaque, it means that if it is broken, the plaque will not hurt anybody.
Do not worry, it is very resistent as it has been selected to fit outdoors. Moreover, the granite base is stable. It is not about to break, but we prefer to make sure you know that is secure.

While designing the plaque, the price of the total plaque is shown in direct. When you add or remove an element, it automatically changes. We conceive this direct price in order to let you create according to your budget, and do not need us to draw up a quote.

It is important to precise, this is the price of the plaque, not the whole order because the delivery cost is not included. The software knows the cost of every element but you still has not precised where you want it to be delivered.

Presentation of a model of memorial plaque :

This is a transparent glass plaque to put on the tomb thanks to a granite base. It measures 20cm x30cm.

On the left : There is an engraved portrait. It is the photo of the deceased, you must bring your own photo. We engrave in the mass all the elements, which includes the the portrait.

On the right : Engraved dove. It is in the top right corner, turned to the left. Its wings are opened.
There is an engraved personal text on two lines " Remembering our sweet mother Jennifer Pitt".

You can easily customize or personalize this model.

How to design this plaque :

First, you need to change your plaque. For that click on "Plates" ; "Burglarproof glass plates". In the pop-up choose "Plaques glass on granite socle" and then "Plaques blank".

Then we add the dove. "High definition drawings" ; "Create drawing #1". In the pop-up window, look for "Bird, doves" by the middle of the list. You will find doves. After that, click on "2: Size, position and rotation"

The text : "Texts" ; "Create text #1 ". Follow the instructions of the window, it explains how to change the font ("2: Letters' shapes").

For the portrait, click on "Photos, engraved portraits". Then, select the situation in which you are, if it is a digital or paper photo, if you want to keep or not the background. Then you can choose the size.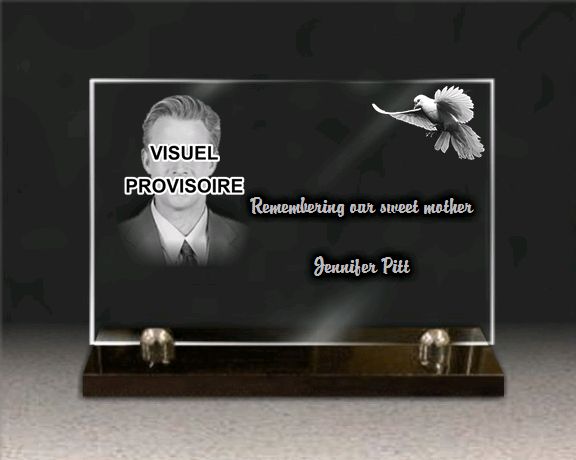 Material : glass Height : 20 cm Width : 30 cm Thickness : 1 cm Weight (around) : 3.7 Kg

Personalise this memorial plaque
Price calculated in real time




381 Euros
The unalterable engravings presented
are included in the price






---