Memorial plaque, angel on granite
Adult angel on a granite memorial plaque.
Model of a granite memorial plaque to put in memorial park, or on a grave with 2 metal bases.
Those feet are in aluminium, choosen for its stainless quality. You can put and remove the plaque to clean or arrange the tomb and there will be no rust.

The plaque is black granite, with an homoegeneous colour. Face and sides are polished and brillant while the back is only polished.
To shine, the plaque has been heaten, so there is no vernish or painting. In other words, it is a natural process and it guarantees the long lasting.

Engraved drawing of an angel in the clouds. Names and epitaph are on the plaque too.
It is a photo of ours, available in our software. If you want another picture, that is not in our catalogue, you can add it. We engrave your photo too, and send you the visual result before we engrave.

You are able to try everything before ordering. To save your making up before ordering, to finish it later click on "Save/Load" and then on "Save this making up". it is important, otherwise your whole project will be deleted.

Presentation of a memorial plaque :

It is a black granite plaque of 20cm x30cm.

There is in the middle of the plaque a big picture. It is an adult angel, joining its hands, in the clouds. The angel is wearing a crown, the face is down. It looks like it is praying. This angel is on the left, and only the right wing is visible. It is a photo of an angel.

As said, the angel is in the clouds, so below its bust, there are clouds, a big one on its right. Around there are smaller clouds, like a lightly cloudy sky.

Above this image, there is the name "Bradley Scott". It is as large as the photo. The font is inspired of a handwritten writting.

Finally, on the very right, one above the other there is the epitaph "1956 2014".

Let's create your plaque :

To create this plaque, you first need to open the software.
It is very easy. As you might notice, there are different buttons according to the different elements of the plaque.

First, the image "High definition drawings" ; "Create drawing #1". A window opens and click on the first category "Angels and fairies". To have it as big as on the example, please click on "2: Size, position, rotation" and use the cursors of size.

Names : "Texts" ; "Create text #1". Type it down, and change the font for "Style 3". Click on the third thumbnail to modify it.

Epitaph "Texts"; "Create text #2". Here the style is "Style 11". You can choose to have it golden.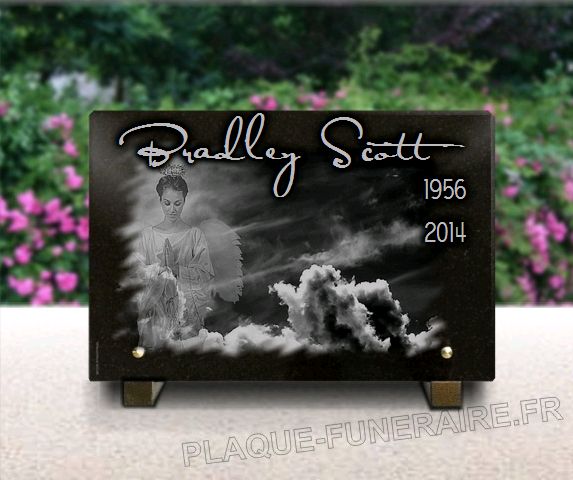 Material : granite Height : 20 cm Width : 30 cm Thickness : 2 cm Weight (around) : 4.5 Kg

Personalise this memorial plaque
Price calculated in real time




210 Euros
The unalterable engravings presented
are included in the price





---