Small granite marker to stick on the gravestone.
This is a small granite memorial plaque, to stick thanks to adhesive in the back. As it is small model of markers, it is cheap, nevertheless it is the same quality of black granite, the same technique of engraving.

It is a oval memorial plaque of 15cm x 20cm with stars and epitaph.

Please be carefull, an adhesive plaque has to be put on a smooth, flat surface. It is an elastic glue so it is resistent to temperature changing. This particular glue will not create miracles and fit the support is not good enough.
We guarantee our plaques to last over 50 years, so we give all the advices possible. To know more about adhesive plaques, there is a link in the menu on your left.

About the epitaph, you are free to design it as you desire. You can only write the years of birth and death, or the entire dates. You are free to just write the dates of death. It is personalised plaque, so we let you engrave what you want.

Presentation of a model of a small memorial plaque:

It is an oval black granite plaque, of 15cm x 20cm.

As it is small model, there is not a lot of elements.

First in capital letters "Dave Spencer" at the top of the plaque, centered.

Below there are stars, like a starry sky, with bigger stars and smaller ones, in a random position.

Under these stars, it is written "1962 - 2011" in straight letters. It is a different font from the names.

Create this plaque :

For the oval plaques : " Plates" ; "Black granite plates" and "Plaques adhesives". There is just one category so click on "Plaques blank".

Names : "Texts" ; "Create text #1". Type down your text and then change the font in the thumbnail " 2: Letters' shapes". It is the "Style 5".

Stars picture : "High definition drawings" ;" Create drawing #1". In the list of categories select "Astronomy, rockets". You will find a lot of drawings and picture related to astronomy, such as planets, stars, or the Earth.

Dates : "Texts" ; "Create text #2". repeat the process and choose "Style 12".

For both text, with a right click on them you can change its size, and modify it thanks to cursors.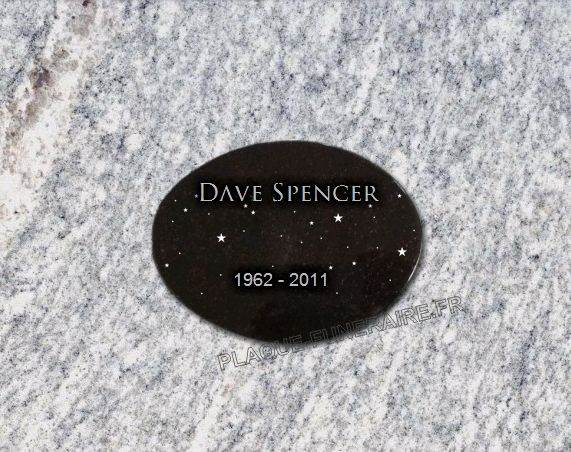 Material : granite Height : 15 cm Width : 20 cm Thickness : 1 cm Weight (around) : 1.1 Kg

Personalise this memorial plaque
Price calculated in real time




187 Euros
The unalterable engravings presented
are included in the price





---