A mountain landscape on a commemorative plaque.
Modern memorial plaque, with an horizontal block of glass sticked on a granite base.

Until now, you have seen vertical block of glass, but we also suggest horizontal block. It is another way to offer to the deceased a personalised and original commemorative monument. Thanks to this horizontal block, engraving a landscape is easier. It is a 8 cm -high, so you can also engrave a photo of several persons.

The block is engraved with a mountain landscape, and the base is engraved with a message. This landscape image is available in our catalogue, in the configurator. We have different landscape, of mountains, countries, sea, beaches, etc. You might find the one of your choice. If you prefer engrave a photo of yours, or a photo of the deceased, you can do it.

In our software, you can engrave whatever you want. Please, keep in mind that a good quality photo will result a greater engraving than a blurred photo.

Presentation of a modern plaque :

This is an horizontal block of glass, sticked on a granite base.

It is a deep black granite. The base measures 10cm x30cm while the block is 8cm x15cm. Thus there is around a centimeter to engrave a sentence in this case below the block it is written "The memory of your sweet smile will stay forever engraved in my heart". It is written in italics.

Next to the block, there is the name "Jenna Schmidt", and bigger than the sentence.

On the block there is a mountain landscapes. There are several pics, the sun lights from the left on each pics there is the shadow on the right and snow on the left. On the photo, at the first plan on the right there is half part of the mountain, and we can see snow.

Help for designing a memorial plaque with a block of glass :

First, you need to change the type of plaques. Click on Plates, the first thumbnail. Then on block of glass and granite socle. Please click on the next buttons. You will have several models, of blocks on a granite base, some on the right, some vertical. Please select the one you like.

Then the mountain. As said earlier, it is one of the image we suggest in "High definition drawings" in the category "Mountain". You can decide to pick this photo, you are free. You can also choose another photo in this category, in another one or even bring your own photo.
The deceased could have loved a place and you want it to be reproduced on his commemorative plaque. Then, click on "Photos, engraved portraits". Our artist will draw it, to give you a beautiful memorial plaque.

For the text, there are two creation of text, so click once on texts, create text #1 and after on create text#2. The text are thus independant, and you can choose different size, position, fonts or even to gild the name. Changing the font, thus the shape of the letters, it is in "2: Letters' shape".

To change its position, or its size, it is on the button "3: Size, position, rotation" when you are in the text's window.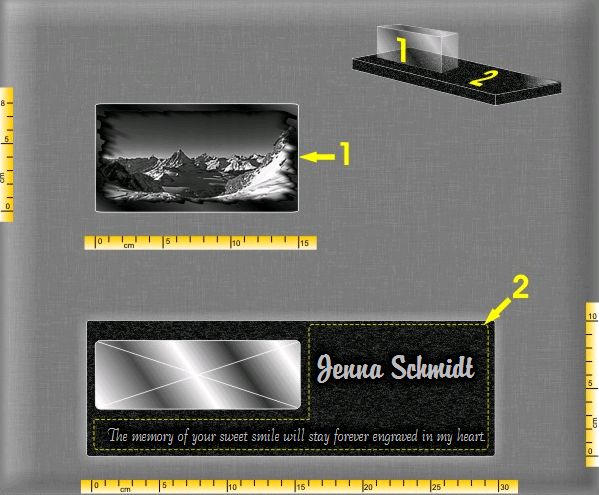 Material : granite Height : 10 cm Width : 30 cm Thickness : 10 cm Weight (around) : 6 Kg

Personalise this memorial plaque
Price calculated in real time




201 Euros
The unalterable engravings presented
are included in the price





---