Custom glass memorial plaque, flowers
A commemorative plaque made of glass and granite. White engraving in the mass.
What an original memorial plaque is a glass plaque. It stands on a granite base.
In order to sell sustainable products, Renaud Gravure only uses stainless material. Therefore, this cristal plaque will remain transparent, and the granite base will not rust.
It is a burglarproof glass, engraved in the mass. This association gives you a special result, the engraving will stay in time, and the glass is outdoors resistent. Be sure this kind of commemorative plaque will last.

By the way, this commemorative plaque is perfect for a grand mother, as shown, there is a frame and a rose.

Presentation of the elements :

This a burglarproof glass commemorative plaque. It stands perpendiculary to the tomb on a black granite base.
It is a medium size, 25cm x 35cm.

There is an engraved frame, thus it is white. It is abstract and decorative. It is an ornament border.
Inside, there is on three lines a centered text, addressed to the late grand mother " In loving memory of our grand-mother Ann Dugan 1957-2015"
This text is also engraved. It is in italics, with an handwritten style. The name and the surname appear bigger than the rest of the text.

Finally there is in the bottom right corner a rose. It takes half the height of the plaque.

How can you find the elements in the configurator:

- The plaque : "Plates"; "Burglarproof glass plates", in the window that has opened choose "plaques glass on granite socle". On the right, select "Plaques ornam borders". Take the model and the size you prefer.

- The text : There are two texts, according to the two differente sizes.
-Text 1: "Texts", "Create text #1", type down it. For the example we wrote "In loving memory of our grand-mother [Enter twice] 1957-2015 ". The letters' shape is the "style7".
- Text 2: Repete the process. Write here the name.
For both text, feel free to manage to your taste the size, position and rotation with the cursors.

- The rose : "High definition drawings"; "Create drawing #1" ; in the opened pop up, click on the category "flowers". To obtain the same result, please use this characteristics : Size 39 ; Rotation 200 ; Horizontal positionning 228 ; Vertical positionning -65.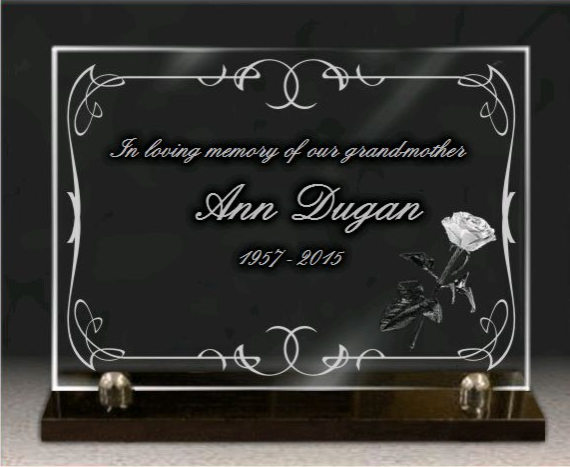 Material : glass Height : 25 cm Width : 35 cm Thickness : 1 cm Weight (around) : 5.4 Kg

Personalise this memorial plaque
Price calculated in real time




316 Euros
The unalterable engravings presented
are included in the price





---