Granite funeral plaque Heart, Photoporcelain
Big size granite memorial plaque with engraved saxophone, engraved heart. Personalised funeral.
Black granite commemorative plaque. Big size : 30cm x 40cm.
Very personnalised plaque with a trumpet, interesting for a late musician.

Renaud Gravure delivers in France, in the United Kingdom and all over the world. While creating a plaque in the software ( called configurator), the real price of the plaque is appearing and changing according to what you are doing.
This is interesting for low budget, to know how much you are spending. More, you don't have any surprise ! ( The delivery price is at the end, but still the order price will not change).

The two aluminium feet with brass screws are provided in the delivery. The commemorative plaque is ready to be settled.

Presentation of the elements:

There are hearts, a big one that tooks all the space of the plaque. Below this huge heart, there are 6 smaller hearts, three on the left, three on the right, symmetrically.
Around the heart there are small stars.

In this huge heart, on the left part there are two things : a photoporcelain and an engraved saxophone.
The photo porcelain is oval, with a white border and contains a portrait. The portrait is cropped and has a sky background. It is blue with clouds. The ceramic is glued.
The saxophone, a wind instrument is engraved. It is white.
On the right part, there is a short text. It is written "In memory of John Stuart". The dates ( birth and death) appear.

The black granite plaque is put on two aluminium feet.

How to reproduce this plaque:

- The plaque : To choose this special plaque, please click on "plates", "black granite plates". Then a window comes. Select "Plaques on metal base", in the categories on the right click on " Plaques hearts". Pay attention to the size, here it is the biggest, then please pick the 4th.

- The text: "Texts", "Create text #1", type the message you want. You can choose the style by clicking on "2: Letters' shape", and choose "Style 11". Finally, to insert the text where you want, you can use the cursors in "3 Size, position and rotation".

- The saxophone: "High definition drawings", "Create drawing #2", a window appears. Click on the category "Music wind instru."

- The ceramic portrait : click on "Photoporcelain", "create porcelain #1". Choose the characteristics you want. In the model, there a sky background so click "Background not changed" and changed to "cropped + blue sky". Then follow the instructions. Do not worry, our artist will work on the photo, what you obtain on the screen is not the final result.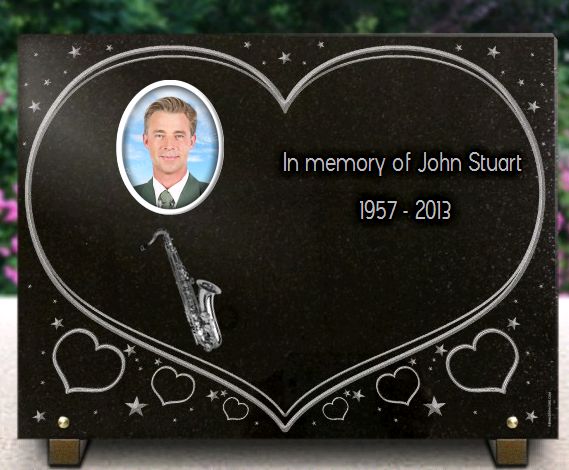 Material : granite Height : 30 cm Width : 40 cm Thickness : 2 cm Weight (around) : 7.8 Kg

Personalise this memorial plaque
Price calculated in real time




284 Euros
The unalterable engravings presented
are included in the price





---