Gilded interlaced hearts on a memorial plaque to glue on the gravestone.
Example of a cheap funeral plaque.
Cheap memorial plaque in black granite to stick.

This is the model of one of our adhesive memorial plaque. It is to fix on the headstone. For instance, if you have a familial vault and you don't have the budget to engrave every name, or you want to add a small plaque, this is ideal for you.
In the back, we put an adhesive and all you have to do, is on a dry clean surface fix the plaque.

Pay attention. The surface must be flat, without bumps, and smooth. A granite or marble gravestone is perfect.

This is a rectangular 10cm x 30cm, but we sell oval adhesive plaque, or even bigger plaque. Click on the link "Adhesives memorials" on the left of your page to discover all the characteristics of our products to stick.

Hearts are engraved and gilded with 24 carat gold leaf. It is a traditionnal but reliable technique. Painting is not good enough to resist and remain as brillant and gold as a gold leaf. For more informations, there is a page on your left named "24 carats gold".

Presentation of a small memorial plaque :

This is a black granite memorial plaque. It measures 10cm x 30 cm. It is a quiet small rectangular so there is few elements.

On the left there are two thin interlaced hearts. They're gilded, so in gold. They are not at the same level, because the heart on the left is higher than the right one. This drawing is 10cm high, because it is barely the size of the height.

There is a name, Abby Jordan, and above "To my beloved wife", written on the right of the hearts. It is in capital straight letters.

How to personalise a model :

If you want to personalise this model, click on the button below "Personalise this plaque". The software opens and you can click on the text a long moment to be able to change it. Or you can decide to create your own personal funeral plaque.

For the plaque, you can click on "Plates" ; "Black granite plaque" ; "Plaques adhesives". It is very easy, when you click on a button, another menu opens. Choose the plaque you want, according to its size and form.

For the name, go on "Texts" ; "Create text #1". you can type your text, or use an model of sentence. The font is "Style 5".

Now, to insert the gilded heart, please go in "Gilded drawings". All the pattern can not be gilded, so we have created a special button. In the small window click on "Hearts in 24 carat gold". If you desire the same inclination as on this model, please click on the thumbnail "2: Size, position and rotation" and play with the cursors.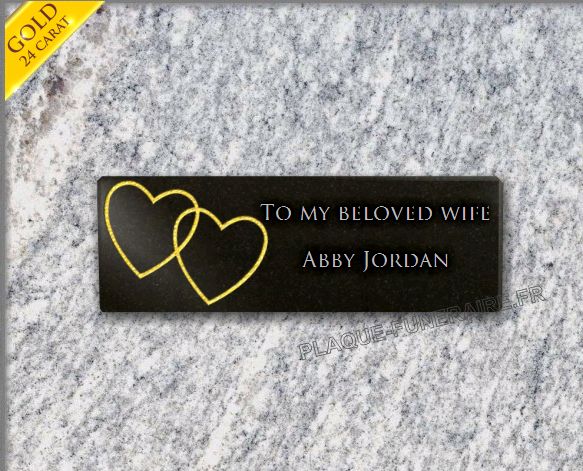 Material : granite Height : 10 cm Width : 30 cm Thickness : 1 cm Weight (around) : 1.5 Kg

Personalise this memorial plaque
Price calculated in real time




191 Euros
The unalterable engravings presented
are included in the price





---