A photo of a football player on a memorial plaque.
You can personalize this model of memorial plaque with a photo of goalkeeper,
for instance if a friend of yours played in a football team.

In the funeral, we often engrave photo of pattern which are truely representative of the deceased, it can be an angel, a music instruments, a flower but above all sports motive. Picture of football is quiet common, moreover when we know it is the msot popular sport in the world.

So, in order to give you the opportunity to engrave the pattern of your choice we have created a catalogue with a large choice of drawings and picture. Some are golden with 24 carat gold leaf.

Stable engraving of the photo and of the personal text.

You can choose to customize this plaque if you like it. For that click on the link below.

Presentation of a commemorative plaque :

This is black granite plaque to put on a tomb thanks to two aluminium feet.

It is a simple plaque. The elements are centered.

First there is a photo of a goalkeeper, in the goal almost lied to catch the ball. He has the ball on his hand. Behing, we can see the sponsors banners and part of the public.
As a football player, he wears the team suit and the specific shoes of football.

Below, there is a two-lines-text "To my bestfriend Jack passed away 18th June 2014". The letters are straight but original, with inclinated D and decorative capital letter.

Design your own memorial plaque :

It is unnecessary to change the plaque because it is the basic plaque when you open the configurator. Nevertheless, you are able to look at the plaques in "Plates".

The picture of football player : "High definition drawings" ; "Create drawing # 1". There is a small window with a list of files and categories. Click on "Football" and you will find the photo of the example.

For the text "Texts" ; "Create text #1". Type it down. Change the font in the second thumbnail and pick "Style 6". You can easily modify it in "3: Size, position, rotation" thanks to cursors.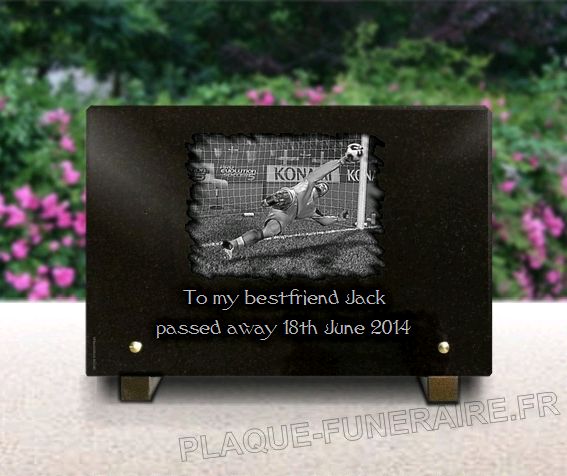 Material : granite Height : 20 cm Width : 30 cm Thickness : 2 cm Weight (around) : 4.5 Kg

Personalise this memorial plaque
Price calculated in real time




204 Euros
The unalterable engravings presented
are included in the price





---