Burial plaque for tomb, Cat, granite, glass
Original memorial plaque for animals. Photo of a cat on a glass block.
When we live a long time with an animal, it becomes a family member and its death is as tragical as the one of a relative. At Renaud Gravure's, we understand this and we want to pay homage to our late animal. Here, a photo of a kitten engraved in a block of glass. This block is put on a granite base, that is also engraved with a message.

It is an original commemorative monument. We sometimes want something different from the other funeral product. We suggest you this block of glass on a granite base. The glass block measures 8cm x 15cm and the granite base is 10cm x 30 cm x 2cm. This is a total height of 17 cm.

Both part are engraved in order to ensure a good quality.

What is on the plaque :

The memorial monument is in two parts, a glass block and a granite base.
The glass block is on the left. On it, there is a photo of an engraved kitten. It is tabby cat, sat on the right.

The granite plaque is also engraved. There is a little message " To Kitty with love". It is quiet large.

If the block is perpendicular to the tomb, the granite plaque is not. Thus the two patterns create a angle.

How can you personalise it :

An easy way is to simply click on "personalise this plaque", and then change the text or the photo, according to your taste and your will.

You can do it on your own too:

- The plaque : Go in the menu "Plates", click on " Glass blocks with or without base", valid "Block of glass on granite socle", then "Blocks + blank socle". Choose the model you want.

- The kitten : Click on " High definition drawings", "Create drawing #1", there are categories, and this photo is in "Cats". To put it exactly where you want, click on the thumbnail " 2: Size, position and rotation". There are cursors to help you. The characteristics of this pattern are : Size 41, Horizontal positionning -79, Vertical positionning -200. The rotation is unchanged. It goes on the part 1.

- The text : Click on "Texts", then "Create text #1". Type down your text in the black space. Then, to change the style of writting, go on "2: Letters' shape", and pick "Style 4". Once more, to change the characteristics go on "3: Size, position, rotation". Use the cursor to obtain the expected result.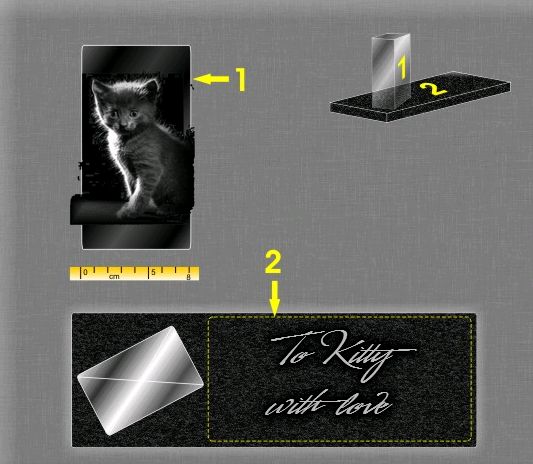 Material : granite Height : 17 cm Width : 30 cm Thickness : 10 cm Weight (around) : 6 Kg

Personalise this memorial plaque
Price calculated in real time




191 Euros
The unalterable engravings presented
are included in the price





---