Grave plaque, flowers, religious cross
Big sized memorial plaque with different patterns. Catholic cross, flowers, gilt.
Granite memorial plaque of the biggest size, 30cm x 40cm. It contains a catholic cross.
At Renaud Gravure's, we accept you to insert religious element. In fact, there is in the catalogue of drawings some catholic elements.

The names are engraved and gilded. It is necessary to first engrave the pattern to ensure the permanency. Then we gild with gold leaf as does an artistic gild. They are 24 carat gold leaves, it is the purest to once more, ensuring the permanency. We want our products to last, so we only use high quality elements.

Renaud Gravure's memorial plaques are done to be in cemetery. We know it means outdoors, thus we have selected our materials to last. We know it can be an investment but we are sure our products are outdoors resistent. To temperatures' changing or to outdoors agressions.

Presentation of the model :

On the top of the plaque there is a short sentence "In loving memory of our dear Mummy".
Below the names " Janis Mandell", it is engraved and gilded with 24 carat gold leaves. Both two text are centered, in italics, and in the same style of writting.

Then on the left there is a white stylised catholic cross. It is white because it will be engraved.
Still on the left part but at the right of the cross there two dates. 1939 above 2014. They are not in italics but right.

Finally, there are flowers. From the middle bottom to the middle on the right side, the flowers are drawn.

How to create it :

- the plaque with flowers : "plates"; "black granite plates", then "Plaques on metal base" and in the right menu, select " colletion Styliflore" and choose the one you desire. Remember to check the size.
Now you have the flowers. There are other flowers in "high definition drawingd".

- The text : there are three texts. Do not worry,it is easy with these indications.
1st text : "Texts" ; "Create text #1". Type down your thought, or inspire you from the examples we suggest. Then click on "2: Letters' shape" to have the police you want. Here "Style 7".
2nd text: "Texts"; "Create text #2"; write the names like the model and in "letters' shape", click on "style 7" the one appearing in gold. It is necessary to well click, otherwise we will not gild it without your instructions.
3rd text : "Texts" ; "Create text #3". The process is exactly the same. The style is "style 12".

For each of the three texts click on "3: Size, position, rotation" and play with the cursors to make it as you want.

- The cross : Click on "High definition drawings", "Create drawing #1", Scroll the menu until you find " Religion, cross". It is the 14th pattern.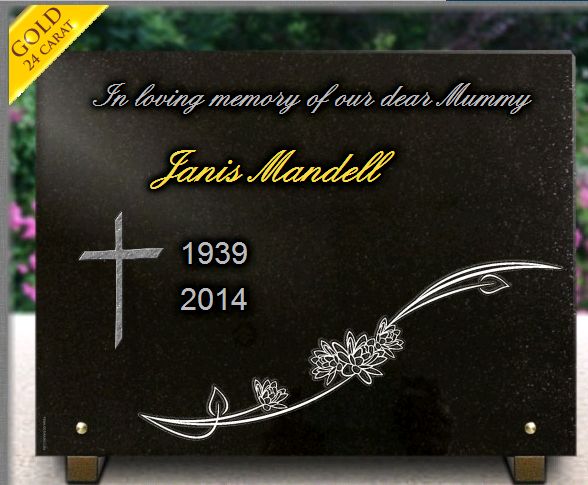 Material : granite Height : 30 cm Width : 40 cm Thickness : 2 cm Weight (around) : 7.8 Kg

Personalise this memorial plaque
Price calculated in real time




349 Euros
The unalterable engravings presented
are included in the price





---