Burial funeral plaque with surfer
A sober burial plaque to put on a grave. Very personal.
It is a black granite plaque put on two aluminium feet, fixed with two brass screws.
These elements are stainless, so there will not be rust marks. It means the grave is not going to be dirty beacause of our funeral plaque.
Plus, the feet make the plaque stable. If you desire, you can screw them on the tomb or you can let it.

It is a very sober plaque, with an image of a surfer and a short message.

Presentation of the elements:

On the left there is a photo of a surfer. He is on a surfboard, in a huge wave. He goes from the left to the right. We can see wave coming from above his head, and behind him, like when they are shutting. The surfer wears a tee-shirt and a short pants.
In English letters and in italics, at the right of the board it is written "Sweet thoughts".

Below everything, between the two brass screws it is written in capital letter "John Hudson". The first letters are stylised.

Everything is white because it engraved in a black granite plaque.

How to create a similar plaque :

You do not have to change the plaque, it is already the good dimensions.

- The surfer : It is one of our drawings. Go in "High definition drawings" ; "Create drawing #1". At the end of the menu there is the category "Surf" and here is the pattern. Or you can bring your own photo with this process "Photos, engraved portraits", "Create engraved photo #1" and follow the instructions.

- Text 1 : "Texts" ; "create text #1". Type it and choose in "2: Letters' shape" the "Style 2".
Text 2: Same process, "Texts" ; "Create text #2" and select "style 9".
The third thumbnail is usefull to modify the size and the position with cursors.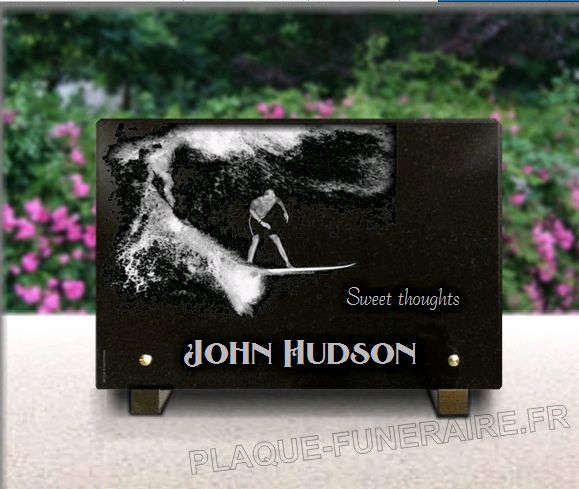 Material : granite Height : 20 cm Width : 30 cm Thickness : 2 cm Weight (around) : 4.5 Kg

Personalise this memorial plaque
Price calculated in real time




199 Euros
The unalterable engravings presented
are included in the price





---