Granite grave plaque, Bird, dove
Gilt for burial plaque in granite. Real gold leaf.
Gilding a plaque is totally possible.
As you can observe, the short text and the dove, the bird are engraved and gilded with 24 carat gold leaf. It is real gold leaf.

The dove is symbol of peace, and it is very used in the funeral field. Thus at Renaud Gravure we suggest some dove drawings, and even some to be gilded.
The text is gilded too.
The gilt is done according to the traditional technique of gold leaf. It is a choice made by the company in order to guarantee the stability of the product in time.

It is the smallest model 20cm x 30cm among the plaques in granite to put on a grave.

What are the elements :

It is a black granite plaque with gilt, so there is a contrast between gold and black.

There is a bird. It is a dove, at the left, flying to the right. It is its profile's outline. The two wings are opened. Its tail goes down.

In the middle of the plaque there is a two-lines-message. "To our beloved mother Janet Pitt". It is a straight but attached-letter font.

The process to do it yourself :

It is a basic granite plaque, so you do not have to change it. In the case you want another one, please go on "Plates" and choose the one to your satisfaction.

- Text : Click on "Texts" then "Create text #1". A pop up window shows up and there is a black space. Please type there your text. If you want to create two lines, think of key enter.
Once your text finished, click on the pop up's thumbnail "2:Letters' shape", to choose the golden font. It is " style 8".
Pay attention : Gilt needs more space, thus you probably have to modify your text. Don't worry, nothing is definitive until you order.
Finally, if you want to move or modify the text, please click on "3: Size, position, rotation".

- The bird : Please click on "Gilded drawings" ; "Create drawing #2". Another window comes, and here you will have to click on "Birds in 24 Carat gold". It is the 1st one. Then you are able to modify it in "2: Size, position and rotation".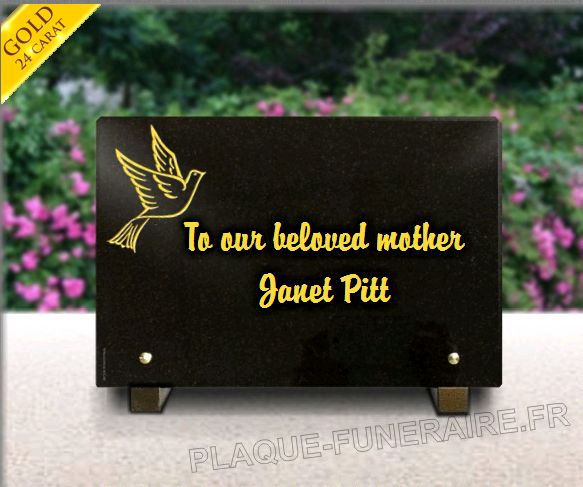 Material : granite Height : 20 cm Width : 30 cm Thickness : 2 cm Weight (around) : 4.5 Kg

Personalise this memorial plaque
Price calculated in real time




238 Euros
The unalterable engravings presented
are included in the price





---