Customised memorial plaque guitare
A memorial marker made of a block of glass on a granite base.
This funeral monument is alike the last one. Only the drawing on the block of glass is different. To have more informations about how to conceive this plaque, please click on "Previous page" and select the funeral monument just before this example.

It is a model of a memorial monument composed of an engraved block glass on a granite base.

On the block of glass, there is an electric guitar. You can find this guitar on "High definitions drawings" ; "Create drawing # 1" and then click on the category "Music string instru." The guitar stands on an amp. It is a good pattern for a musician.

On the top of the granite base, there is an engraving. As the last product, it is the epitaph, in three lines we read "Jason Clarkson", and his dates "20 Jan. 1954 11 May 2015".
It is the font "Style 10". It is possible to make it golden because it is one of our 6 fonts available in gold. We gild our elements with 24 carat gold leaf.

The block of glass is on the right, and the text appears then on the left, at the blocks' foot.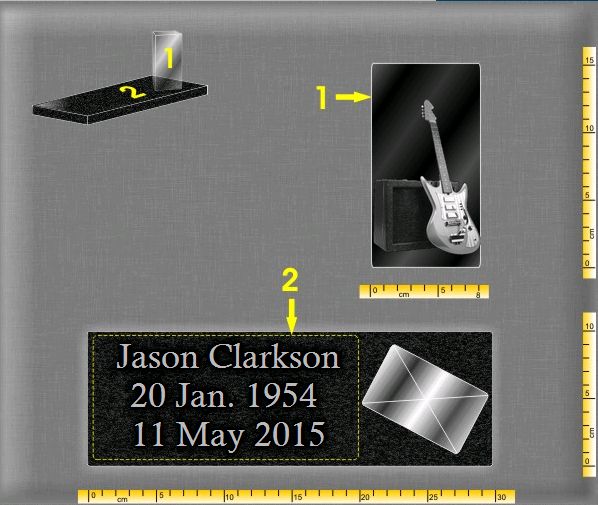 Material : granite Height : 17 cm Width : 30 cm Thickness : 10 cm Weight (around) : 6 Kg

Personalise this memorial plaque
Price calculated in real time




200 Euros
The unalterable engravings presented
are included in the price





---