Memorial, grave plaque with Dog
An original memorial monument to put down on a tomb.
This is an original memorial monument, composed of a block of glass and a black granite base.
The black granite base comes from India, for its colour specificity. It is engraved of a short text "In memory of Robert Smith". It mesures 30cm x 10cm x 2cm
The block of glass is vertical, and is engraved of a picture of a dog. It mesures 8cm x 15cm

Engraving is a professionnal technique, the product will last and both message and image will not change. It is not oxidizable.

Some efforts are made to ensure the quality of the engraving. You thus have to wait around 10 laboral days for us to create it.

Presentation of all the selected elements.

On the left there is a block of glass. It is engraved with the photo of hunting dog, in an oval frame. It is vertical. The engraving is white.

The block of glass is put on a deep black granite base.

Next to the block of glass, on the granite base there is a white message, as a handwritten writting. It says "In memory of Robert Smith". The writting is naturally in italics.

How to find the elements in the software :

- First, click on "make a plaque here", on the left. A new window will open, it is our configurator.

- To choose the plaque : Click "Plates", then "Glass blocks with or without base". A short pop-up page opens. Click on "Block of glass on granite socle". On the right, click on " Blocks + blank socle". There are different model. The one we picked here is the first one. Click on it.

- Now the original monument is appearing. We will add the picture of the dog, for that click on "High definition drawings", then "create the drawing 1". The pop-up page opens and as before, choose the category "dogs". The chosen one here is at the end. The image appears. To position it on the block of glass, click on "2: Size, position and rotation" or click on the dog and move it with your mouse. With the cursors you can change rotation, size and position.

- For the text, click on "texts", then "Create text #1". Type down the text. To obtain this handwritten writting, click on "2: Letter's shape", and select "Style 7". Finally, to position it as you wish, use the cursors in "3; Size, position and rotation".

- To change an element, click on the category ( text or high definition drawings), then on "change--1".

The final price is appearring while you are designing.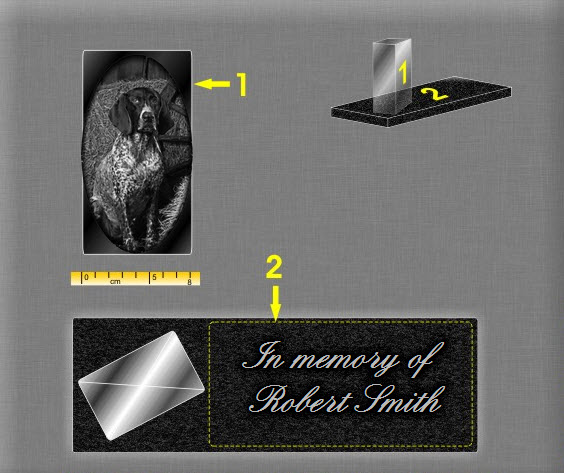 Material : granite Height : 17 cm Width : 30 cm Thickness : 10 cm Weight (around) : 6 Kg

Personalise this memorial plaque
Price calculated in real time




191 Euros
The unalterable engravings presented
are included in the price





---