Custom memorial plaque, photoporcelain
Deep black granite funeral plaque to personalize. Portrait on a photoporcelain.
Deep black granite plaque from India. India's granite is known for its darkness and bness.
This plaque relays on two aluminium feet. Those feet are provided, and the plaque is already drilled.
Plaque-funeraire's plaque are ready to be exposed in a memorial park.

On this particular model there is a photoporcelain. You have to add the deceased's photo in the square. You are able to change the background and the shap of the porcelain. It's also outdoors resistent, thanks to ceramic pigment for the colour and a firing at 900°. The colours do not change with the weather.

The message "Remembering Diane Wallis With love" is engraved by our professional. Engraving is perfect for a memorial plaque as the message will never disappear. Other techniques such as painting or laser can not guarantee the sustainability of the message.

What are the selected elements :

This is a rectangular black granite plaque. It measures 20cm x 30cm x 2cm. It is horizontally laid down on two aluminium feet.

In the middle of the plaque, there is a square photoporcelain. It is a portrait, with a grey background, and a white thin border.

Below this photoporcelain, still centered there is an engraved message. This message is white, and says "Remembering Diane Wallis With love". The text takes three lines.

How can you do this type of plaque :

If you want this plaque you can just click on "personalise this memorial plaque", and then change the text by clicking on "texts", then "change text 1".

Or here is the instructions. At the top of the page, on the left, click on "Make a plaque here".

- The plaque : It is already the good plaque. If you want to see more, please click on "plates", then "black granite plates", a pop up window opens and select "plaques on metal base" and "plaques blank".
You can now take a look at the different plaques.

- The photoporcelain : Click on "Photoporcelain". It is a thumbnail at the right. Choose "Create porcelain #1". You have two possibilities, either your have a paper photo or a digital one. Please select according to your photo. Pay attention, your photo has to be in the good format. Follow the instructions. You are able to change the border, the shape, the background, etc.

- The text : Click on the thumbnail "Texts", and "create text #1". Type down the text. For this one, we have entered for each sentence. To obtain the same result, once the text finished, please click on "2: Letters' shape" and choose "style 2". Finally, for the position, here are the one of the model: Characters size 35, horizontal position -48, lining space 33, Vertical position 6, Rotation 180". You can use the cursors.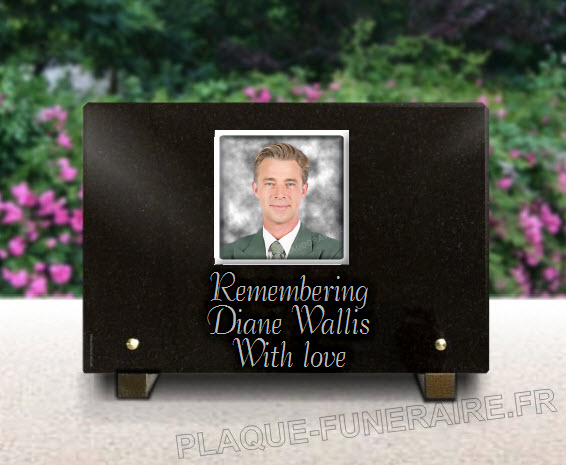 Material : granite Height : 20 cm Width : 30 cm Thickness : 2 cm Weight (around) : 4.5 Kg

Personalise this memorial plaque
Price calculated in real time




135 Euros
The unalterable engravings presented
are included in the price





---