Engraved golf player on a block of glass with epitaph on the base.
Memorial marker.
An original memorial marker with the engraving of a golf player.
Example of a memorial monument composed of an engraved block glass with a golf player,
and of an engraved granite base with personal text.

It is perfect for a short budget. Plus, it fits for a small area because it measures 30cm x 10cm on the base and it is 17 cm high.

The block of glass is transparent, only made of glass so it can not turn yellow, or be deformed. It will not tarnish neither. The engraving is real, and the image of the golf player will last forever. Engraving creates a relieve which means it can not disappear.

The granite base is as good as our memorial plaque. It is a deep homogeneous black plaque that we engrave in the mass.

Cheap plaque to engrave. You can personalize this model.

Presentation of an original memorial marker :

Here is an original funeral marker.

There is a block of glass 8cm x 15cm on a black granite base 30cm x 10cm. The block of glass is transparent, and it is on the left of the base. It is not parallel to the plaque, but a bit inclinated.

On this block there is a picture of a golf player. He is standing up, and the club behind him as when you shoot in the ball. His left leg is turned to the ball direction.

On the granite base, there is the epitaph. It is in straight letters, and very big. It is on the top of the base. We can read, on three lines "Jason Clarkson 20 Jan. 1954 11 May 2015".

To customise this plaque, there is button, and you can click on the text to modify it or on "Texts" ; "Change text 1".

To create this plaque, please open the configurator and follow the process.

- The commemorative monument : "Plates" ; "Glass blocks with or without base". For the moment there is only with base, so please click on the only button for you "block of glass on granite socle" ; "Blocks + blank socle".
It is the second plaque.

As you might see, the block is named 1 on the part on the granite base is the number 2. While processing, please put the right element on the right place. Otherwise we might engrave something wrong.

- The golf player : "High definition drawings" ; "Create drawing #1". In the window, look for "Golf".

- The text "Texts" ; "Create text #1". Type it, change the font for "Style 10" in the thumbnail "2: Letters' shapes".

The last thumbnail of the two window serve to modify the size and the place of the elements.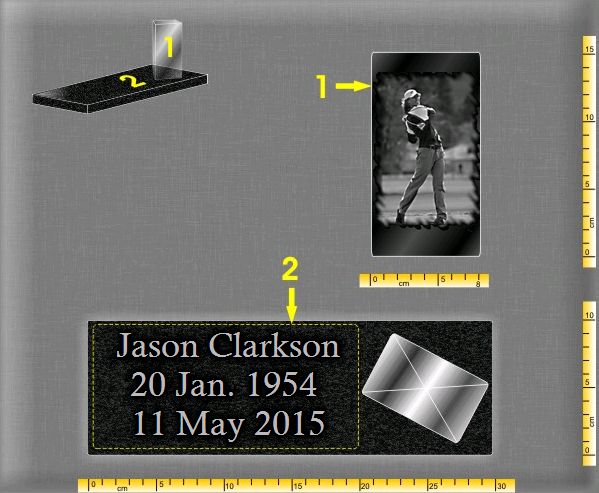 Material : granite Height : 17 cm Width : 30 cm Thickness : 10 cm Weight (around) : 6 Kg

Personalise this memorial plaque
Price calculated in real time




200 Euros
The unalterable engravings presented
are included in the price





---