Granite memorial plaque, engraved photo
A funeral granite plaque to put on the grave. Personalised model.
Black granite memorial plaque, engraved portrait of the deceased.

Engraved fish, heart background also engraved in the mass.

This plaque looks like the last plaque. If you expect more details, please click on "previous page".
There is the background with hearts, a large one in the center, and smaller below. The big heart acts like a frame, and there are elements in it.

There is on the left an engraved portrait. It is the deceased portrait. At Renaud Gravure, if you want a photo of your late relative, you have two options : a photo porcelain or an engraved portrait as on the model. Both are very good and outdoors resitent. The engraved portrait in drawn by our artist who will send you a first visual before engraving.

On the right there is a fish, and below the name "Janet Benson". It is the profile of the fish, its left side as it is looking to the left. The name is in italics.

To find this fish, in the configurator click on "High definitions drawings" ; "Create drawing #1" and then click on the category "Fishes", by the end of the menu. It is a file with a lot of fished, exotic or common. If you desire a fisherman, there is a category above called "Fishing, small boat".

For the name, click on "Text" ; "Create text #1" and please type down it. The name can be engraved and gilded with 24 carat gold leaf. For this, click on the button "2: Letters' shapes". 6 out of the 12 fonts are available in gold.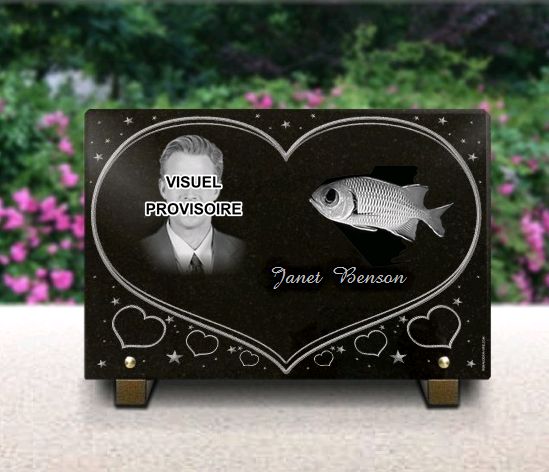 Material : granite Height : 20 cm Width : 30 cm Thickness : 2 cm Weight (around) : 4.5 Kg

Personalise this memorial plaque
Price calculated in real time




330 Euros
The unalterable engravings presented
are included in the price






---