Commemorative plaque to screw on memorial monument.
Fit in outdoors conditions.
Backlight fireman on a memorial plaque. Drilled granite monument to screw.
This is a black granite plaque, drilled on the two sides. This is ideal to be screwed on the headstone or a wall, or any memorial monument. Screws are provided.

This plaque is in polished granite. It is outdoors resistent, in order to be screwed in a cemetery.

Photo and texts are engraved in the mass, it is unalterable to last over 50 years.

The customisation is visual and the price is in real time. On every change the price will directly be on the screen. It is perfect to make the plaque you want according to your budget. Plus, there is no surprise, the present price is the price of the plaque. Only the delivery price is to add.

What can I see on the plaque :

It is a black granite plaque, drilled on the two sides.

In the middle on the plaque, there is a contre-jour fireman holding an axe. in the background there is a forest fire. We can see trees and flames.

Above, there is a text, in English letter. A first line : Harvey West , and a second line : 1917 - 1980.

Where to find the elements :

- Plaque : "Plates" ; " Black granite plates" ; " Plaques punched to screw on"

- The text : "Texts" ; "Create text #1" type it down "Style 2" in "Letters' shape". In the third thumbnail you will be able to modify it.

- Fireman : "High definition drawings" ; "Create drawing #1". In the menu that shows up click on "Fireman" , here you will find the good one.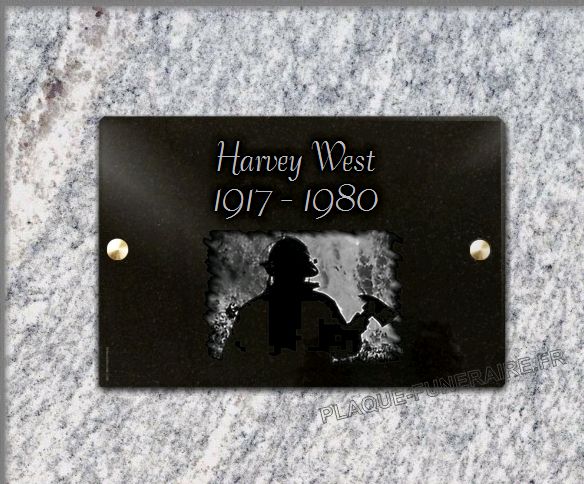 Material : granite Height : 20 cm Width : 30 cm Thickness : 2 cm Weight (around) : 4.5 Kg

Personalise this memorial plaque
Price calculated in real time




189 Euros
The unalterable engravings presented
are included in the price





---