Ceramic photo on granite memorial plaque. parchment
A round photo porcelain on a granite funeral plaque.
Genuine engraving of custom memorial plaque. Black granite plaque.

Round photo porcelain with green marbled background, sticked on the plaque. There are others shape of porcelain.
Porcelains are made with ceramic pigments, not painting or inks which can be removed. Pigments are long lasting. After this step, the porcelain is fired at 900°. This firing gives a high resistent to outdoors conditions.

Engraved parchment in the mass. It is a background.

Drilled twice to screw on the headstone. Screws are provided. Be careful, it is better to have a flat support, so are the common headstones.

Presentation of the plaque :

This is a black granite plaque.

It is drilled on the left and on the right to be screwed with brass screws.

There is parchment background. It rolls on itself on the right down corner.

On the top, on the left, there is a round photo porcelain. It contains the deceased photo with a green marbled background. The photo is cropped.

On the right it is written "jill harper 1979 - 2015". It is quiet big, in a italics font.

How can you reproduce it :

- The parchment and the plaque : The parchment is an element on the plaque, you can not modify it. When you have opened the configurator ( botton on the left of the page), go on "Plates" and click on the material you want. Then, click on the way you want to fix. Heere it is "punched to screw on". Finally, click on "Plaques parchment". Now, please choose the plaque you want, with the size of your choice.

- The text : Go on "Text" ; "Create text #1". Follow the instructions on the window, choose the font of your choice in "2: Letters' shape", and modify the size on the last thumbnail.

- Photoporcelain : Click on "Photoporcelain", and first choose the elements you want. For this example of ceramic photo, change the oval form to a round one, and then change the background. You can change the size, the border too. It is your personalised photo. You can even add a text.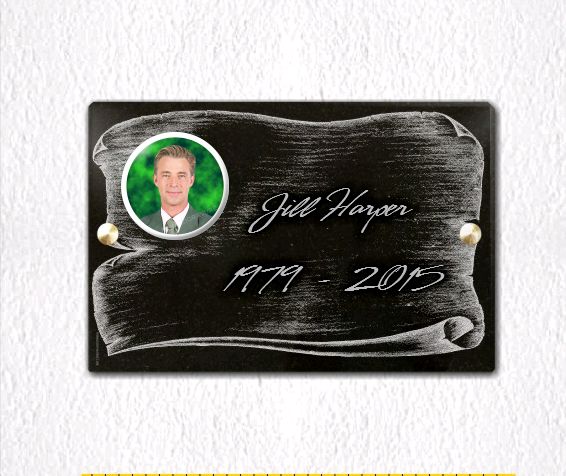 Material : granite Height : 20 cm Width : 30 cm Thickness : 2 cm Weight (around) : 4.5 Kg

Personalise this memorial plaque
Price calculated in real time




185 Euros
The unalterable engravings presented
are included in the price





---