A sea landscape on a memorial plaque. Great photo.
Great panorama on a commemorative engraved plaque.
Beautiful granite memorial plaque to customize. Genuine black granite. It comes from India, thanks to its homogeneous colour.

It is a plaque to put on a grave thanks to 2 stainless metal bases. You can just put it or fix it. The two feet have some holes behind to be screwed. If the two feet and the screws to fix the feet to the plaque are provided, we do not sell the screws to fix the plaque to the grave.

At the top : engraved personalized text. It is written "In loving memory of our mother, sister, aunt". It is an italics, handwritten font. In the software it is called "Style 1" in the "2: Letters' shapes".

At the bottom : engraved name of the deceased. It is "Mary Garner". The font is different, straight and bigger. This time it is "Style 8". It is one of the font you can make gilded.

In the middle : Landscape of sea in big size with sand. There is a sandy path to the beach. In the background a wave coming. It is a large beach. The photo comes from the pattern available in the catalogue of "High definition drawings", in the category called "Sea, lakes and rivers".
The photo is very big, and takes the majority of the space on the plaque.

Ideal if the dead used to love beach, or swimming.
Excellent quality, stable in time. The engraving are made in the mass, which means a part of the black granite is taken away, removed to create all the elements.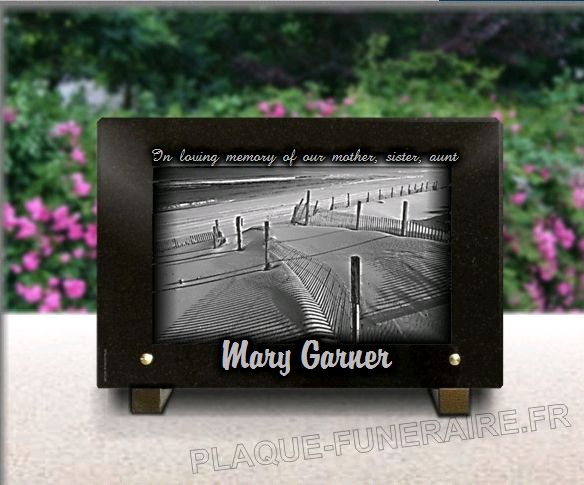 Material : granite Height : 20 cm Width : 30 cm Thickness : 2 cm Weight (around) : 4.5 Kg

Personalise this memorial plaque
Price calculated in real time




214 Euros
The unalterable engravings presented
are included in the price





---