A gilded text with a basketball photo. Glass plaque to fix in a cemetery.
A basketball picture with a gilded text on a memorial plaque.
As you might have noticed, this is the nearly the same plaque as the last one, on page 3.

There is a straight border. The same rectangular border.

There is also a basketball photo. The ball is above the basket, about to score a basket. It is a good idea for a basketball player or a fond of this sport.

Those elements are engraved in the mass.

The difference is on the left. There is a gilded text. It is bigger.
It is important to explain our techniques. We first engrave the plaque, deeper and larger than a common engraving. After, we gild with 24 carat gold leaves. It is a traditionnal technique made for years, by artists.
The 24 carat gold is the purest gold ever, it does not contain other metal like brass, copper, so the colour will remain the same and will not fade. Plus, this technique, that is not painting, lasts, so you can be sure this kind of memorial plaque is perfect to be layed in a cemetery.

As we engrave deeper, not all the font are able to be gilded. Here the first sentence "In loving memory of Paul Clinton" is not anymore in italics. It is straight and handwritten.
The dates are bigger but in the same font.

When you are in the software, while writting your text, please click on "2 Letters' shape" and click on "Style 8" on the last line, when it is golden written. Otherwise it will not be gilded, but only engraved.

If you have not seen the last plaque, here is where you will find the photo once the software opened "High definition drawings " ; "Create drawing #1" and then "Sports various". If you do not find the photo you want, or you want to load the deceased photo while he was playing basketball, you might click on "Photos, engraved portraits".

About the plaque, you should change it in the thumbnail "Plates", and click on the type of plaque you want. The border is part of the plaque, you can not remove it, except you prefer a blank plaque.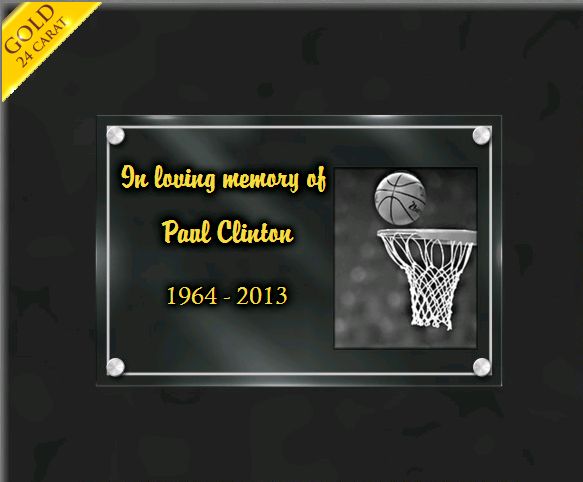 Material : glass Height : 20 cm Width : 30 cm Thickness : 1 cm Weight (around) : 1.5 Kg

Personalise this memorial plaque
Price calculated in real time




325 Euros
The unalterable engravings presented
are included in the price





---